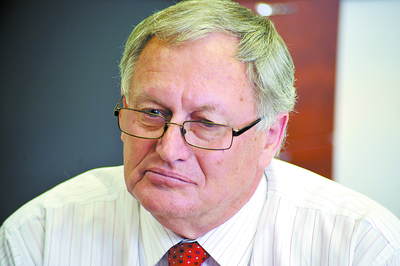 BILLION dollar coal export opportunities with international economic benefits should evolve in the Latrobe Valley within the next decade but the region's skills base will need to keep pace.
That was a key message from departing Loy Yang Power chief executive Ian Nethercote yesterday when he spoke with The Express following last week's announcement AGL Energy's full acquisition of the generator rendered his role obsolete.
During 13 years at the helm, by his own admission, Mr Nethercote has "always been upfront" and spoken his mind.
This week was no different as he warned if power industry players were "not prepared to move" with the skill sets required in an export and clean-energy oriented future, "then their life in this industry is limited".
The AGL-led 'organisational review' that prompted Mr Nethercote's redundancy was "not a surprise", he said.
Despite his years of navigating the company through electricity market and financial upheaval, he was gracious in his insistence the company's management was "a team effort" and "not a one-man-band".
A depth of expertise would remain for AGL to "draw on as required", he added.
AGL's buy-out of 100 per cent of LYP was a "good outcome" for the business and industry, Mr Nethercote said.
"It changes the activities in the future, in terms of development and the research necessary to take this industry forward".
He forecast an "exciting" decade ahead, a "new era" transforming "an industry that has been a little bit stagnant on the coal side to one that potentially takes you into export, and local, opportunities to a point where you are going to make a difference to the economy not only of the Latrobe Valley and Victoria but potentially internationally".
AGL's take-over meant LYP could "refocus its debt portfolio", providing a "much stronger balance sheet so you can elect to look at new projects and develop things that previously we were unable to do".
While new clean coal technologies and export projects would "all be subject to…rigour, investigation and commercial investigations in terms of their viability," Mr Nethercote predicted AGL would "do that".
"They have been good at it in the past," he said.
"Provided the economics come through then they do have the wherewithal and opportunity to do it if they see fit."
Mr Nethercote dismissed suggestions by environmental groups that there was no significant international demand for brown coal.
"I think it is growing," he said, claiming the number of international companies attending a recent brown coal symposium in Victoria was "one of the biggest we have ever seen".
"That was all aimed at the development of the lignite resource and if that was any indication of…interest in the resource in Victoria, then I think it will move forward and that's where you get the opportunities to develop and build collaborations," he said.
Conceding advancing clean coal technologies would be "extremely costly", Mr Nethercote said "an increased level of collaboration" between industry in Australia, government and overseas entities would "get you down that path".
"Sufficient" Federal Government funds would be required to "move technologies from development and pilots through to commercial operation".
"Potentially some of these things are going to be in the order of one billion dollars plus…and so you have to select carefully the ones you are going to follow," he said.
Emerging technologies would require a "much stronger focus on things like the petrochemical industry requirements for carbon capture and storage," Mr Nethercote said.
"So we need to increase the types of training and degrees that are needed…you need a minimum of eight years before you see people coming out the other end who can contribute, so you have to start now and that fits well with the decade I see ahead."
Mr Nethercote will continue to contribute to the 'skills base' conversation in the Valley through his various local board roles, including a recent appointment to the Gippsland Tertiary Education Council.
Next week The Express will feature Mr Nethercote's personal reflections on his years spent leading LYP and what the future holds for him.