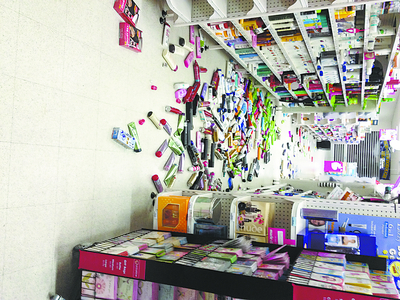 WINDOWS were shattered, stock was damaged and shop owners were left rattled following Tuesday night's earthquake.
Moe businesses reported significant damage in the aftermath of the quake, that had its epicentre located 10 kilometres south west of Moe.
Moe Traders Association president Christine Waterhouse said most traders were disrupted by the event.
Ms Waterhouse said traders had reported some infrastructure and stock damage, "but it is business as usual again".
Latrobe City Council also reported a blow to infrastructure with Moe Library closing for the day and Latrobe Leisure Moe Newborough reporting structural problems.
"The Moe Library is currently closed to the public and further investigations are underway to determine the extent of the damage in this building," Latrobe City Mayor Ed Vermeulen said.
"Obviously, public safety is our priority so we would rather inconvenience the public in the short term to ensure that the building is structurally sound before opening it up again."
Council said the library would resume normal operating hours today.
However, investigations may be required at the Latrobe Leisure Moe Newborough facility
"The pool at the Latrobe Leisure Moe Newborough facility is currently losing water," Cr Vermeulen said.
"Officers are monitoring the automatic pool filling system to determine the cause of the water loss; it may be that the pool has to close for a short period to make further investigations and if that is the case we will try to give adequate notice of the closure."
Cr Vermeulen reiterated the Latrobe Leisure Moe Newborough facility was structurally sound and the present issue was solely around the pool water.
Despite reports of damage, Committee for Moe president Manny Gelagotis said considering the magnitude of the earthquake, Moe was "lucky" to only receive minor problems.
"Everyone is trying to stick together and find out who has been affected and who is okay," Mr Gelagotis said.
"The most important thing is that everyone is fine, there doesn't appear to be a major catastrophe, no lives were taken or mass destruction."