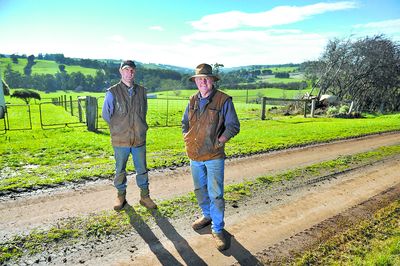 Despite being close to the epicentre of Tuesday night's earthquake, the Murphys of Thorpdale said the only forewarning they received was a rumble which sounded like "a jet plane".
The potato farm owners said they were hoping the property's infrastructure withstood future earthquakes, which according to University of Melbourne's School of Earth Sciences were a possibility.
The earthquake, which lasted about 30 seconds and was followed by aftershocks, was reportedly felt across most of Victoria.
More than 20 minutes after the 5.2 magnitude quake hit, Mr Murphy said he and his partner Kerry-Ann Duncan could see their water pipes moving as a result of the aftershocks.
A fault line runs through the property, and the owners said they had experienced three significant earthquakes in 30 years.
A magnitude five earthquake hit the farm in 1971, but father Ewan Murphy said Tuesday night's earthquake had "significantly greater earth tremors".
"The others (earthquakes) were more like a rumble; this was a wave-like force," Mr Murphy said.
Following the quake, he said he checked the farm's packaging sheds and cooling store to ensure no movement had caused damage or fire.
Fears of a significant future earthquake were not ruled out, as University of Melbourne's School of Earth Sciences Professor Mike Sandiford said the region was classified as an earthquake "hotspot".
"We would anticipate one of these earthquakes every 20 years," Professor Sandiford said.
"But the fact it occurs now does not mean we will wait 20 years, it might possibly happen in the next few months just as the sequence of Christchurch has happened.
"The magnitude 5.2 earthquake was among the biggest earthquakes Australia had in recorded history."
Today, the University of Melbourne deployed measuring instruments to monitor ongoing earth movements.
Prof Sandiford said the Thorpdale fault line had recorded significantly greater earthquakes than those recorded last year in Korrumburra.
"This is a reminder, even though we live in a country with a low earthquake risk, it is not negligible, we do sometimes get earthquakes," he said.
"Gippsland is an earthquake-prone region by Australian standards.
"We are working on understanding and improving confidence in the risk posed by earthquakes in the region."