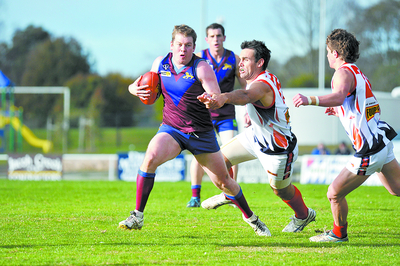 Saturday marks the start of the second half of the season in Gippsland League football, and only three teams are guaranteed a finals spot with two games separating fourth to tenth.
Moe is keen to start a winning streak after beating Bairnsdale last round.
The Lions' coach Jason Macfarlane reinforced the importance of backing up good performances and how much he has enjoyed working with "a great bunch of young footballers".
"If we are to be taken seriously for the rest of year we need to back up our good games and not drop off the pace like we have been every second," Macfarlane said.
"The challenge is there and if we go there prepared like we were this week, all of a sudden we will be four wins five losses with a real possible finals chance.
"As we may not have the depth, the boys have passion and heart."
Macfarlane also acknowledged Drouin is a "better side" on its home ground, but said winning there was not "mission impossible".
Morwell v Maffra
Morwell has the chance to redeem itself this week against Maffra, after a shock loss to Drouin in round nine.
Tim Ryan will return to the senior line up after spending time in the reserves, and with no major injury concerns the Tigers should be back to full strength.
Maffra's Gary Jones may not be able to play after injuring his back against Traralgon last week.
It is also likely the Eagles will lose key player Daniel Stubbe for the rest of the season due to work commitments, which will be a huge loss.
Both sides have their sights firmly set on finals appearances, but with a two-game break over the lower-ranked sides, Maffra is in a slightly better place than Morwell.
Morwell's Jack Brown is agile enough to cope with the in-form Adrian Burgiel, and it will be interesting if his brother Hayden plays in the seniors this week after kicking four goals in the reserves in round nine.
Sale v Bairnsdale
Sale has won its past 10 encounters with Bairnsdale, and with their current form the Magpies could be too strong for the Redlegs on Sunday.
The Magpies' defence is the strongest in the league, having conceded only 383 points in the first half of the season.
Conversely, Bairnsdale has the worst defence in the competition, with 1019 points conceded this year.
Three times the Redlegs have had 20 goals or more kicked against them, meaning their defence will have to tighten ranks to stop the likes of Matt Ferguson from running away in goals.
Traralgon v Warragul
Coming off consecutive losses to Morwell and Maffra, Traralgon will be keen to get back on the winners list.
The Maroons have won their past six against Warragul, and Dan McKenna is in fine form up forward with Josh Jennings and Tom McQualter tearing up the midfield.
Warragul will need to ensure it applies consistent pressure throughout all four quarters to be competitive against the Maroons.
Wonthaggi v Leongatha
Local rivals Wonthaggi and Leongatha will face off in what will be a "no love lost" contest.
The Parrots will be keen to get their season back on track following their loss to Sale last weekend when key forwards Jake Best and Dwayne Holt were uncharacteristically held goalless.
Statistics show the two sides are competitive against each other, with the last 10 encounters being split five apiece.
The last time Leongatha won at Wonthaggi was in 2002.