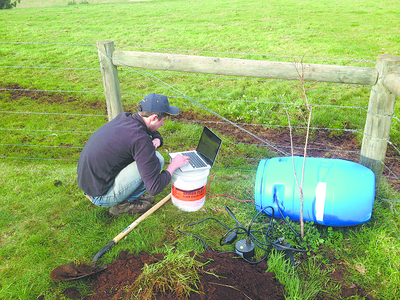 MORE than 120 aftershocks have been detected following last week's magnitude 5.3 earthquake, according to seismology investigations.
A University of Melbourne Department of Earth Sciences earthquake study, led by Associate Professor Tim Rawling, Professor Mike Sandiford and principal research fellow in seismology Gary Gibson, has discovered further movement in the fault line under the Strzelecki Ranges, near the epicentre of Tuesday's earthquake.
The study, which assessed the state of the crust, stress and earthquake risk, collated data from 10 surface seismometers and six recently planted borehole seismometers about two kilometres down.
The surface seismometers were installed in the Korumburra network following the 2009 4.6 magnitude earthquake.
Last Tuesday's earthquake was located 10 kilometres southwest of Moe, near Thorpdale, and occurred about 10km below the surface, according to Professor Rawling.
Despite more than 120 aftershocks detected, Mr Gibson said activity was "settling down".
Mr Gibson said the data they had collated in their study was consistent with earlier "preconceived ideas" following last week's quake.
"We have always known that the Strzelecki Ranges are the most earthquake-prone region in southern Australia; as far as the (recent) and (2009) Korumburra earthquakes they are part of the Strzelecki Ranges fault system," he said.
Mr Gibson said the impact of the fault system was "squashing the Strzelecki Ranges from south east to north west," gradually increasing the height of the ranges.
He said the fault line had been quiet since the Boolarra earthquake in 1969, with a low number of magnitude five earthquakes.
"The western end has been quiet since European settlement, so it is not at all unexpected that activity would start again at some stage and we are just watching now how this fits in with (Tuesday's) earthquake," he said.
The Department of Earth Sciences were interested in the Korumburra and Moe regions due to "elevated seismic activity" and more than 400 "multi-cluster pattern of earthquakes" in three years.
Mr Gibson warned last week's earthquake could have a similar pattern to the Korumburra earthquake, which had a significant magnitude aftershock more than two weeks after the initial quake.
"The thing about the (2009) Korumburra earthquake, we have had multiple clusters that went to a period of few weeks, then started again with bursts of activity," he said.
"We have no idea whether (Tuesday's) quake will be in the same pattern but there is every chance it will be."
Data collated will go to the School of Earth Sciences, Victorian Earthquake Risk Map, which aims to reduce earthquake impact on Victorian infrastructure.
The map has Victoria's geology including fault lines and earthquakes, and infrastructure including buildings, roads and powerlines to indicate earthquake vulnerability and risk.