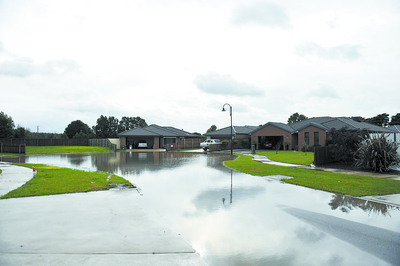 IT has been a particularly wet month for residents of Cobon Court, Morwell.
Several houses in the court, located near Waterhole Creek, have had their area flooded three times since 26 May, according to resident Max Duncan, with the latest being after the incessant rain on Friday morning.
"Water is about six, seven feet up my driveway (this time)…it was minor rain last night but I can't get out, I can't drive my car (out)," Mr Duncan said.
"I have phoned Latrobe City Council many times…we just don't want any more water."
Mr Duncan said he was frustrated with council's inaction, especially after he made them aware two weeks ago, water had gone through a number of houses, "gutting" the inside.
"Council doesn't classify this as a flood zone, but the insurance companies do," he said.
"Council has admitted it is a storm water issue."
Meanwhile, Latrobe City Council general manager built and natural environment Peter Quigley said, from this week, council would install additional storm water pipes to the area to assist with getting water away as quickly as possible in a flood event.
"An investigation has commenced to understand why flooding is occurring in this area and what can be done to prevent properties being affected in the future," Mr Quigley said.
He said following the floods earlier this month, council had installed sand bags to prevent a reoccurrence of floodwater entering properties.
"This measure proved effective on Friday with Waterhole Creek flooding; however, no water entered properties," Mr Quigley said.
"Council certainly appreciates the difficulty residents of this area have experienced with flooding in recent times. "