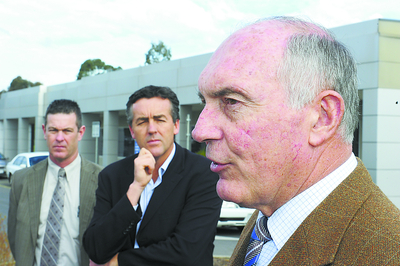 AMID condemnation for its "abysmal" plan to close local power stations, the Federal Government conceded on Friday it had not yet reached an agreement with any generators.
The original deadline for an announcement about which power stations would seek to close as part of the government's 'contract for closure' scheme was 30 June, but on Friday Federal Resources and Energy Minister Martin Ferguson said that had been extended.
Numerous sources had already suggested the government had made scant progress on its plan to close 2000 megawatts of coal-fired electricity generation from the system by 2020.
Five generators, including three from the Latrobe Valley, are negotiating with the government over a potential early and compensated closure but it is believed negotiations have been limited so far.
In a statement on Friday Mr Ferguson maintained "since the announcement of the government's Clean Energy Future package, complex negotiations have taken place in good faith concerning the contract for closure program".
The government did not offer a new deadline date, prompting Federal Member for Gippsland Darren Chester to say "you don't need an extension on a dud policy".
"It should be abandoned and the government should be offering to work with the power station operators to achieve higher environmental standards rather than wasting taxpayers money to shut them down," he said.
Mr Ferguson said "complex commercial issues yet to be resolved, including the need to ensure value for money", had necessitated the extension.
The minister said the government "recognised the interest of potentially affected communities in the contract for closure process" and was trying to "resolve these issues as a matter of urgency".
He conceded it was "difficult to predict how long these outstanding issues will take to resolve" but said the government intended to act as quickly as possible.
During a visit to the Valley on Friday, National Party leader Warren Truss said the government had "handled the whole exercise abysmally".
"I don't think the government fully understands the ramifications of closing down the cheapest power stations in the country," Mr Truss said.
"To do that essentially means those who have come to Australia for the benefit of accessing low cost electricity will simply go to another place where the electricity is cheaper, and I might add the power station will not be as clean as Hazelwood.
"No, it (Hazelwood) may not be the cleanest power station in Australia but it is a lot better than many others in the world where Australian industries are going to go in the future," Mr Truss said.
He said it was important the Valley held "onto its strengths while also attracting new jobs, whatever they may be" but said "you don't have to close down power stations to do that".
He said the Coalition's message to businesses in the region was "hang in there… hopefully there will be a change of government soon and the carbon tax will be gone and they can look forward to a future in a totally different environment".
Asked whether the carbon tax could prove too complex to undo, Mr Truss insisted "what one government can legislate another one can repeal".