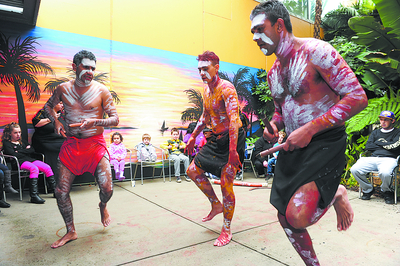 WITH the deep sound of the didgeridoo entrancing workers and children, Gippsland celebrated the National Aborigines and Islanders Day Observance Committee Week.
On Tuesday, the Latrobe Smart Centre in Traralgon was transformed into a cultural hub as dancers from the Wulgunggo Ngalu Learning Place ushered in NAIDOC week with song and dance.
For Aboriginal dancer Reg Edwards, NAIDOC week symbolised "a recognition of us, our people and our culture".
Mr Edwards and his team performed ceremonial dances; a dance of creation and a dance of life.
"This week means a lot to me personally; it's about keeping my culture strong, holding onto it and teaching it to the younger generation," Mr Edwards said.
"It's about recognition of Aboriginal and Torres Strait Islander people.
"It also means a lot to us for non-indigenous people to take the time to listen and learn about our culture."
The event was organised by participants of the Indigenous Apprenticeship Program, with staff from the Latrobe Smart Centre joining in with their family and friends.
Latrobe Smart Centre team leader Alex Minas said while LSC had previously held Aboriginal events in the past, she could not be "more proud" of this year's event.
"The girls (from IAP) really put a lot of hard work into organising this event; they made their own posters, organised dancers, players and visited the (Aboriginal) elders before we brought their art work here," Ms Minas said.
"We try and celebrate all indigenous events and just create an awareness of indigenous culture."
Following the completion of what was heralded as "a very successful" NAIDOC event, Ms Minas said she was "extremely satisfied" to have assisted in the further recognition of Aboriginal culture.
With traditional artwork on display, and performances by Aboriginal children and dancers, Ms Minas said the group were keen on hosting bigger indigenous events in the future.