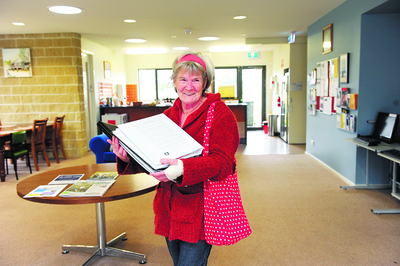 IT will be her "extended family" Ann Robinson will miss the most, as she hands over the reins after more than 20 years at Morwell Neighbourhood House.
"It has been my second home and these people are part of my family," Ms Robinson said on Friday, her last day as coordinator of the house.
"It is like an addiction being here, a good addiction."
Her husband's death, caused by kidney failure, left her widowed with five children at 29 years of age.
Loneliness and a desire to challenge herself, Ms Robsinson attended her first creative writing class at Morwell Neigbourhood House in 1986 once all of her children had started school.
"I was isolated and lonely, I didn't know many people in Morwell, when I first moved here I didn't have anybody," Ms Robinson said.
"I didn't know what to do with myself, going to the house was the best thing I ever did.
"The concept of a neighbourhood house is brilliant; there are a lot of people like me who don't have a support network and this is usually the first stop for assistance."
After several years participating in writing classes at the house, an "inspirational" tutor encouraged Ms Robinson to strive to "do something with your life", which, after initial hesitation, led her to apply for distance education in a Diploma of Welfare, at Monash University Gippsland. In 1992, Ms Robinson became coordinator of the house and said she witnessed the community change through trying times.
It was the situations out of Ms Robinson's control which were her biggest challenges, including change of government and insecure funding commitments, which threatened the stability of the house, during her years as coordinator.
However, it was the determination of students and close family environment which cemented Ms Robinson's long career at the house.
"We are still growing, we are still needed but there are a lot of success stories from this neighbourhood house," she said.
"We start at the grassroots level, giving people confidence and the will to do something else.
"People think you can't change your life, we show them how to and prove it everyday."
One of her fondest memories during her time at the house was during the Bracks Government Neighbourhood Renewal Projects which began in 2002.
Ms Robinson said it was during the planning and development of the renewal project at the new Beattie Crescent location that the community-spirit at the centre proved a great success.
"People started taking pride in the area, once we started this project, everyone started forming groups and talking to each other as a community," she said.
In 2005, the new centre opened, which Ms Robinson said caused "the whole area to change for the good".
"You still have your transients and empty blocks, but the people themselves are more friendly and they talk to their neighbours," she said.
"But it is that community spirit, that everyone wants to pitch in and help make a difference and we actually do." With five children, 14 grandchildren and seven great-grandchildren, Ms Robinson said she now needed time for her family.
From today, newly appointed coordinator Tracie Lund will take over the legacy, and she has already had new enrolments, including Ms Robinson in three art classes.