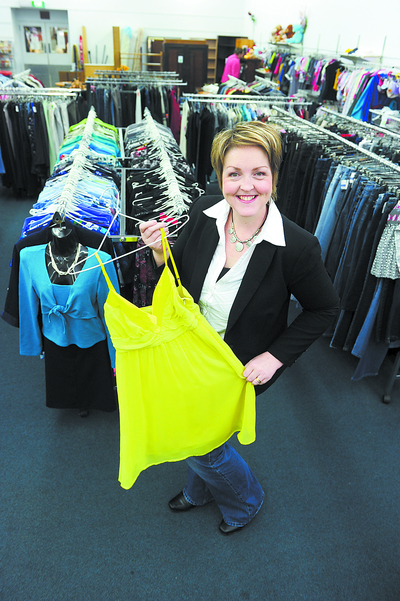 LATROBE City councillor and local personality Kellie O'Callaghan is a familiar face in a number of op shops around the Latrobe Valley.
The self-professed op-shopaholic thinks shopping at charity stores is a great opportunity to recycle and "give back as much as you take out" from the community.
"(Shopping in op shops) keeps your wardrobe organised and you also get great value clothes," Kellie said.
"Most op shops have high turnover, so shop regularly and get to know the volunteers supporting some great community organisations.
"Half the fun is telling your friends about the great things you found at your local op shop."
A keen bargain hunter, Kellie has a few secrets to share on her favourite shopping spots in the Valley.
"Yallourn North and Newborough op shops have regular 50 cent clothing sales," she said.
"The Salvos have a 50 per cent off selected clothes each week and $2 Monday for selected items; they often have new clothes that they have had donated in bulk, so keep an eye out for bargains."
Kellie said Cooinda Hill also have regular sales.
"Visit often to see what the great specials are; $5 a bag clothes specials are great. They also had a recent $1 shoe sale," she said.
"St Vincent de Paul's in Traralgon has a retro clothes rack, well-worth a look, and Red Cross Traralgon has regular sales and good turnover of quality clothing items."
When asked about her greatest finds, Kellie said the ball gowns at St Vincent's often looked like "uncollected dry cleaners' stock."
"(There are) great dresses; they even have wedding dresses…not that I needed one."
She said a fun activity with like-minded friends could be to "make a day" of op shopping.
"Take your friends along and see how many op shops you discover in your neighbourhood or town nearby," she suggested.
Beyond the shopping, Kellie said the conversations had with new friends and volunteers were also part of the fun.
"You never know who you will run into, what great conversations you may have," she said.
She said op shops were also a great way of helping kids learn about clothes recycling and value for money.
"They also get the chance to clean out their old clothes to make way for new op shop finds," she said.
Kellie's 10 year-old daughter Bella has inherited her mum's passion for finding hidden treasures among items.
"It is great fun when I get to buy really good clothes at the 50 cent sales," Bella said.
"Mum will give me $10 and I can buy as much as I can carry."