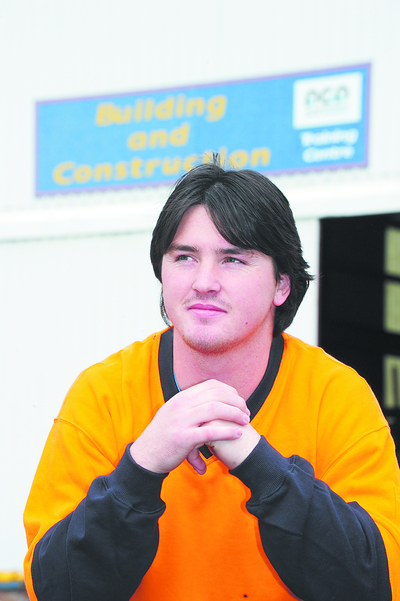 "ANGER" and fear were the emotions expressed by Adam Brooks when he was stood down by his Gippsland training organisation.
Two and a half months later, Mr Brooks, an Apprenticeship Group Australia apprentice, continues to struggle to find work in the Latrobe Valley.
One of the 35 Gippsland apprentices to be suspended by AGA due to "financial reasons", Mr Brooks said he failed to understand how his career suddenly spiraled out of control.
"I don't get it; last year we were flat out all the way till the last week of Christmas," Mr Brooks said.
"And then all of a sudden all of it was gone and there were just no jobs left.
"I'm looking for other jobs, but there's just not a lot out there; I am a bit worried."
A second year apprentice, Mr Brooks, a former cabinet maker, discontinued his cabinet making trade to pursue carpentry.
He said he enjoyed "being in the field", working and "earning a lot more" money to support his partner and three and a half month-old daughter.
With a tough economic climate, "not just in the Valley", Mr Brooks said he only hoped the situation would change for the better.
"It's not just killing the ones who are already working, but killing the ones who are even trying to look for work," he said.
"I'm a bit hopeful, after the State Government announced that funding for unplaced apprentices, so we have to see how it goes."
With a 17 year-old brother currently considering taking up a trade after his TAFE course, Mr Brooks urged community groups to take on apprentices to secure the future of upcoming tradesmen like his brother.
Assurances from his AGA field officer to "do their best" to secure a job for Mr Brooks, have also given him some comfort.
"They haven't just chucked us out in the dark; my field officer keeps asking how I'm getting along and they say they're trying to get us some work," Mr Brooks said.
"I talked to my girlfriend about moving to Melbourne, but there's nothing there either.
"I've been applying for some labouring jobs since I've done cabinet making, so I've got something to fall back on, but it's still quite hard."
At 21 years of age, Mr Brooks said he did not want to take up another course, but was hopeful "something will pick up".
With the Gippsland Trades and Labour Council, and AGA recently joining forces to come up with immediate and long terms solutions, Mr Brooks said he hoped the alliance would turn to tangible jobs.