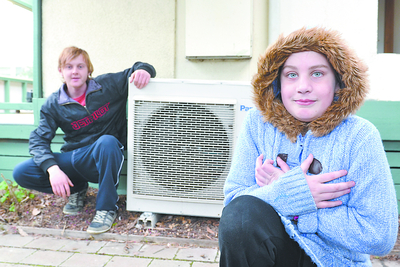 With winter greeting the Latrobe Valley with some of its iciest mornings, Delhuntie Youth Camp in Trafalgar East wanted to make sure its young campers were as comfortable as realistically possible.
But when camp director Elwyn Scale was quoted the cost of re-gassing onsite reverse cycle air conditioners at five times the normal price, he got "quite the surprise".
While before 1 July and the introduction of the Federal Government's carbon tax, re-gassing a single unit would cost $35, Mr Scale was told the going rate had soared to $180 in the new financial year.
"It really blew us off the map because we are a non-profit organisation, and we've got 10 or 12 of these air conditioners here," Mr Scale said.
Not convinced he was being treated fairly, Mr Scale called another air conditioner servicing company, but was given the same information; prices had gone up four or five times as a result of the carbon pricing.
"I just couldn't understand why the prices had gone up so much, when government said carbon tax increases would be modest," he said.
For Ben Heard, second in charge at Moe refrigerant trade supplier Reece, which sources various commercial and household refrigerants direct from importers, the 1 July price rise was expected, and was now being felt across the industry.
However, Mr Heard said there had been a "massive breakdown in communication" between government, suppliers and consumers, confirming industry prices had gone up 400 to 500 per cent in some cases.
With a highly concentrated makeup of fluorocarbons, every kilogram of refrigerant is equivalent to thousands of kilograms of carbon dioxide, making cooling and heating refrigerants in cars, fridges and air conditioners among some of the hardest hit products under the carbon tax.
"This is a game changer for the industry, but life goes on, and people need to be a bit more frugal and do what they can and be a little more careful about their uses," Mr Heard said. He said while refrigerants were previously subject to three separate levies, which were accounted for in transaction details, invoices post-1 July were not required to detail the carbon price component of the sale.
He said it was a "lack of transparency" which could give rise to companies opportunistically inflating prices.
Meanwhile, with another "three or four" air conditioners needing repairs at Delhuntie Park, not to mention a tractor and car in need of re-gassing, Mr Scale said some rooms would "just have to go cold" until the camp can afford it.