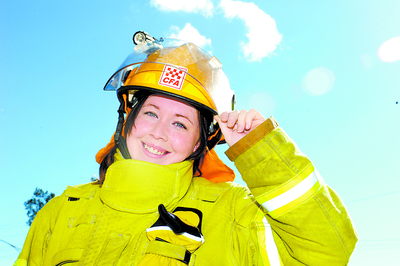 MOE'S Tara Paulson is prepared to dedicate her career to fighting fires, after the 24 year-old old recently won the Russell 'Toby' Williams encouragement award at the 76th annual Moe Country Fire Authority presentation evening.
"You don't join the CFA for recognition, but it was nice to get the award to say 'you are doing the right thing' and 'you are on the right track'," the four-year CFA veteran said.
"It was an honour to win the award in Toby's name."
While growing up in Melbourne, Ms Paulson said her love of firefighting stemmed from emergency service visits to her primary schools, where she was fascinated by the equipment displayed.
"I decided when I was little to join because when you see a fire truck, it is pretty exciting," she said.
"My Mum and Dad think it is exciting, they find it dangerous, as parents do, but they are very supportive."
Fresh out of high school, Ms Paulson moved to the Latrobe Valley and joined the Mirboo North Fire Brigade before joining the Moe CFA in 2010.
By day Ms Paulson is a party planning consultant and by night, she is on stand-by for the alarm to call to attend an emergency.
"I remember the first turnout I attended was with Mirboo North and it was a car accident; most firefighters tell their story about attending flames, but there are a few of us that had a different experience," she said.
"Sometimes you get there you are the only emergency service on the scene; it is not always about firefighting and I knew that going into it.
"Our roles are across the board, at the end of the day we are helping the community and we do that in any way we can."
Despite her confronting first experience, Ms Paulson said attending the accident strengthened her desire to be a firefighter and help the community.
"The members at Moe CFA have to be the highlight of being a firefighter, they give you knowledge you can't get from books, only (on-the-job) experience," Ms Paulson said.
"They give you the confidence you need when you get on the job to know what you are doing and what your role is."
She said, the close support network at the Moe brigade had been invaluable to her development and training experience.
"You can't go past a firefighter who has been in the brigade for 15 years; their knowledge is amazing," Ms Paulson said.
"Brigade members with knowledge like that are getting older; we want the opportunity to get the younger firefighters, like myself, to train up to the leadership roles because they are not going to be around forever."
The CFA's comprehensive training program has been a highlight for the passionate fire fighter, who said she hoped to complete the rigorous staged process to become a career firefighter at Traralgon CFA in 18 months.
"A lot of people come into the brigade and don't realise the CFA (require specific skills); we are trained volunteers," Ms Paulson said.
This year's Moe fire fighter of the year award went to Paul Weston; 2012 junior firefighter of the year went to Matthew Pearce, 25 years recognition went to Terry Whitney and Sue Biddis, and Matthew Van Tilburg was recognised for five years service.
More than 100 past and present members attended the event including CFA regional commander Trevor Owen and operations officer Ian Pattie.