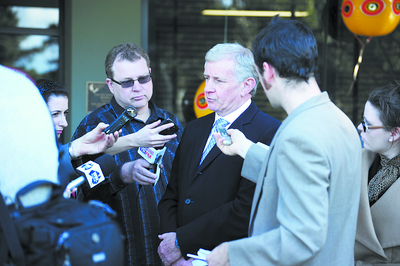 THE Latrobe Valley needs to strengthen its business case for current and incoming shovel-ready projects if they are to attract Federal Government funding, according to a key visiting minister.
On his sixth trip to the region since the government's carbon pricing policy announcement, Regional and Rural Development Minister Simon Crean said he was unaware of any local infrastructure projects ready to receive a Commonwealth funding injection.
"I'm not going to commit that money until we've got the projects around (to) which we can commit that money," Mr Crean said earlier this week.
In the region for talks with the Latrobe Valley Transition Committee, who submitted its 'Report to Government' document, which outlined strategic directions by which government could guide funding, Mr Crean said all funding decisions had processes which needed to be adhered to.
However Latrobe City Mayor Ed Vermeulen said Mr Crean had been briefed on Latrobe City's top three priority shovel-ready projects only hours earlier on Monday, and said he disagreed with the Minister's assertion there were no projects ready to receive an immediate funding injection.
"We have clear projects which are ready to receive funding; we've named three which are ready to be supported and quite frankly are waiting for some of the cash to start rolling in until they can start," Mr Vermeulen said.
He said development of a rail transport facility in the Gippsland Logistics Precinct, and redevelopment of the former Lurgi Coal Gasification Plant where in its top three shovel-ready projects.
Mr Vermeulen said Latrobe City's number one priority was the implementation of a Social Impact Assessment, which was aimed at collecting 'hard data' highlighting the tangible impacts carbon pricing will have on the Gippsland region, which needed "several hundred thousands" of dollars to implement.
Federal member for Gippsland Darren Chester said he was "very disappointed" the government was not ready to fund Latrobe Valley projects, particularly the Social Impact Assessment, given the Valley "had the most to lose" from the carbon pricing policy.
"The Federal Government has introduced the biggest reform in several decades, but how can he expect the Latrobe Valley to adjust to this policy if the government won't fund a report which will help them get a better handle of what the impact will be under the carbon tax regime," Mr Chester said.
"Minister Crean knows very well that the Latrobe Valley has projects that are ready to go, including the $65 million upgrade of Latrobe Regional Hospital which his cabinet failed to fund in the last (Regional Development funding) round."
Regional Development Australia Gippsland chair Richard Elkington said while the region could argue strongly for its 'shovel ready projects', the expectations of Federal Government could differ. "Whether that matches the expectation of government is a matter to be determined; whether the quality of the business case is enough to attract the funding from the government is another thing," Mr Elkington said.
Meanwhile, Mr Crean's visit has shed no further light on the Federal Government's Contract for Closure process, which could see a Valley power station closed by 2020.
The announcement for a signatory to the deal was due on 30 June, however has since been extended indefinitely.
However Mr Crean said that during his visit to the region, no one had formally requested an update on the Contract for Closure process, but was unable to provide an update to media himself.