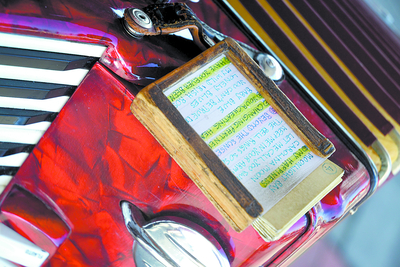 GORDON Gracie has worn out literally a dozen accordions over his busking years.
"I'm just getting too old for the big ones," Gordon said, sporting his "more manageable" vintage-style accordion on a cold Valley morning recently.
Despite wearing fingerless mittens, Gordon's weekly busking session on Tarwin Street, Morwell, would probably last only a couple of hours before his fingers became numb.
"Things are getting physically difficult; my back can only hold so much weight …and my fingers are starting to go."
But that has not hindered Gordon from his life long passion for the dying art.
Picked up in his mid-20s from a keen 11 year-old musician in New Zealand, the accordion has become an instrument, which for Gordon, defines a generation.
"Back in my time, just about every second bloke had an accordion," he said, adding these days they were "few and far between".
However, he said the accordion still seemed to attract more busker donations than any other instrument.
"It's a very nostalgic thing for so many people to hear it; everyone says they remember their grandpa playing it."
In his prime, Gordon could belt out tunes for hours on end, up to seven hours at a time.
And with a play-list of about 150 songs from the 1930s, 40s and 50s committed to memory, Gordon said the tunes often blended into each other and he would often go into "autopilot", and could sometimes forget which songs he had played.
"There's just something about the sound of it … when you play it comes out in layers, just like an orchestra," he said.
Since retiring in 1986, the former Adelaide resident has taken to the road by caravan, at times paying his way through busking.
Despite moving to Morwell in 1997, it took until last Christmas to shake the travel bug, with 84 years of life experience finally catching up with him.
Over the recent years of travel, Gordon said he could not help but notice dwindling busking numbers, brought about by tightened council busking regulations; not just in Latrobe City, but across the country.
Despite his age, Gordon said with the "everyday delight" of interacting with people on the street, he would continue to busk locally for "as long as (his) body allowed".
He said the thought of the accordion not being widely played by budding musicians in coming generations was a sobering one.