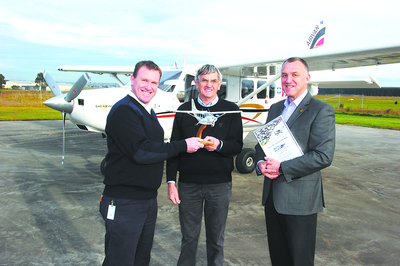 BRAVING "savage" storms and harrowing conditions, a GippsAero plane has safely chartered two of its pilots on a 62-day trip around the world.
Ken Evers, co-founder of the Millions Against Malaria campaign, was in the Latrobe Valley recently, following the successful launch of a flight around the world to raise awareness about malaria.
Mr Evers and fellow pilot Tim Pryse, kicked off their project two years ago, by visiting malaria-affected countries in a GippsAero GA8 airvan, a plane Mr Evers described as "rock solid".
The aircraft 'Bravo Yankee India' set a record that year, as Australia's first locally designed aircraft to fly around the world.
"It is an unbelievable machine; it flew through whatever bad weather we had to endure," Mr Evers said while visiting the Valley last week.
"It was a real rock."
Mr Evers was down in the region to thank GipsAero for its sponsorship of the project, praising the Latrobe Valley community for supporting the campaign.
With decades of flying experience between the two pilots, Mr Evers said their project was the result of "wanting to use their skills for the community".
"If you want to do something to make a difference, you have to use the skills you (have)," he said.
"I come from the cattle industry and Tim comes from the building industry so there's not a lot you can do.
"But we're both pilots, so we thought we could use those skills to raise awareness and encourage other people to use their skills to help others."
Both pilots spent different periods of their life in Papua New Guinea, and said what they experienced were "struggles" and "some really scary situations that very few people witness".
After spending his teenage years in Papua New Guinea, Mr Evers witnessed families losing their children to the parasitic disease, inspiring him to make it his "life's goal to prevent malaria mortality" in such countries.
Describing their trip around the world as "extremely difficult but very rewarding", Mr Evers and Mr Pryse are continuing to raise equipment such as mosquito nets, to be delivered to malaria hotspots.
Millions Against Malaria is currently working on the Malaumanda Village project.
This project seeks to raise $2094 so mosquito nets can be provided for every family living in this isolated village in Papua New Guinea.
"My real heart felt goal is to prevent malaria mortality in Papua New Guinea," Mr Evers said.
"You've got to aim high and until I die I'm not resting."
For more information or to support the Millions Against Malaria project through your local charity, visit www.millionsagainstmalaria.com