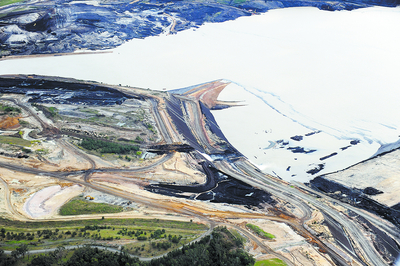 THE Yallourn mine is preparing to re-divert water flooding into the mine for a third time, as it struggles to manage water levels.
However, amid ever-reducing working space, operator TRUenergy aims to have its third power generator running today, after successfully reinstating a second generator last week and ramping up coal excavation over the weekend.
TRUenergy director of operations and construction Michael Hutchinson said after facing additional ongoing setbacks, including additional rain dumps and an earthquake, the company was finally making some "stabilised headway" in controlling the situation.
"Frankly, it's been very hard to stabilise the situation, but with what we've been through – being hit by those additional events – we look to be making some real progress this week," Mr Hutchinson said.
With the Morwell River being diverted into the East Field mine's lower level at 500 megalitres per day as of Thursday last week, coal excavation equipment was being transferred to the upper operational level in an effort to ramp up its coal supply over the weekend.
An upper-level coal supply conveyor began feeding the power station last week, enabling a second power generator to come online, after the lowest lying conveyor became inundated by water due to the rising East Field water levels.
It has now been six and a half weeks since heavy rains breached the Morwell River diversion's banks, sending water flooding into the mine, cutting off coal supply routes and reducing power generation capacity by 75 per cent.
Meanwhile, TRUenergy plans to re-divert water back into the West Field mine this week, where ongoing efforts to pump near-capacity water levels into Latrobe River will be supplemented by a 350ML 'river to river' pipeline by the end of July.
Construction Forestry Mining and Energy Union mining and energy Victorian secretary Greg Hardy said considering the sheer range and scale of logistics involved in the response operation, TRUenergy was "overall" managing the response well.
"Look, it simply shouldn't have happened, and that's a big black mark against their name, but considering the amount of logistical juggling that's going on, you would have to give them a reasonable (response) score."
However Mr Hardy said the power station was still grappling with cracks in cooling tower supply routes underground, limiting its generation capacity potential.
"With all the ground movement that's occurred over the years, the supply pipes are cracking and looking pretty ordinary, and it is placing limitations on the cooling tower site," Mr Hardy said.
Mr Hutchinson said the original timeline for completing its medium-term water diversion solution – a 1.6 metre 850ML pipe connecting the Morwell River directly to the Latrobe River – had been extended from late July to mid August.
"We are getting five deliveries per day of 12 metre piping in from Albury, and we'll be getting another five deliveries per day starting soon from Western Australia, but it's going to take a bit longer than anticipated to get the full length," Mr Hutchinson said, adding the pipeline needed to stretch 1.6 kilometres, with a longer-term plan to extend the pipeline to 3.6km.