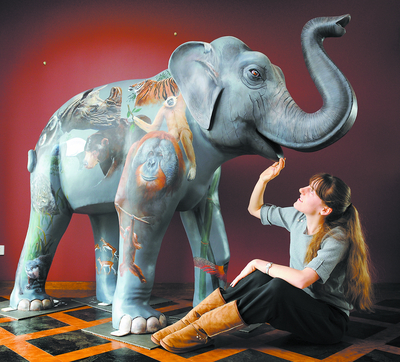 AFTER two months of hard work, Callignee artist Kelly Just has applied the final touches to her life-like work of art.
The 23 year-old has painted a series of endangered species across what was once a dull, white fibreglass elephant.
The artist's work will be one of 50 elephant sculptures crafted in the likeness of Melbourne Zoo elephant Mali, which will grace the streets of Melbourne as part of the zoo's flagship event, 'Mali in the City'.
For Ms Just, who designed a 50-cent Australian coin for the 2006 Olympic Games, her works of art have graced the country.
Her designs and now a life-like elephant statue added to the list, Ms Just is no stranger to the art world.
"I love the zoo and I particularly love animals; they're my favourite subjects… so this is an exciting project," Ms Just said.
"(The project) is unusual, challenging… and I've been working on it pretty much everyday."
A home-schooled student, Ms Just said her non-traditional access to education had enabled her to focus