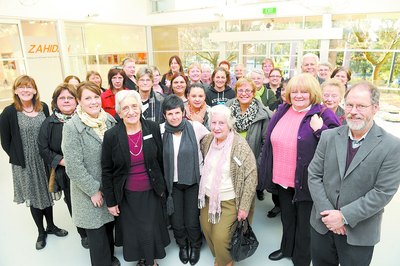 SIXTEEN potential "champions of palliative care" recently completed a 13-week distance education course at Monash University Gippsland, funded by the community's generosity.
The palliative care course was completed by regional scholarship students, who included nurses, carers, social workers and other general allied health workers.
Thee students were recipients of the Latrobe Valley Palliative Care Fundraising Association's Angela Dempsey and Bernadette Carstein Scholarships, while one student was also supported by the Morwell Lions Club.
"The community is extremely generous," LVPCFA president Ann Lovison said, following a certificate presentation ceremony and afternoon tea at Monash University's Switchback Gallery on Wednesday.
Mrs Lovison said the course, which was created in collaboration with Monash and the Gippsland Region Palliative Care Consortium, was aimed at improving the knowledge and skills of those working with the terminally ill and elderly.
"For family members of those in homes, it is wonderful to know there is somebody to look after them," Mrs Lovison said.
Nurse Fiona Stanton, who was not one of the scholarship recipients but was one of the 22 who completed the course recently, said it affirmed her knowledge of existing processes in her workplace.
"I have a better knowledge of the dying process and can provide better support to families and patients," Ms Stanton said.
"I also have more confidence in dealing with families, and talking about death; I would definitely recommend this course."
Although the course did not provide a formal qualification, Ms Stanton said it was beneficial for "self-recognition".
Peninsula-based Monash University lecturer Katrina R?coch? said the course taught a palliative care approach to those working in general health services.
"Those with terminal illnesses should have access to excellent palliative care; this course always seems to have been positively received and raises awareness," Ms R?coch? said.
"The students of the course go on to become champions of palliative care, and share the tools and skills learned, which has a flow-on effect which benefits the whole organisation (they work with)."
She said the LVPCFA's work was a "great testament to the community spirit" in Gippsland, and said the course would continue into the future.
Mrs Lovison, who said the group had initially formed to help serve existing shortcomings in the palliative care sector, raised funds through the sale of raffle tickets, as well as through donations from various community clubs and groups.
Those interested in becoming a volunteer or supporter of the Latrobe Valley Palliative Care Fundraising Association should phone 5167 1589.