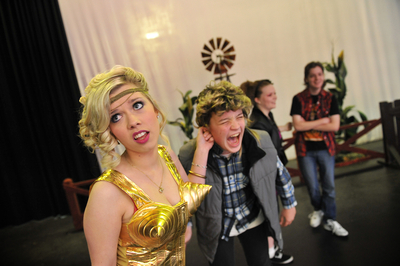 WHAT better way to showcase the great Australian culture than through a play full of great Aussie rock songs, blunt humour and terrible accents.
About 100 Lowanna College students will participate in tomorrow's opening performance of The Great Australian Rock Musical by Jodie O'Connor, showcasing Australian fashion, humour, love for the land and great music hits including Eagle Rock, Working Class Man and Jessie's Girl.
Lowanna students David Jelinic, Ethan Detering, Jade Carpenter and Georgia Moore nabbed the lead roles as Troy and Darren Wilson and Kazza and Shazza.
Year eight student Ethan, who plays Darren, said the play summed up the great Aussie culture.
"The characters are all really outgoing, they just do things without thinking about the consequences," Ethan said.
The play follows popular shearers Troy and Darren Wilson's journey, as they battle for a billion-dollar fortune while dealing with their new brides, Kazza and Shazza, which were a result of a spin the bottle game at a bachelor and spinster ball.
Ethan said apart from the humour, there were moving moments which epitomised the Aussie attitude.
"In one scene, I say to Dazza (Darren), 'listen mate, you are my brother and we stick together', if people stick together things will work out well; that is a pretty Aussie attitude to have," he said.
Jammed packed with Aussie humour, Kazza actor Jade Carpenter said the play was an opportunity for students to expose their "inner bogan".
"It has been fun putting on a different persona and be someone else that you are not usually in everyday life," Jade said.
"Our characters are the best, we are pretty much Kath and Kim, we strut and talk really badly and really get into our roles."
Veteran performer Jade said the play had strengthened relationships at the school by students working together.
She said the high calibre performance would also publicise the school's successful musical program.
The lead actors agreed they were most excited about sharing their rendition of Australia's hideous fashions and rocking music before they hang-up their costumes and keep history a thing of the past.
"To be able to dress up in these sort of outfits, it shows how great Australia was back then," Georgia, who plays Shazza said.
"But the outfits are dead and gone, we are not going to try and bring them back into fashion."
For more information or tickets to see The Great Australian Rock Musical phone Lowanna College on 5127 9200.
"If they buy a ticket, they will be glad," Georgia said.