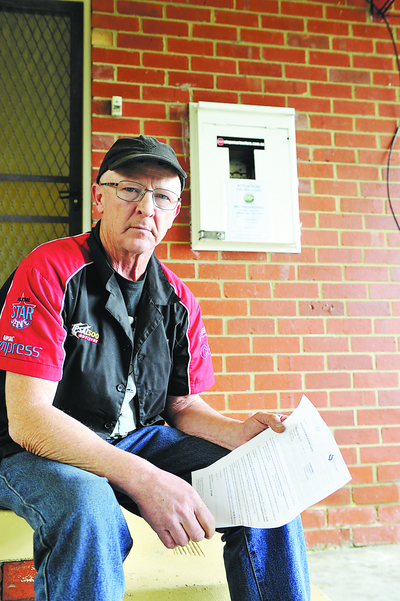 A CAMPAIGN to stop the local Smart Meter roll-out, amid claims of safety concerns, is gaining traction in Churchill.
Electricity distributor SP AusNet has advised it is currently rolling out smart meters in the Latrobe Valley in an effort to "help meet Victoria's changing energy needs".
The company said Energy Safe Victoria had confirmed smart meters were safe and did not pose "any greater safety risk" than existing electronic or electromechanical meters.
That information has done little to dispel concerns in Churchill, where the rollout has commenced.
Last Friday, more than 100 people attended a Smart Meter Forum in Churchill, organised by the Churchill Stop Smart Meters Action Group.
Chairperson Trevor Bridges said several speakers outlined the potential risks of smart meters, including a man who said his family had developed serious health problems when a smart meter was installed on his neighbour's house, opposite their bedrooms.
Mr Bridges said three to four per cent of the population were sensitive to radio frequencies, which meant in Churchill there could be 141 radio sensitive people and in Traralgon the number could be as high as 660.
"A smart meter on their properties could be a real health problem for them," he added.
Those at the meeting voted to support the right of customers to refuse installation of smart meters and to have their decision respected by electrical distributors.
It called on the State Government to allow customers the right to "opt out" of the smart meter program and it agreed those who experienced health problems considered to be caused by the smart meters should have them removed "and replaced with analogue or non wireless meter".
The forum also discussed concerns about the program's escalating costs and billing problems, according to Mr Bridges.
He said the action group would appeal to State Premier Ted Baillieu and State Energy Minister Michael O'Brien asking them to meet with community representatives over their concerns.
Mr Bridges told The Express there was no legislation mandating customers to accept the installation of smart meters.
He produced a letter from State Member for Morwell Russell Northe to a local resident that confirmed State Government directives instructed each distributor to "use its best endeavours" to complete the installation.
"So it's a corporation directive rather than a citizen perspective," Mr Bridges said.
Comments on The Express's Facebook page indicated some local residents had already refused the installation.
Not everyone at Friday's forum agreed with the opinions expressed. One local resident said the information presented was one-sided and speakers were unwilling to listen to opposing views.
When some people offered alternative facts and statistics they were "shut down", the resident said, adding "not everything being said was a lie but there were a lot of untruths and heresay".
The resident expressed concern that many of those at the forum were seniors and "vulnerable to that sort of scaremongering".
According to the Department of Primary Industries, independent testing showed "radiofrequency electromagnetic exposures from single meters and groups of meters are well below the safe levels set by the Australian Radiation Protection and Nuclear Safety Agency."
Mr Bridges is not convinced.
He has locked his switchboard, intends to refuse smart meter installation and has urged others to do the same.
He said historically the system had failed elsewhere in the world and was being rolled back.