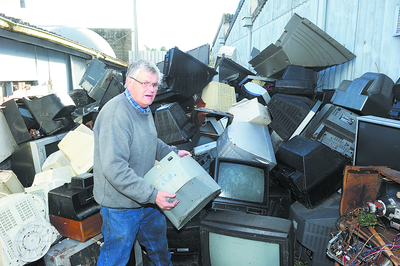 PAULINE and Tom Corrigan are fed up with the public's rubbish.
The owners of a commercial site in Ellen Street, Morwell have been left with a derelict property, piles of rubbish and a financial debt after its seven-year tenant recently vacated.
The factory could be mistaken for a dumpsite, which is one of the reasons the Corrigans believe residents repeatedly leave rubbish, broken electronics and unwanted televisions at the site.
"It was only three weeks ago that (Latrobe City) council called to tell us that we were responsible for cleaning up the mess," Ms Corrigan said.
"It is a constant stress of having a rundown property and being totally ignored by the tenant."
The property was purchased 10 years ago with Mrs Corrigan's retirement funds and leased in 2005 to The Odd Appliance Shop owner James Nightingdale.
However, now residing in Warragul, Mr Nightingale said he was not responsible for cleaning the site as it was in a neglected state when he moved in.
Unable to meet fortnightly rent payments, Mr Nightingale said he was "kicked-out" and unable to clean the site due to the mass amount of televisions left.
"She rang me on the Monday and asked me to be out on Thursday, it was left like that because when I moved in it was like that," Mr Nightingale said.
According to Mr Nightingale's partner, Rachel Walters, he would not address the financial debt as he was filing for bankruptcy.
Currently left with a bill of $10 per television for the 3000 televisions left at the site, Ms Corrigan fears the financial impact of cleaning up the dumped rubbish would affect her retirement.
Limited by post-polio and rearing three young children, Ms Corrigan said the constant stress of being unable to improve the site was affecting the family.
"I have been complaining and getting nowhere with the tenant, but council is law and they have a lot more authority than me, and they said I was responsible for cleaning it up," she said.
"I have to pay big time for my tenant's mess; it is an uphill battle and I have been hugely let down."
A further hit was the recent earthquake, which cracked the facade of the building, causing parts of the roof to fall in.
If dumping offenders are identified, a Latrobe City spokesperson said council was able to issue penalties of $282 under the Environment Protection Act.
Latrobe City Council general manager community liveability Michael Edgar said council staff were monitoring the site for ongoing dumping.
"No recent dumping has been detected," Mr Edgar said.
"We have organised for a sign to be erected and we notice that the owner has also put up one of their own."