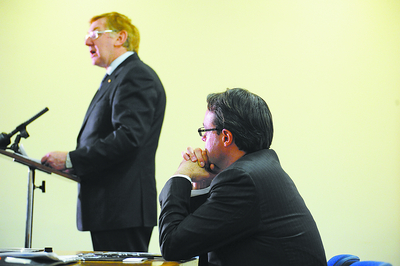 AN ambitious $90 million program to see up to four new clean-coal demonstration plants built in the Latrobe Valley was launched by the state and federal governments on Friday.
State and federal energy and resources ministers, Michael O'Brien and Martin Ferguson, visited the region to announce the Advanced Lignite Demonstration Program was now seeking proposals from "interested parties" keen to develop pre-commercial demonstration scale projects in the Valley from as early as next year.
While both ministers claimed numerous domestic and international companies had shown serious interest in seeding grant support to develop clean-coal technologies in the region, environment groups collectively denounced the program.
After welcoming last week's announcement the Federal Government had withdrawn a $100 million grant to HRL's proposed dual gas plant in the Valley, green groups claimed news of a new ALDP was "devastating for Victorians" and called for the government to instead direct funds to "job-rich renewable technology".
In stark contrast, both ministers hailed the program could "unlock the key" to better use of brown coal and subsequent "positive investment and job creation in Gippsland".
Pre-commercial technologies eligible for funding are expected to include coal drying, dewatering, char production and separation. Program guidelines say it may also fund liquefaction, combustion and gasification.
In response to scepticism about the potential for clean-coal proposals to raise the private capital required to reach commercialisation, Mr O'Brien maintained the technology had progressed "significantly" in the past decade and Mr Ferguson claimed new market demand for low-emissions energy meant these projects were now "worth investing in".
"In any project where you are talking about cutting edge technology there is an inherent level of risk that goes with that – and the GRC has made raising capital that much harder," Mr O'Brien conceded, but he said the increased viability of technologies would attract private investment.
The future export potential for brown coal was touted as a "real possibility" with Mr O'Brien saying it could address "a great need for energy security right through the world".
"Japan is down to very little nuclear now and they are looking at Victorian brown coal with considerable interest, as have China and India," he said.
While any export potential would not be realised without massive investment in port and rail infrastructure, Mr O'Brien said he expected the private sector would contribute to these costs.
He also said the State Government's market assessment of interest in further allocations of the valley's brown coal reserves had indicated "considerable" interest from within and outside Australia and decisions on those allocations would be announced in this half of the year.
Neither minister was paying heed to the plight of environment groups who claimed the governments were throwing "good money after bad" and "raising false hopes in the Latrobe Valley".
"The green groups have got to front up to the fact that, yes, they like to spend money with every available ill thought out idea under the sun but you actually have to have wealth to prudently create services to the community," Mr Ferguson said.
If clean-coal technologies proved successful, the minister said he would be "very comfortable exporting coal, as I am with uranium, gas, iron ore and copper".
"We are a resource rich country and we have to create economic value for investment in health, education and childcare… you don't have essential services without economic activity," he added.
Latrobe City Mayor Ed Vermeulen commended governments on funding the ALDP but said it was "vital" local expectations were not "set too high". He also called for the urgent funding of "shovel-ready" projects.
According to ALDP guidelines it is expected projects will have a duration of four years, with funding available for projects to commence before 30 June 2013. Expressions of interest are now open and will be assessed by an independent panel.