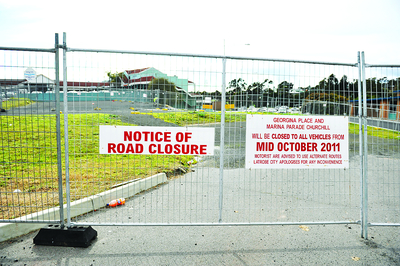 CHURCHILL town leaders have called for patience amid mounting frustrations over lengthy delays to works in the town.
Completion of a town centre plan for Churchill is being complicated by "complex negotiations" between Latrobe City Council and multiple landowners of up to 22 parcels of land.
While residents have expressed dissatisfaction over unsightly barricades and difficulty accessing the town's commercial centre, Churchill and District Community Association president Margaret Guthrie and Latrobe City Councillor Darrell White defended council's attempts to address road reconstructions central to the town plan.
Cr White conceded it had been hoped current road and carpark works would have been completed at the start of this year, but "all the effort that can, and must, be undertaken, is being done with a sense of urgency".
A former shopping centre tenant who contacted The Express said the current situation was a "schemozzle".
"The whole shopping centre is so choked up; you can't access it from Monash Way," he said.
"These roadworks have been halted for months."
Ms Guthrie agreed the CDCA was "absolutely" concerned about delays in seeing the town plan come to fruition but said "we know Latrobe City Council has done its utmost to engage with private landowners to see this completed, but it is very complicated".
"There are multiple small parcels of land with different owners… some are very small pieces but they need to be valued and (an) agreement needs to be reached about what is fair," Ms Guthrie said.
She said complexities around the potential cost obligations of private landowners, following any land exchanges, would also need to be resolved since private landowners would retain ownership of carparks while council would own roads, footpaths and infrastructure.
"We share the frustrations of Churchill residents," Ms Guthrie said.
"There certainly would be occasions where you would think 'I just won't bother with going shopping there; I will go somewhere where the access is easier' and I know people are asking 'what on earth is council doing' but in actual fact, this is not council's fault.
"Once this is all complete it will be a significant improvement on how things have been."
Cr White concurred, saying while parts of the town centre were unsightly now, and subject to disruption, "the vision hasn't been realised yet, but when it is, it will be fantastic".
"Although the temporary fencing is still there, the actual carparking capacity is what it will be and there are three points of access… I have spent a fair bit of time there and there are still plenty of cars… but, yes we are all frustrated it has taken this long to be completed," he said.
Asked whether council knew the land acquisitions would prove so complex before it commenced works in the town, Cr White said it did. but "it has been an absolute challenge to get it all sorted".
Ms Guthrie said she did not think "anyone could foresee how complicated this would be" and that, historically, "things in Churchill have been done in a bit of a mish-mash and that is all coming to light now".
She said she believed council was reluctant to commit to new timeframes for the town centre project, "because there is community backlash if things don't go according to plan".
Churchill Town Centre Plan place manager Ian Gibson agreed.
"We are definitely not blaming anyone for this, everyone is highly supportive of this plan but the plans for land exchanges are very complex and I can really understand why people aren't happy," he said.
Mr Gibson said all parties were trying to "reach a solution" and recent progress indicated strides been made "and with any luck we can finalise the arrangements pretty soon".
"I would have said that four months ago though," he said.
He said council had commenced roadworks in the area despite knowing land transfers would complicate matters because Philip Parade was in urgent need of "rebuilding" – it was rebuilt in accordance with the new town plan to avoid a costly "temporary" fix and "the new design of Philip Parade is a giant advance on what was there before".
Cr White said while there was "a bit of pain at the moment", the "long term gain" would be "substantial…so we would ask people to be patient a little longer."
The Express attempted to contact owners corporation secretary Rob Whelan but he was unavailable.