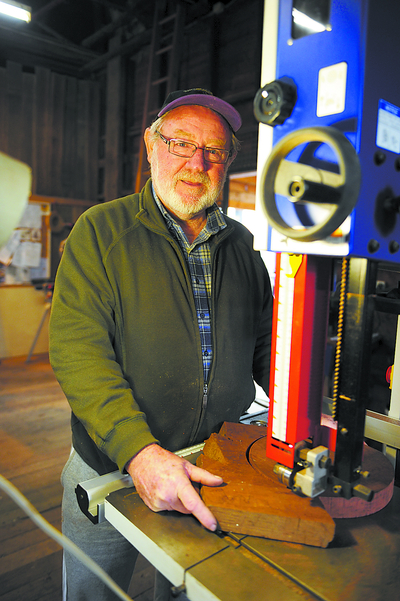 THE banging of wood and echo of a jigsaw are not unusual sounds to be heard bellowing from the Folk Museum in Old Gippstown.
Two days a week, the museum is filled with passionate Woodturners and Woodwork Club members, who have been meeting for more than 20 years, putting their hands to work, making pieces from wooden bowls to hand-crafted rocking chairs.
Woodturners and Woodwork Club president Lindsay Steel said the club was simply a group of mates who love woodwork.
"You name it, you can make anything out of wood," Mr Steel said.
"We encourage people to come along and put their hands and minds to work."
Beyond the banging of wood and mixing of creative ideas, the "Woodies" nurture healthy relationships aimed at targeting those suffering from loneliness and mental health issues.
"It helps people. I've been through it myself, I am retired and you go through a depressing time when you have given up work and you miss your mates," he said.
"I know people who have found their niche and come along and their lives have been improved.
"It is the sort place you go along to hang out with your mates."
The group originally began after identifying Moe lacked sufficient woodwork training and has since grown into a social group which attracts members from all over Gippsland.
"We are driven by the basic idea to get people together to give them something in life," he said.
"It is a nice way to learn from the old fellows and young fellas."
Predominantly compromising retired members, the club frequently attracts younger people who are eager to learn how to use tools.
"You'd be surprised how many can't hammer in a nail," Mr Steel.
"We have a couple of experienced instructors who teach people skills to be able to do woodturning and general machine work," he said.
"We teach them how to use basic wooden tools and then they can advance to machinery, there have been some good success stories here."
Success stories include elaborate cabinets and rocking chairs, which Mr Steel said proved anything was possible with the Woodies.
"You can make anything you want," Mr Steel said.
"I had a fella who is wanting to make a musical harp; he is doing a very good job and it could be a piece of art when it is finished."
The Woodies, which boast 40 members, often meets with groups and clubs, finding ways to give back to the community, including building disability access ramps, bird nests and even lawn bowls storage units.
"One woman came to us and asked us to make some bird boxes for a box of beers, unfortunately the fire came along and burnt them all out," Mr Steel said.
"But we supplied the boxes for her again with recycled wood, probably for another box of beers."
The not-for-profit group, with an attitude to "keep their head above water" are on a recruitment drive and are inviting members to their meetings on a Tuesday or Wednesday from 1pm to 3.30pm, at the Folk Museum at Old Gippstown.
For more information phone Lindsay Steel on 0409 480 954.