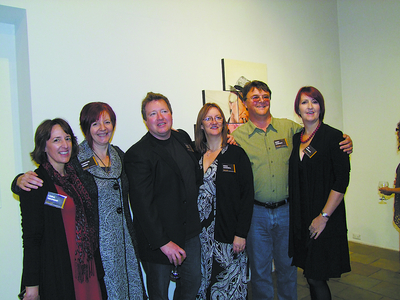 LIFE is all about perspective and the individual's way of approaching things, and evidence of this and how colourful things can be is now on display at the Art Resource Collective, Yinnar.
The 'Same view, different strokes' exhibition, which opened on 4 August, features portraits of several Latrobe Valley identities, as painted by a collective of artists from the Gippsland Contemporary Art Group.
The local identities were Damien Tripodi, Carmen Cook, Kay Radford, Tony Hanning, Paddy O'Dowd, Lynette Soloman-Dent and Barry Whitehead, and were chosen for the passion, diversity and colour they bring to the region.
"This idea began after our group had a discussion on so many negative things that were being portrayed in the Latrobe Valley, whether they were natural disasters or human tragedy," artist Sue Coppock said.
"We know this is a great place to live and good things come out of here everyday as dedicated community members often show.
"We decided to find long-time residents of the Valley who dedicated much of their time to helping others; not so much the ones that everybody knows but also the quiet achievers too."
Ms Coppock, a Toongabbie resident, said the exhibition's opening event was a "tremendous success", with more than 70 people attending.
"We hope that people who visit can finally put faces to the names that make a difference to our beautiful part of Australia," she said.
A local theatre personality and Yinnar resident, Mr Whitehead said he was "blown away" by the finished portrait of him, seen with a rakish grin and a theatre prop hat, as well as the finished portraits of the others by the artists.
"I was very excited to be chosen as a subject," Mr Whitehead said.
"It is a unique collaboration by five artists in my case who painted separate sections of the portrait in isolation then brought them together to form the finished piece; the result is quite spectacular."
When asked about the hat he is seen wearing in the portrait, Mr Whitehead said he had dug the hat out of the wardrobe when artist Sue Coppock was doing the photo shoot.
"I had worn it on a couple of occasions at theatre events," he said.
"It's not my everyday hat but it is a bit random – just like (me)."
The local thespian said while he had plans to retire, he "kept getting roped in to projects".
"The smell of the greasepaint and the roar of the crowd draws me in; maybe I'll have one last swan song soon," he said.
Meanwhile, Ms Coppock said the GCAG hoped to grow this concept, and looked forward to exhibiting the show in other galleries around the state.
"(We also hope) to enter lots of state and national exhibitions, including the Archibald next year," she said.
The Same view, different strokes exhibition is on display at arc Yinnar until 15 September.