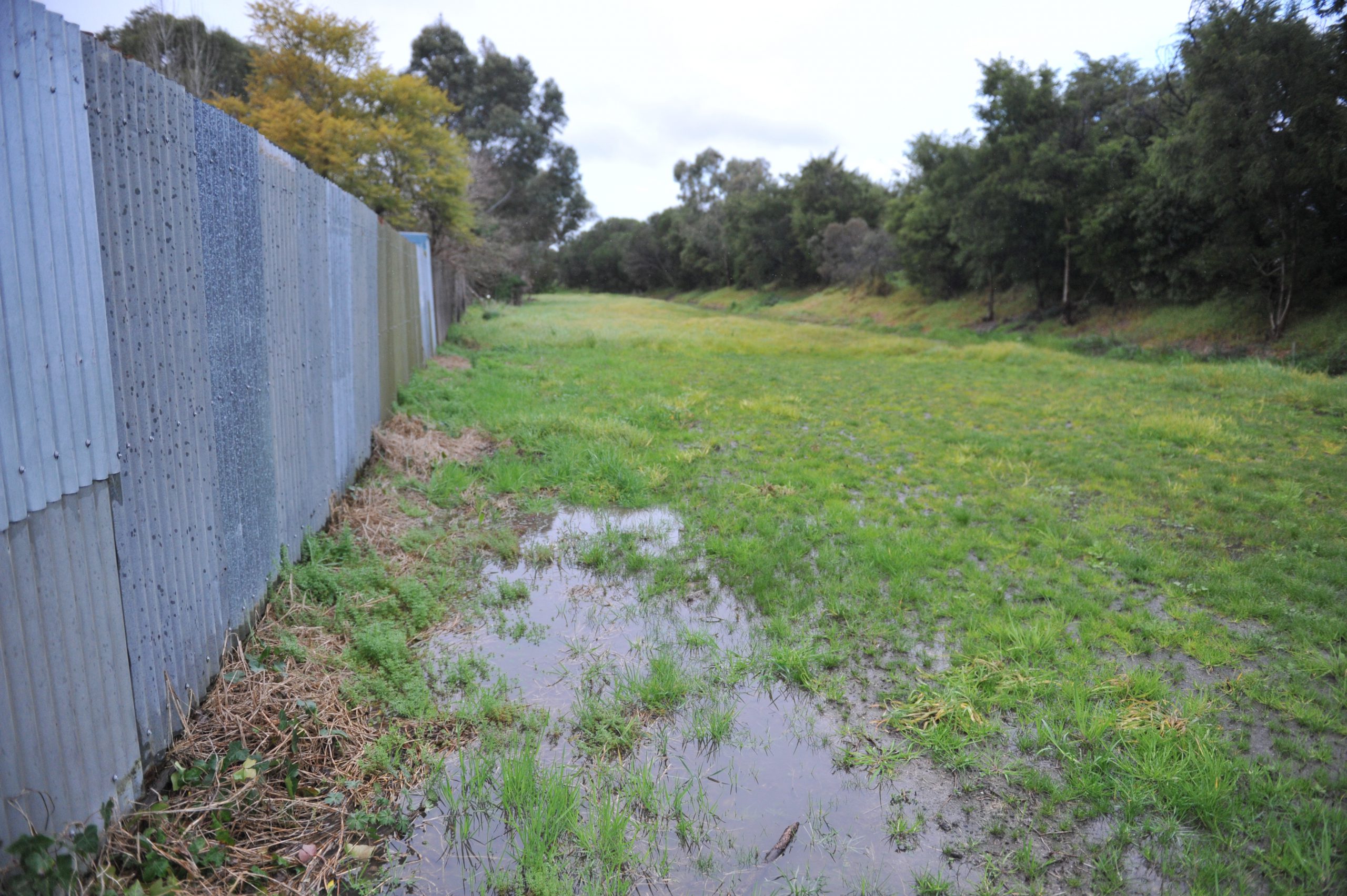 The long-standing battle with bureaucracy to combat "swamp-like" conditions plaguing Morwell's Wallace Street residents was raised in State Parliament last week.
State Member for Eastern Victoria Region Matt Viney told Premier Ted Baillieu he had 30 days to respond to a call to resolve the dispute which had "seen buck-passing continue for well over a year".
Mr Viney's action was welcome news to Wallace Street resident John Stratford who told The Express "after 20 years, the novelty of living in a man-made swamp is starting to wear off".
Residents in the area have long-maintained drainage works to the rear of their properties to date have been inadequate.
Mr Stratford said a commitment by VicRoads in January this year to fix the problem had since been reneged on.
He is calling for a rock-core trench to be built behind the sound mound which has been erected between Wallace Street properties and the Princes Freeway.
Mr Stratford is convinced, despite VicRoads assertions to the contrary, blocked groundwater, rather than surface water, is to blame for the permanent body of water sitting behind properties, flooding backyards and raising concerns about the structural integrity of bordering homes.
A VicRoads letter to Mr Stratford early this year said two bore holes had investigated sub-surface conditions in the area and found a "perched water table" in the top-soil but no significant moisture in sub-soil layers.
The letter confirmed VicRoads would reshape the area between the houses and sound mound once weather was favourable, and a table drain would be constructed to address the matter.
Mr Stratford rejected VicRoads's findings, claiming drilling works needed to be more extensive, with holes further apart and deeper. He believed natural goundwater flow needed to be restored and feared, until it was, the stability of the entire area was at risk.
Recent earthquake activity in the Latrobe Valley has served to heighten his concern.
Observations of the area indicate drainage works undertaken so far have failed to remedy a problem Mr Stratford says has bothered residents for more than 20 years.
His frustration grew in July when he was informed by VicRoads eastern Victoria regional director Sebastian Motta the authority had determined since "recent repair works to the Princes Freeway (undertaken during the Princes Freeway closure) has not altered the through flow or direction of water in this area… as a result, there is no further drainage improvement work proposed at this location".
In a letter Mr Motta confirmed "VicRoads does not accept any liability in this matter".
Mr Viney, who inspected the area recently, told parliament last week residents were "fed up with a lack of action from the government".
He criticised State Member for Morwell Russell Northe, saying the MP had "failed to assist residents despite countless emails, letters and meetings".
Mr Northe defended his involvement in the matter, saying he had visited the site "on a number of a occasions", and would meet with Mr Motta again in coming weeks "to have further discussions about what is required to remediate that area".
"I understand VicRoads undertook some remedial work there over the summer months but obviously there are still some issues in that vicinity," Mr Northe said.
Mr Viney said geotechnical advice he sought indicated the issue could be resolved "by constructing a permanent drain to direct the water away to an area where the permeability of the ground was such that stormwater would properly drain into the ground".
He called on Mr Baillieu to instruct "the appropriate minister" to meet with concerned residents and asked that a "disagreement" between VicRoads and Department of Primary Industries over "who is responsible for fixing the problem" be resolved.
In a statement to The Express last week VicRoads reiterated groundwater tests in the area behind Wallace Street "did not indicate any issues with drainage" but that "potential options for further drainage works may be reassessed" when weather conditions improved.
Mr Stratford said works could not come soon enough.
"What we have now is not a drain," he said.