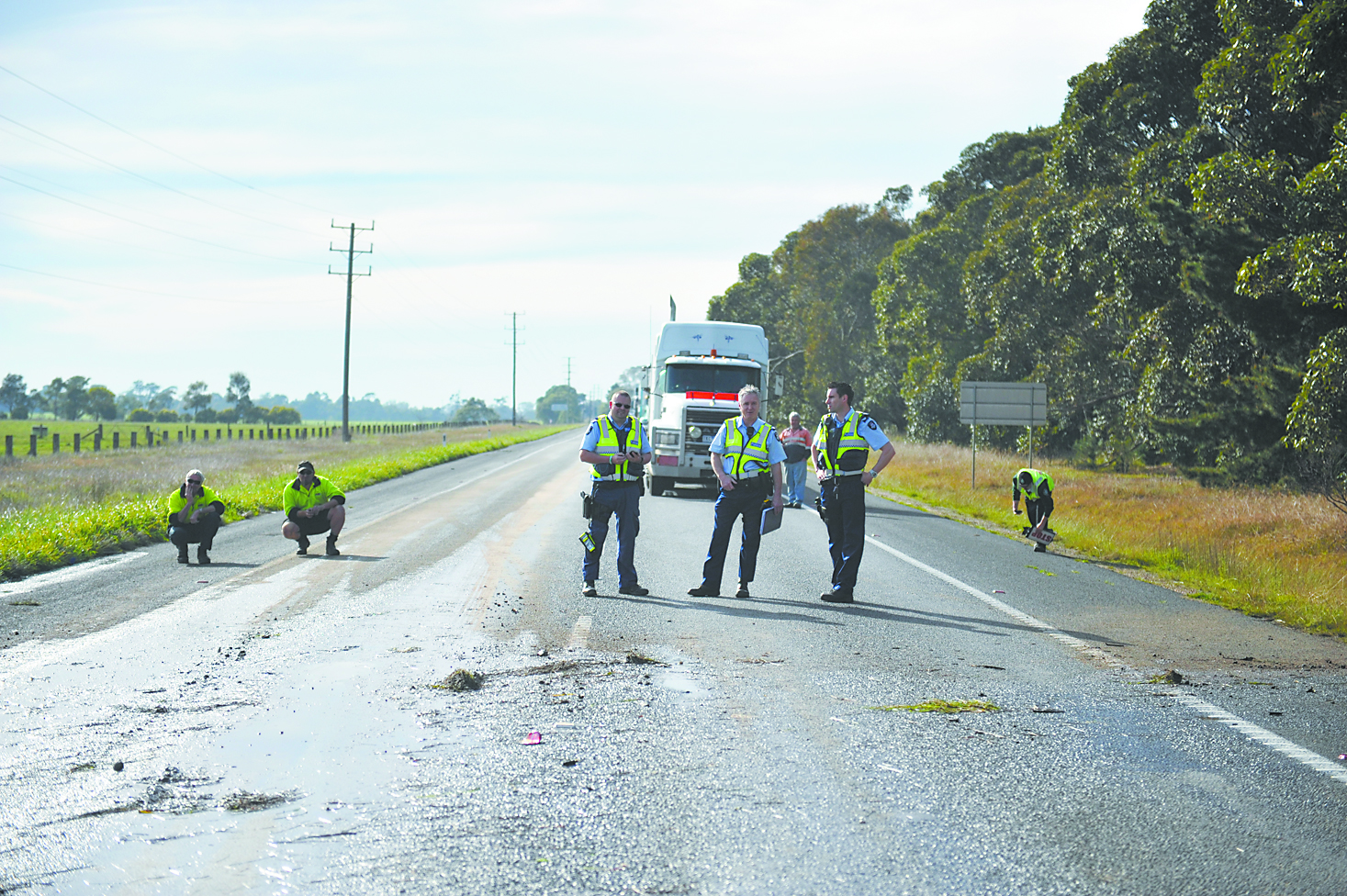 EIGHT deaths on Latrobe Valley roads are behind a local police decision to increase their road patrol presence by 50 per cent during the summer period.
Latrobe recorded just two road deaths in 2011.
Victoria Police Division Five Traffic Advisor Senior Sergeant David Watson said the community had to take responsibility in helping reduce the road toll.
"It is not just up to the police, it is up to everybody," Snr Sgt Watson said.
"Any member of the community that gets behind the wheel needs to think about what they are doing, about their behaviour and their responsibility.
"It is not just their own life in their hands but people in their car and other people sharing the road with them."
Snr Sgt Watson said a number of factors including mobile phone use, inappropriate speeds, fatigue and not wearing a seatbelt may have contributed to the eight fatalities.
He said, as a result of the high statistics, police would increase their presence on the roads with greater enforcement.
"We want to make the public aware that these issues are out there and they need to take responsibility themselves," Snr Sgt Watson said.
"Using your phone, not wearing a seatbelt, texting while driving, these all have an impact on the road toll."
Last year the Transport Accident Commission launched its Talk the Toll Down campaign, which worked with regional media to advocate safe driving in a bid to reduce regional road tolls.
Despite alarming statistics for the Latrobe Valley, Snr Sgt Watson said increasing awareness about road safety helped the police with their ongoing road toll battle.
"Everything that addresses the road toll is effective," he said.
"There is not one silver bullet that will fix this, there are a number of silver bullets and every shot you fire helps."
Latrobe police have approached the TAC to fund additional shifts, however this is still in negotiation.
"If we are successful we can have more police on the roads to increase our visibility and our enforcement which will hopefully influence people to slow down and do the right thing," he said.
In the recent Latrobe Crime Watch News, Latrobe Police Service Area, Inspector Mick West said the statistics reflected an unacceptable rise.
Insp West said with three months of the year remaining it was time for Latrobe Valley residents to realise regional roads were as dangerous as urban streets.
"Just because we do not experience the volume of traffic present on metropolitan roads, it does not mean our roads are any safer," he said.
"Country road users have to contend with roads that are unlit, heavily treed, unsealed and which are secluded and not heavily used.
"They have to cope with road hazards unique to country areas such as more fog, unsealed roads, and large numbers and varieties of wildlife like foxes, wombats and kangaroos."
TAC senior media and communications adviser Emily Bogue said the application to fund extra police shifts was being considered as part of the Enhanced Enforcement Program.
"We work with Victoria Police to specifically target local road trauma issues through the EEP, the aim is to improve driver behaviour and reduce road trauma," Ms Bogue said.
"We know that (through the) Talk the Toll Down campaign, newspapers (involvement), like The Express has been fantastic in keeping road safety top of line in the community and we really hope that continues and the community continue to support the TAC and police in helping reduce road trauma."
Road deaths recorded for Latrobe this year:
22 January: Two people died following a head on collision on the Princes Freeway at Morwell.
27 February: A Traralgon man died when he crashed his motor bike on the Tyers-Walhalla Road near Tyers.
29 June: A driver was killed in a single car crash on the Strzelecki Highway near Driffield.
5 August: A 60 year-old motorcyclist died on Haunted Hills Road Newborough when he lost control.
8 August: An accident on the Princes Freeway 200 metres west of Johnfield Drive, Moe claimed on person's life.
22 August: A 32 year-old Sale man died when the car he was driving collided with a truck east of Traralgon.
8 September: A male driver was killed when the car he was driving collided with a tree at Traralgon.