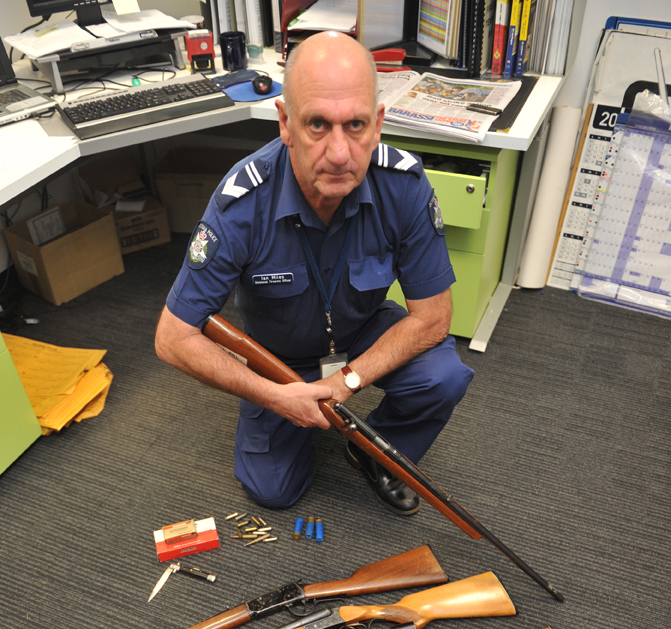 THE first firearms and weapons amnesty in more than two years has commenced, with a local police member urging members of the public with unregistered or prohibited weapons to hand them in without fears of prosecution.
Speaking to The Express, Divisional Firearms Officer Leading Senior Constable Ian Miles said the idea behind the amnesty was to remove "anything that shouldn't be there" from the public domain.
"We are not interested in licenced (weapons) holders; we are interested in illegal, unregistered and prohibited weapons out there," Ldg Snr Const Miles said.
"We are encouraging people that perhaps don't know the correct way of how to dispose of inherited firearms to hand them in."
Ldg Snr Const Miles said there were many firearms licence holders in the area, who used their weapons for hunting, primary production and in gun club activities.
"There are also a lot of people who find guns in their possession through inheritance, for instance, who don't know what to do with it; these are items which have never been recorded so they keep hiding them," he said.
"The risk of this is having (the weapons) fall into the wrong hands, either the criminal element or young people inexperienced in the use of firearms."
Ldg Snr Const Miles said presently, the penalty for carrying weapons included up to two years' imprisonment and substantial fines.
He said during the last firearms and weapons amnesty in April 2010, more than 100 firearms and prohibited weapons were handed in across Gippsland.
He reminded the public prohibited weapons included items such as crossbows, slingshots, swords and some knives including flick knives.
The amnesty, which coincides with Community Safety Month, began on last week and will run until 30 November.
In a statement, Victoria Police Deputy Commissioner Tim Cartwright said Victorians had until 30 November to present to police any illegal or unwanted weapons and firearms for them to be destroyed.
"No questions asked; we just want these potentially deadly weapons off our streets," Mr Cartwright said.
"This amnesty is about giving people the opportunity to make the right choice and hand in their unwanted or illegal firearms, knives and any other weapons during this time."
Members of the public wishing to hand in the items are advised to phone their local police stations to arrange for a time, and to wrap the weapons in paper, plastic or cloth and transported in a safe manner.
For more information on the firearms and weapons amnesty as well as a list of prohibited weapons, visit www.police.vic.gov.au/weaponsamnesty