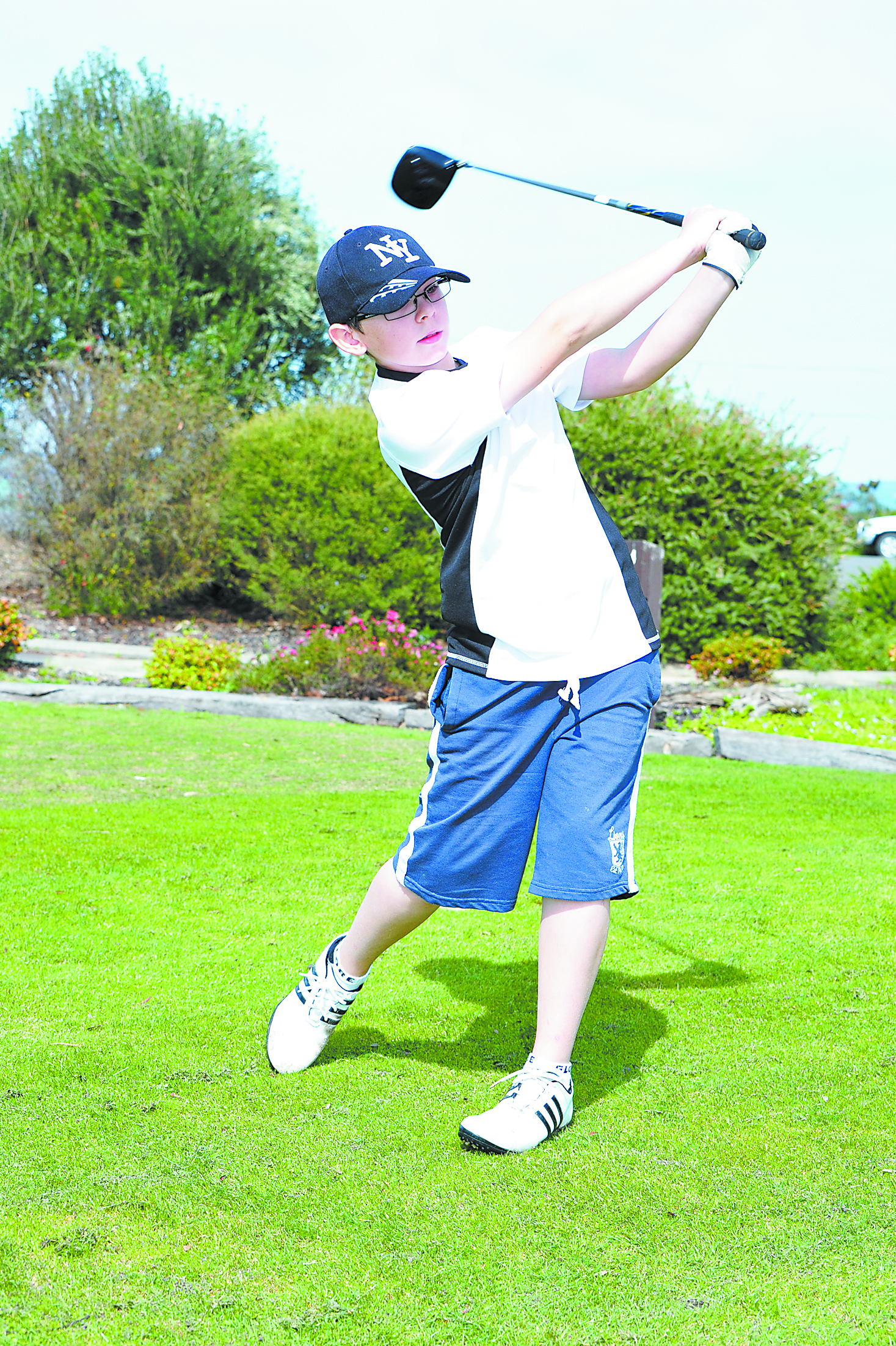 TRAFALGAR'S Marcus Foote is a more than handy golfer.
The prodigious player proved persistence pays off by qualifying for the Victorian Primary School team last month after three years striving for a berth.
The distance education student blitzed Kooringal golf course's back nine in 33 shots to card an 18 hole 73 off the stick in the state final last month, finishing in fifth to earn his first Victorian guernsey.
Marcus will now contest the four day Australian championships in the 12 years and under division in Bankstown from 18 November which he labelled his crowning moment in the sport to date.
"I wanted to cry I was that happy," he said.
"I'm pretty excited about getting the guernsey, but I'm looking forward to the whole trip."
More than 2000 young golfers started out in the Victorian Primary Schools Championship, from which just eight boys and four girls were selected from the state finals to play in Bankstown.
Marcus finished second in his nine hole Lakes Entrance qualifier, before registering a third place in the regional championship in Sale.
Having missed out on Victorian representation by the barest of margins over the last two years, Marcus made sure it was a case of third time lucky with two birdies and seven pars down the stretch at Kooringal.
At 12 years of age Marcus has already sliced his handicap down to 13 and has his sights set on reaching single digits within the year.
The 2009 Stuart Appleby Rookie Series champion crunches the ball 150-200 metres off the tee with a baby draw and has a sharp short game to boot, but most impressive is the maturity of his mental game which belies his age.
"Golf can make you really angry but you've got to hold your nerve and your temper which is hard," Marcus said.
"If you're not happy with the way you're playing you sort of start to get more upset and start thinking about how angry you are and the last holes you played.
"If you're playing well you're happy and your mind is clear; you're not thinking really hard about what you've done wrong."
Marcus started out as an eight year-old armed with a women's seven wood after his uncle Wayne Foote introduced him to golf, and the determined youth has been mixing it in open men's competition ever since.
Since then Marcus' love for the game has fuelled a rapid rise to success, having won numerous pennants, monthly medals and junior tournaments around Gippsland.
With dreams of becoming a professional golfer, and master of his second sport tae kwon do, Marcus practices five to six days a week for up to three hours at a time, but is careful not to overdo it.
"I just love the game and I want to get somewhere in it," he said.
"I know some guys that have burnt out and didn't want to play golf because they just played so much."
With only a handful of lessons under his belt, Marcus will have the benefit of an assessment from PGA coach Darren Cole as part of the Victorian team.
Marcus attended a golf camp in Mirboo North earlier this month in preparation for the Australian championships.
Any donations to help Marcus reach the championships would be appreciated by the Foote family; phone 5633 2228.