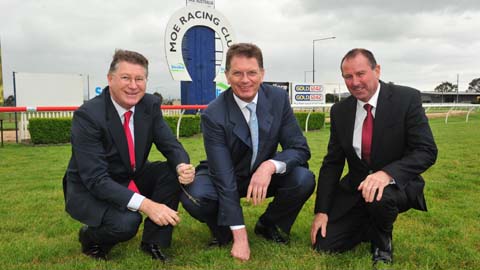 MOE racecourse is set to return to its former glory thanks to a $4.5 million track redevelopment announced yesterday by the Victorian Government.
Internationally renowned StrathAyr Turf Systems will begin work on an all-weather racing surface at the end of the month, with racing expected to return to Moe next Spring.
The influx of unstable poa grass at the track, compounded by poor weather and insufficient drainage, has led to the relocation and cancellation of almost 20 race meetings in Moe since 2010, including today's Moe Cup for the second consecutive year.
State Premier Ted Baillieu, who made the funding announcement with Racing Minister Denis Napthine at Moe Racing Club, said the initiative would be a joint venture, with MRC fronting $3.04 million, the State Government $1.2 million and Racing Victoria $260,000.
"It's obviously been a very major undertaking for the race club (and) we applaud them; it's a bold move but it's the right move and it will bring racing back here all year round," Mr Baillieu said.
"Racing in the Gippsland region is worth more than $100 million in economic benefit annually and includes some 1700 jobs and the Moe racing club is a great contributor to that effort."
MRC chair Paul Davis said it was "the biggest announcement that Moe Racing Club has made, ever", and he hoped Moe could emulate the success of Mooney Valley's StrathAyr track, which had not lost a meeting due to weather in 20 years.
"We're hoping to get more race meetings and sustained long term racing; we'll certainly get more transferred and postponed meetings," Mr Davis said.
Dr Napthine said the issue had been under discussion for some months, after tenacious advocacy from State Member of Narracan Gary Blackwood, and its implementation would boost the local economy significantly.
The State Government funding will come from the $79.5 million Victorian Racing Industry fund.