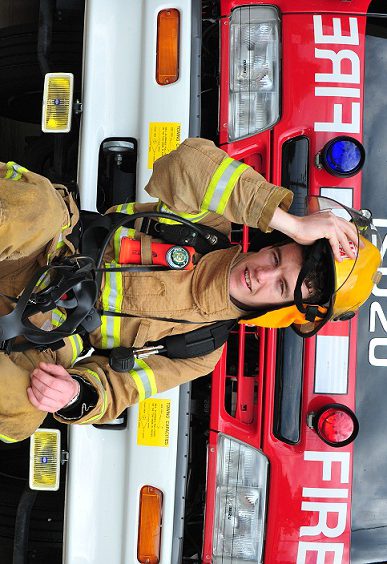 WHEN Moe fire fighter Matt van Tilburg took part in a punishing climb up the Eureka Tower stairwell for charity last year, he found himself performing the workout of a lifetime.
After a month of leg and cardiovascular training, Matt donned his sports singlet and runners, and tackled the 1642 step ascent in 13 minutes.
"It was the hardest thing I've ever done, but then I saw a lot of the other firies doing it in their full (fire-fighting) gear, so that made it a little demoralising for me," the 22 year-old said.
This Sunday, he will be donning his full Metropolitan Fire Brigade uniform, complete with structural jacket and pants, breathing apparatus and structural helmet, adding an 20 extra kilograms on his 75kg body weight, for round two of the Eureka Climb.
A charity event for disadvantaged youth both local and abroad, the Eureka Climb attracts hundreds of entrants willing to put their fitness to the test on one of the highest stair climbs in the world. Suffice to say, Matt has allowed himself some extra time this year. "This year I'm aiming to get to the top in 20 minutes; anything under that and I'll be stoked," he said.
Training with three colleagues from Glen Waverley fire brigade, the 'MFB A Shifters' team have given the station gymnasium quite the workout in preparation for the event. Matt said while the sporadic physical demands of the job required fire fighters maintained good cardiovascular fitness, an 88-storey stair climb was a little out of their job repertoire.
"I was really struggling at some point last year; the really elite guys can do it in eight minutes, but they chase these types of events all over the world," Matt said.
"It definitely works the legs and the lungs, because oxygen is in such high demand when you are climbing, and you need to be really strong in the legs to keep elevating continuously."
Travelling back to his hometown of Moe between four-day shifts, Matt said urban firefighters were often faced with their own physical challenges, and staying fit was part of the job.
"You can go from a rested and relaxed environment at the station, where you might be eating tea, to a full-on job in the space of a few minutes, so you need to be able to switch on very quickly," he said.
"Not only can you be in an environment extremely hot from the fire, but when you've got all that gear on, you are naturally heated on the inside.
"Dragging heavy hoses and breaking into doors and windows, you sweat a lot more than you ever have in your life."
With about 50 entrants from the MFB, plus some Country Fire Authority members in training for the climb, Matt said the Eureka Climb was a popular way among emergency services to give that little bit extra back to the community.
"The coppers and the ambos do it as well, but for them it's more of a looks thing; for us, it's one hell of a challenge," Matt said.