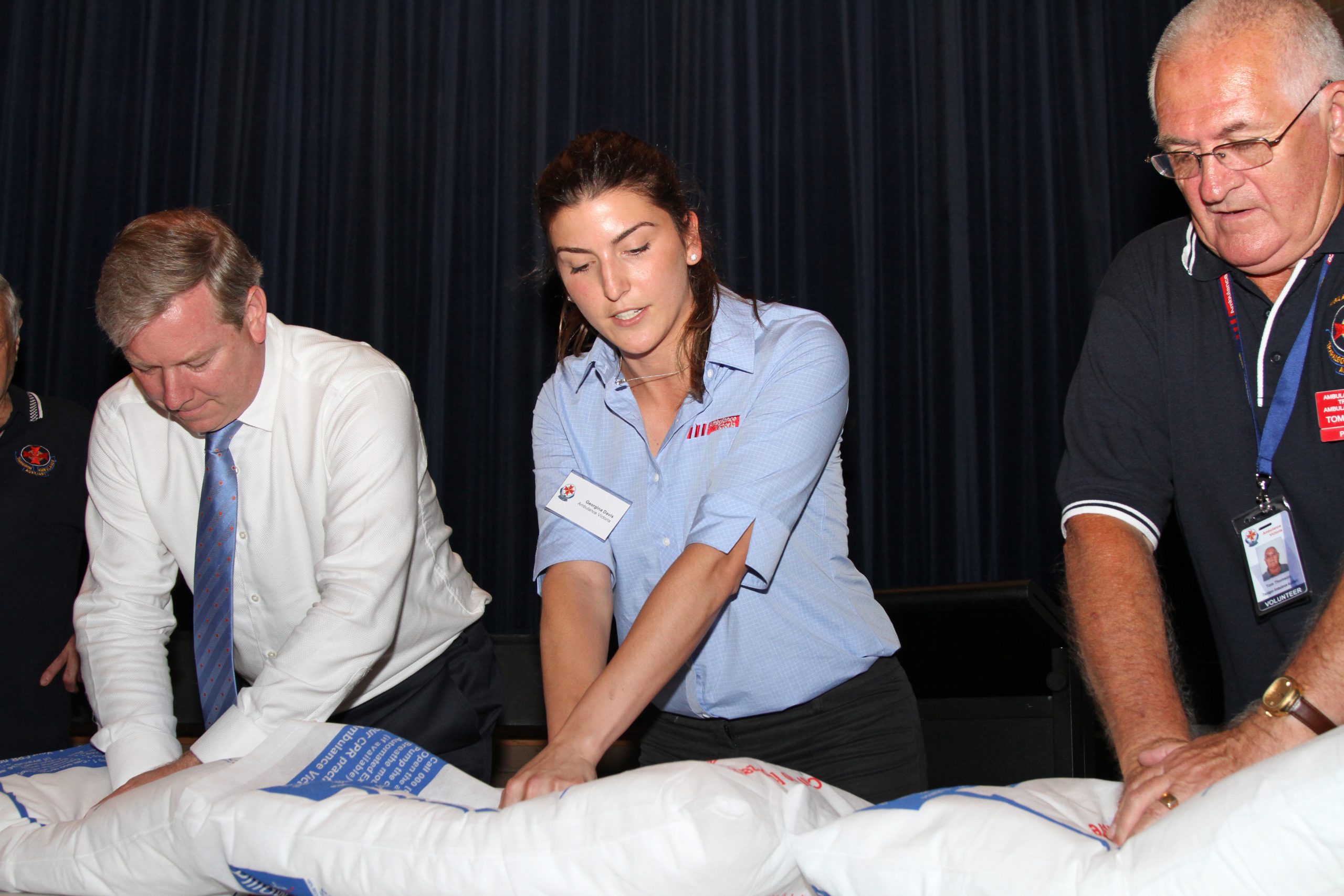 NEWS cardiac arrest survival rates for rural Victorians had risen dramatically was welcomed by State Health Minister David Davis as he launched the new 'Four Steps for Life Plus' program in Traralgon on Friday.
The Ambulance Victoria program, which "encourages community groups to get together and learn what to do in an emergency", was vital given automated external defibrillators were now more common in the community, AV media spokesperson Paul Bentley told The Express.
AV figures just released showed people living in rural Victoria were now more than twice as likely to survive a cardiac arrest than nine years ago.
AV chief executive officer Greg Sassella said the service was "a world leader in improving outcomes for patients who suffer a form of cardiac arrest that allows the heart to be 'shocked' back into rhythm by a defibrillator".
"There's often a focus only on ambulance response times, but we want to ensure that paramedics are making a difference when they get to really critical and life threatening cases, and the cardiac arrest survival rates show that's happening," Mr Sassella said.
"The more critically ill someone is, the faster we get care to you."
Mr Bentley said an important factor was that new figures showed almost 80 per cent of cardiac arrest patients received an attempt at CPR by a member of the community now – up from 30 per cent since 2003.
Mr Sassella said the program aimed, particularly, to ensure people knew how easy it was to use automatic external defibrillators.
"It's a vital link in the chain and it's one of the many reasons why we have released the free Ambulance Victoria mobile application which contains key education information including the 'Four Steps for Life Plus' for Apple and Android phones and tablets, making access to this information easier than ever before," he added.
AV's research and evaluation manager Associate Professor Karen Smith said a boost to AV paramedic numbers since 2003 had also contributed to improved survival rates.
"Our research has found that the presence of a MICA paramedic along with four or more paramedics at the scene is linked to better survival rates," Dr Smith said.
"Following changes in 2010, we now have MICA single responder units in specific regional centres providing 24-hour coverage."