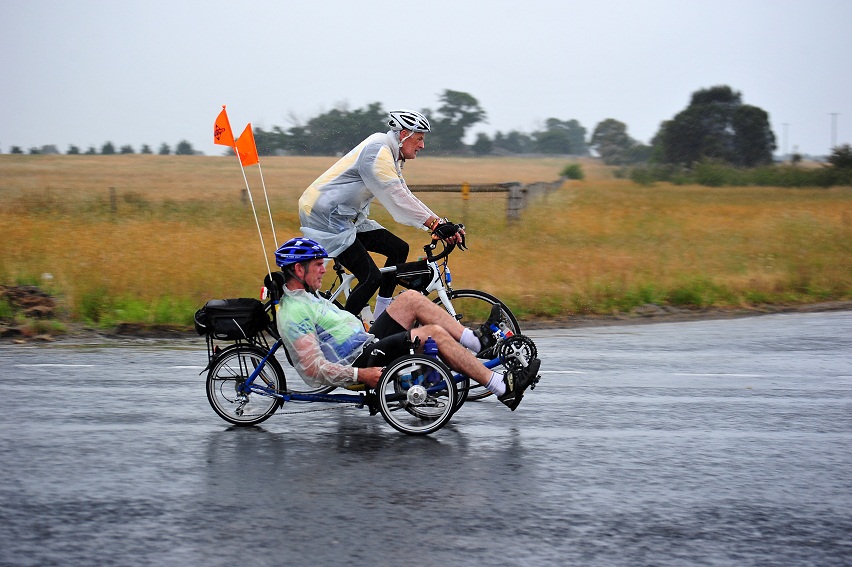 BORONIA'S Werner Amrein is a cyclist accustomed to the cold.
The German-born 72 year-old shadowed 14 stages of the Tour de France, flirting with the freezing snowline of the Alps, but Tuesday's Rosedale to Traralgon portion of the Great Victorian Bike Ride was the coldest bike leg he has ever ridden.
"I did find that the leg we had (on Tuesday) was harder than up in the Alps," he said.
"(In Europe) we were up 2640 metres with snow on everything but we had sunshine; here it was freezing.
"My hands were freezing (so much) I found it hard to brake."
The 10-year veteran of the GVBR eventually cosied up to a generator exhaust fan at the rest stop just to keep his hands warm.
Mr Amrein was not alone; the inclement weather proved too much for 18 participants, who were transported to Latrobe Regional Hospital with "very mild hypothermia" and cold-related injuries, according to an Ambulance Victoria spokesperson.
One person was taken to the hospital in an ambulance, suffering pains related to a previous traumatic injury aggravated by the cold, while 17 others were transported by a bus provided by the organisers of the ride.
Several hundred others opted to cut the leg of the ride short and catch shuttle buses back to Traralgon.
It is understood those who were taken to LRH have since been discharged.
Another rider on his 10th GVBR, 69 year-old Ian Lyons, said a friend, who was brought back to camp because of the cold, commended ride officials for their handling of the situation.
"I can't praise the effort and the organisation (enough)," Mr Lyons said.
"This is the best organised activity I have ever been on and that's never changed."
Despite the trying weather, Mr Lyons said Tuesday's leg was the highlight of the ride so far and only added to the experience.
"It's been really good as per usual… it's just a great event," he said.
"(The trails around the Valley) are just magic and it's a shame the cyclists weren't able to have the views with the fog yesterday."
Ambulance Victoria group manager and health commander Eddie Wright, who helped oversee Ambulance Victoria's role in Balook on Tuesday, said the temperature averaged at nine degrees in the morning and afternoon.
Mr Wright said the people who were most affected by the cold was a combination of experienced and less experienced riders.
"Some people were caught out by the (altitude) and the weather; some were very well-prepared but just got very cold," Mr Wright said.
He said in previous years, Ambulance Victoria had "minimal involvement" in the bike ride and only became involved at the organisers' request.
Bicycle Network Victoria spokesperson Garry Brennan said it was "rare there is a ride without heat, rain or cold", and organisers always "prepared for the worst and hoped for the best".
He said while "bike riders are a hardy species", he acknowledged riding in the hills, where it was cooler, was much more challenging.
"We plan for it, and look after riders who had difficulty coping," Mr Brennan said, adding the majority of riders had continued with Tuesday's ride after the lunch break.
Meanwhile, resourceful Hernes Oak resident Mark Verhagen found another use for lunch cardboard containers, saying he and his wife stuck them down the front of their tops as a windbreak.
"I had a lot of fun; it was challenging, though," Mr Verhagen said.
"Most people who were prepared did alright; as we climbed, it got a bit colder, and by lunch I was very cold.
"I reckon it might have been about 17 degrees at Balook, but being wet, it felt a lot colder; it was entirely possible you could become hypothermic (that day)."
Mr Verhagen said while he saw some younger participants struggling in the cold as they had less body mass, he thought most people did well.
"I reckon that was the hardest part of the whole ride; we are a bit weary today but it's not too bad," he said from his home, where they had returned to rest.
Melbourne rider Belinda Cipa, who swears by a thermal singlet for cycling in all weather, said better education prior to the race would have helped riders deal with freezing temperatures.
"If there was a criticism of the event I would say people could have been briefed a whole lot better because they're maybe ignorant of what they need to do to prepare," she said.
"I've ridden in all sorts of conditions like that and done a few overseas tours where you've got to be prepared, so from that point of view it's a challenge against mother nature and I quite enjoy that, but you've got to be sensible and you've got to be prepared," she said.
Riders departed on the 82-kilometre Traralgon to Yarragon leg today.