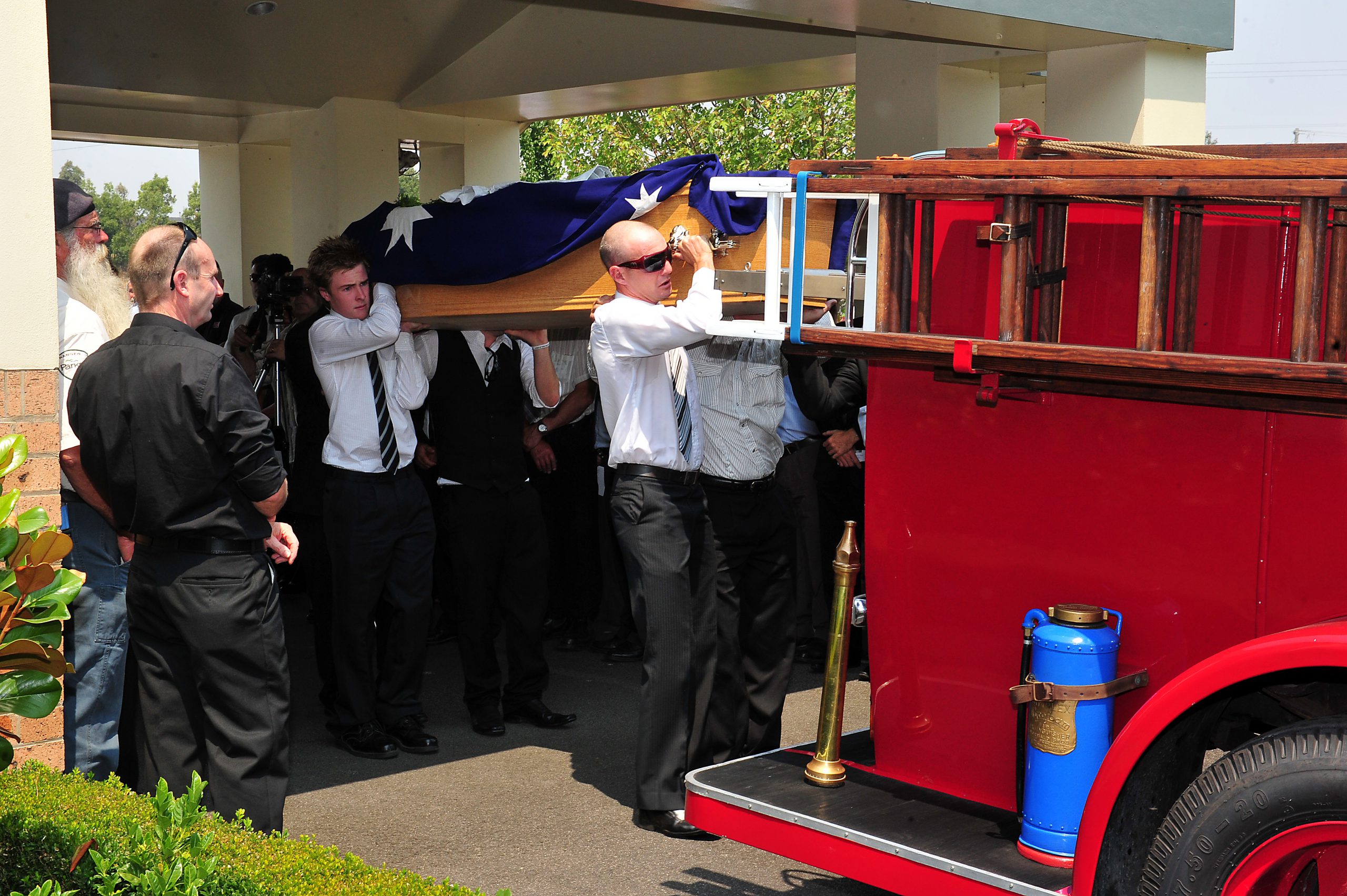 THE absence of some friends and colleagues at the funeral service of fallen Department of Sustainability and Environment firefighter Peter Cramer was felt despite the hundreds of others who gathered in Traralgon on Monday.
With cars, buses and Country Fire Authority tankers parked along the Princes Highway to attend the service, it was believed many more DSE and CFA personnel would have attended if not for the Aberfeldy-Donnelys bushfire, which is still burning and requiring ongoing resources.
A professional firefighter and trainer, the 61 year-old Tyers resident died while on deployment to Tasmania on 13 January.
Despite their grief, those who shared anecdotes recounting the life of "Crackers" Cramer evoked laughter among those present.
"Most people who worked with Crackers expected to get a big hug, with or without a kiss for both men and women; he was known for his impersonations and birdcalls," close friend Kevin Giblin said in his eulogy.
"Just like him, this service is casual, politically incorrect and lighthearted; today, we are saying goodbye to a hero."
The late Mr Cramer's son, Dylan, spoke of how his father was "the greatest man in the world".
"He trained and mentored a lot of people, but dad would do anything to make my day good; he was my hero, my idol, my everything," Dylan said.
Mr Cramer's younger brother Gavin remembered his brother as someone who had a genuine passion and love for his work, and who took his role as a government servant seriously.
"He leaves a legacy of fun, humour and service to others," Gavin Cramer said.
In a moving tribute, Mr Cramer's daughter Linda described the sadness that her father would never meet his unborn grandchild and make memories together.
Another close friend of the late Mr Cramer, Roger Strickland, paid tribute to his friend who had "firecracker energy".
"He was full of courage; nothing scared him," Mr Strickland said.
Those in attendance in the full-to-capacity chapel included Victorian Premier and Deputy Premier Ted Baillieu and Peter Ryan, as well as other dignitaries from Tasmania and various government agencies.
Amid the hot and hazy conditions, hundreds of others gathered outside to pay their last respects to Mr Cramer, whose coffin was draped in the Australian flag and topped with some personal effects and evergreen, a CFA tradition.
He was driven away from the funeral with a guard of honour from the emergency services.
Plans to have waterbombing aircraft fly overhead at the commencement of the guard of honour had been cancelled because of the hazy conditions caused by the bushfires nearby.
Mr Cramer's body was cremated.
In a statement to the media, family friend Richard Teychenne said Mr Cramer had died doing what he loved most, which was working on fires, working in the bush and most of all helping others.
In Heyfield, fire crews at the staging area observed a minute's silence in memory of the late Mr Cramer.