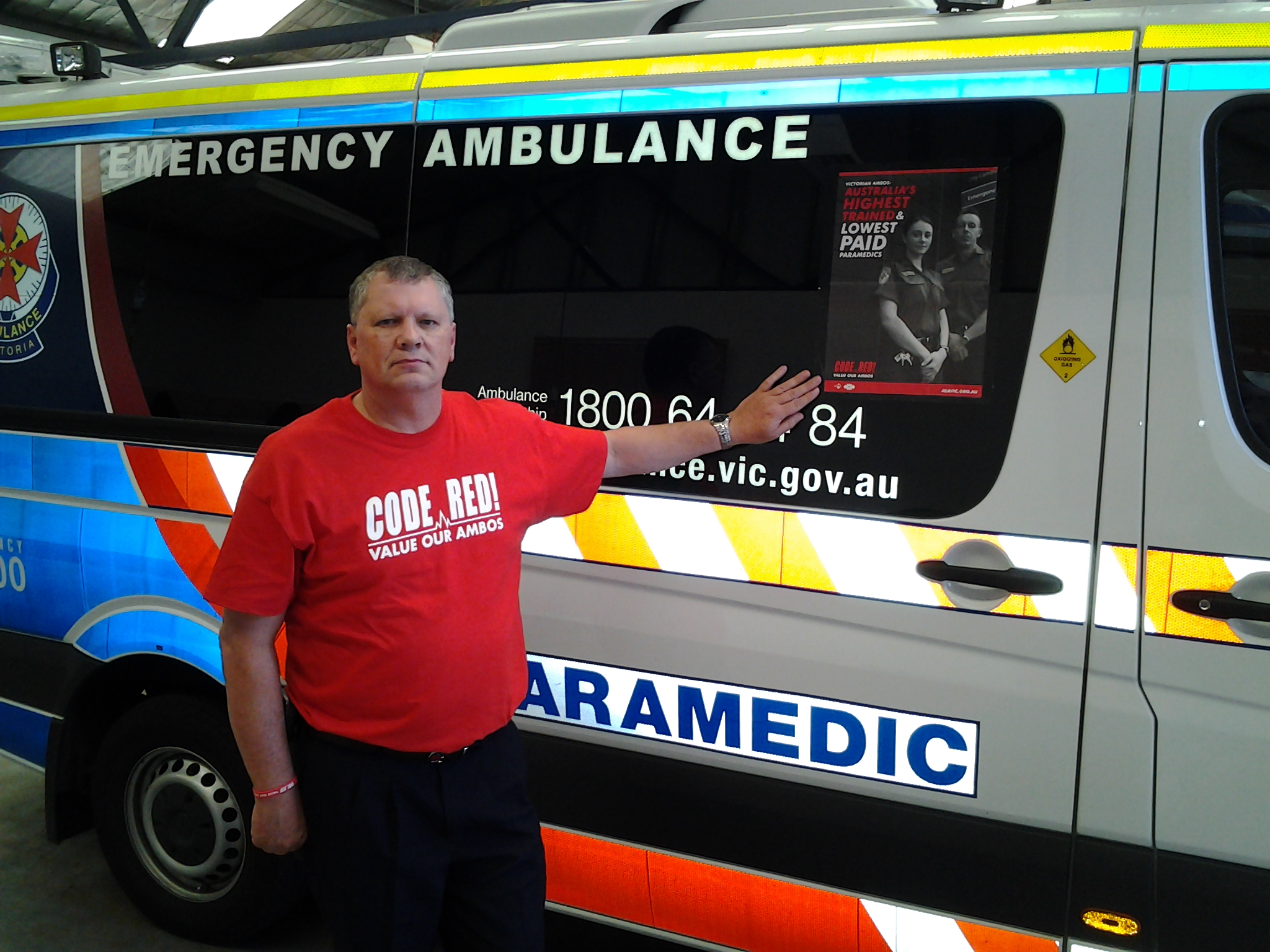 LATROBE Valley paramedics have warned this week vulnerable local patients are at risk from an ambulance service buckling under the strain of minimal resources, extreme workloads, delayed arrivals, a "disastrous" amalgamation and a failing dispatch system.
Paramedics are now free to speak to the media about their "monster frustrations" after an Ambulance Victoria gag order was lifted last Friday under protected industrial action.
All employees who spoke The Express described a "distressing" scenario.
Enterprise agreement negotiations between the State Government and Ambulance Employees Australia (Victoria) have "dragged on" since April, according to AEAV general secretary Steve McGhie, but paramedics hope a campaign that spreads "real facts from people who are doing the job" might convince the State Government to revise its offer of a 2.5 per cent pay rise traded off against a number of allowances and entitlements.
Moe paramedic of 33 years, Tony Davis, said the workload of local ambulance officers had "skyrocketed… to the point that we cannot keep up with the demand" but the number of ambulances in the Valley had declined during his time on the job.
AV Gippsland region manager Mick Stephenson conceded there was "bugger all fat in the (ambulance) system" and though he maintained the stretched service was delivering "best clinical results", it was doing so within the confines of what "we are funded to provide".
In response to claims by long-serving paramedics local ambulance vehicle numbers had dropped over time despite a rise in demand, Mr Stephenson said "I suspect they are telling the truth".
Mirboo North paramedic Don Gillies, also a veteran of more than 30 years' service, agreed with Mr Davis that a more recent move to centralise AV despatch functions to Ballarat-based communications contractor ESTA, had proved a "disaster" as the service had "no idea of local needs".
They system took no account of local factors and treated crews as a "resource to be used anywhere", Mr Gillies said.
"ESTA dispatches the nearest available unit according to a computer on a sonar scan.
"We can be literally sent anywhere as a last resort and it leaves our towns uncovered, (sometimes) for hours at a time".
"They are a contracted authority and they are paid to get calls answered within a certain amount of seconds… on paper that (data) looks perfectly fine but… it is causing genuine delays in actual arrivals," Mr Gillies said, attributing that to "inadequate and inappropriate information" coming through to paramedics.
"These call takers have no discretion to go beyond the script they work from," he added.
Mr Davis confirmed all Latrobe Valley towns could be "left without emergency ambulances for hours each day," and that "we often have three to four ambulances despatched to the one job and only minutes later have every one cancelled and another dispatched… it is very dangerous to both paramedics and the public as we drive high speed to a case we never get to".
Mr Davis said paramedics who did "finally arrive" at jobs, sometimes where elderly patients had fallen and may have been "laying on floors or in yards for up to…three hours", were often "overworked, fatigued and may not have had a meal break".
An amalgamation of Rural Ambulance with the Metropolitan Ambulance Service had also been a "total disaster" rendering the local service "second rate" in terms of the support it received from a Melbourne-centric system, Mr Davis said
Mr Gillies said some change had resulted in "a quantum leap in our clinical practices and skills" but "the administration has become a faceless juggernaut" whose impositions had "started slowly at first but in the last 12 to 18 months the wave has hit and it has just smashed up against us".
Mr Stephenson, himself an operational paramedic, said he knew morale among local paramedics was low and a "loss of identity" had accompanied amalgamation but said "there is a lot of work happening now to try to improve that culture".
He admitted paramedics were sometimes sent to low acuity events that needlessly tied up resources and "there is no getting around the fact we run ourselves into strife from time to time" but hoped yesterday's news of three new emergency resources would be allocated to Gippsland," hopefully within a month" would alleviate this problem.
A proposed rural referral system would also help deflect "low acuity" cases away from ambulances "if it is rolled out," Mr Stephenson said.
In response to claims the ambulance system was "being run into the ground", he said " I don't accept that, we are delivering better outcomes, but if they are saying so then that's of great concern… we haven't got it right yet but we will get there".
"We are working tirelessly… there are systemic improvements but they are not without cost and they don't happen overnight," he said.