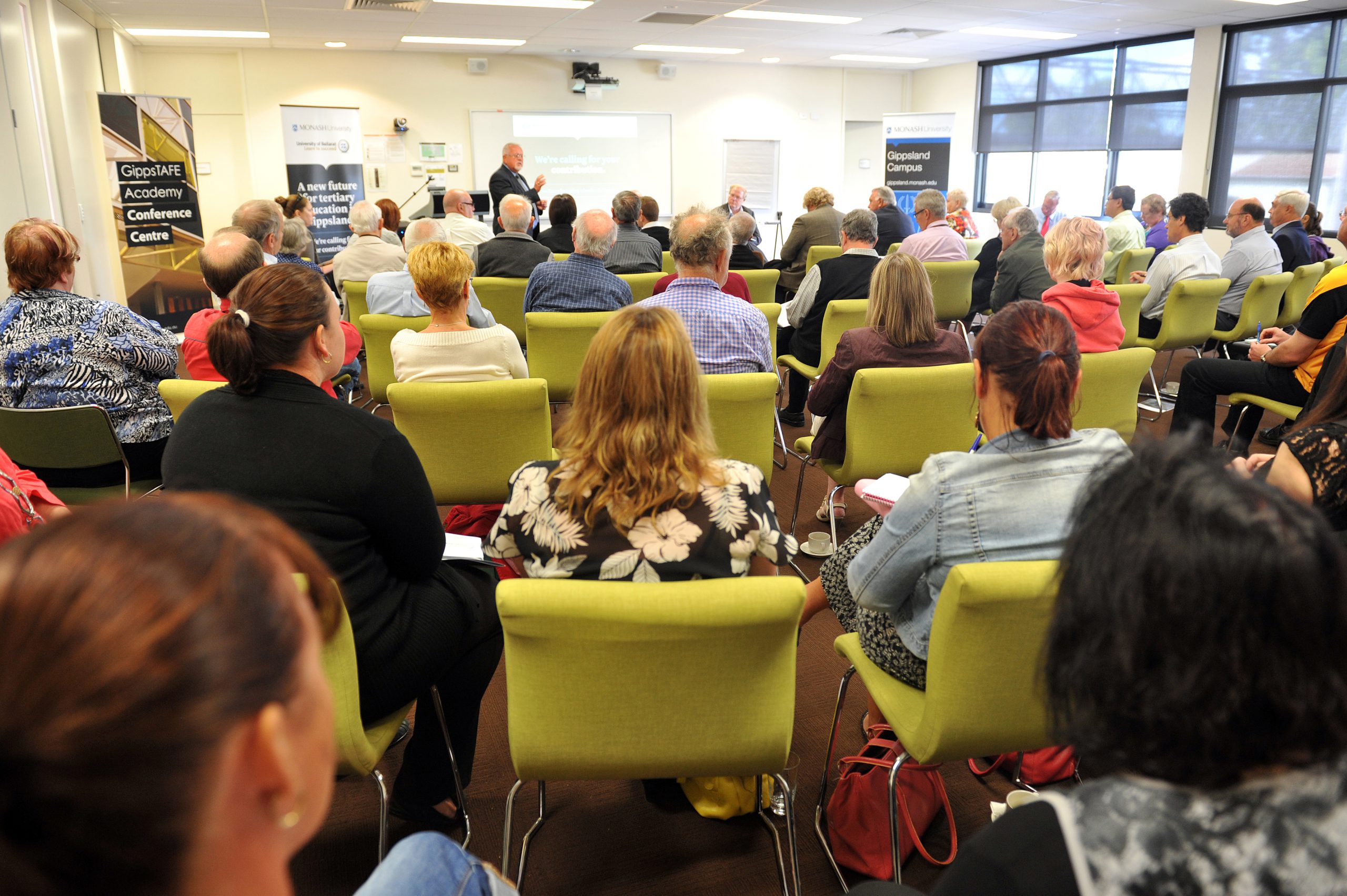 A WELL-attended session seeking public feedback on a proposal to create a regionally-focused university through a collaboration between the University of Ballarat and Monash University's Gippsland campus was hailed as a "watershed" in reconnecting the community.
Monash University Gippsland campus Pro Vice Chancellor Professor Robin Pollard said the meeting felt like a chance for the university to reconnect with the community.
"For some years, there's been a separation between interests and not a lot of understanding, but through these forums and dialogues, we are writing down all the key points and are taking it all on board," Professor Pollard said.
"We have been hearing more positive things and all the signs are that the community are getting behind the proposal."
Asked about Monash Clayton's absence from the community consultation sessions, Professor Pollard said the university "cared a lot about the campus" through its commitment to see its current students complete their courses and through research development.
"We'll make sure that will be adhered to," Professor Pollard said, adding he was in close contact with the university's Vice Chancellor Professor Ed Byrne.
"I believe the VC will be meeting with (Latrobe City Council) in due course; I don't think there is a particular problem there."
Community dissatisfaction with Monash University, as well as concerns about its role were clear from the questions raised by the public. An estimated 60 people, which included three Latrobe City councillors and other community leaders, attended the lunchtime session in Traralgon on Friday.
Questions were raised from local business representatives, parents, and even a former Monash Gippsland student, about how the new entity would fit in to the region's transition to a low carbon economy, what courses would be on offer as well as attracting and retaining staff.
During the course of discussions, it was also revealed Monash Gippsland proposed to retain 67 hectares of land, which is its animal services research area; however, it was understood the university was undergoing a due diligence process and no further details were available.
Meanwhile, University of Ballarat Vice Chancellor Professor David Battersby said useful discussion was had at the Traralgon session.
"If at the end of the day the community wants more (consultation), we'll do more," Professor Battersby said.
Speaking to The Express after the forum, members of the public welcomed the session as a "good, first step".
Local business McMillan Partners director Ian Magee said he was pleased with the clarity of the message delivered by the university administrators with the aim to lift student participation rates.
"To keep priming our business, we need to recruit local graduates," Mr Magee said, adding most of his team members were graduates of Monash Gippsland.
"It is hard to recruit (staff) out of Melbourne; we need quality people."
Meanwhile, the parent of a local student who had considered studying at Monash Gippsland, who only wished to be known as Bernie, said she felt only some of her questions had been answered.
"It will be good for the region if this goes ahead, but local parents of (Victorian Certificate of Education) students will still have a lot of questions," Bernie said.