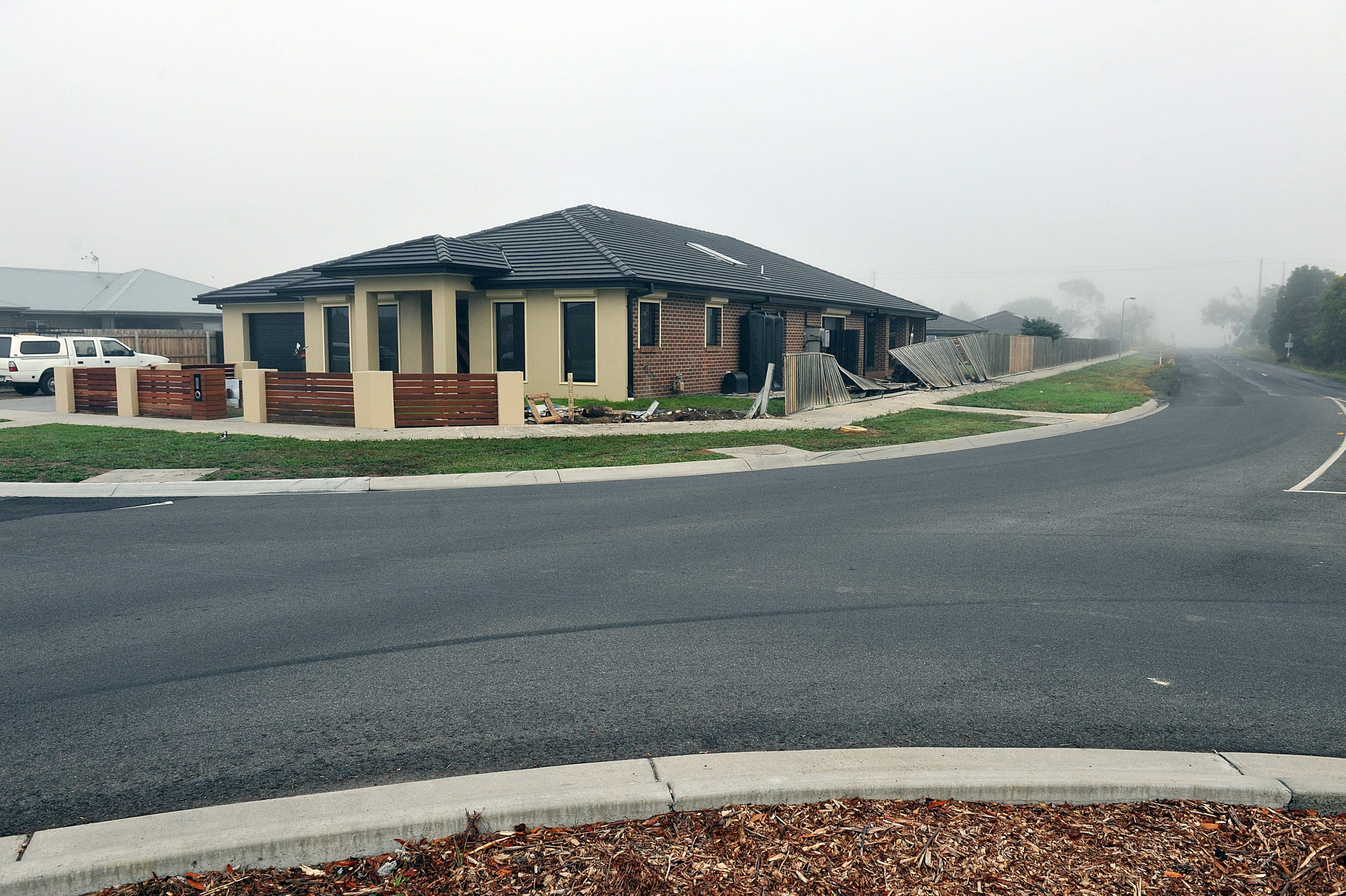 Lisa and Steven Pavlic wake multiple times a night to the screech of tyres.
"We're waiting for the hit and run or waiting for them to hit our bedroom window again. It's horrible," Ms Pavlic said.
When their property was crashed into for the fourth time in just over a year at the weekend, the family's patience with road authorities ran out.
"Enough's enough and we're not standing for it," Ms Pavlic said.
Ms Pavlic turned to social media and in five days, more than 1400 people showed their support for permanent changes to Morwell's Bridle and Crinigan Road intersection which the Pavlic's dream home is bound by.
"I was just amazed by the outcome, it was overwhelming," she said.
In the past few months Latrobe City Council has installed warning signs and reflective markers at the intersection and helped pay for cement bollards to reinforce the Pavlic's fence after a utility crashed through their bedroom window in March last year, where their then-newborn baby Kingston had only hours earlier been sleeping in his bassinet.
Ms Pavlic believes the bollards are what prevented Saturday's incident from turning to tragedy.
But she said the safety of the intersection would not improve until changes were made to the design.
"It's designed to just zoom through there," she said.
"People can see a good 200 to 300 metres away and think 'no I don't have to slow down and I don't need to give way to my right'.
"A lot of people think it's a racing track."
The ordeal has prompted council to bring forward plans to realign the intersection and gain approval from VicRoads to reduce the speed limit from 80 kilometres per hour to 60km/h along the eastern end of Crinigan Road.
"In light of the latest incident, we want to get something done," Latrobe City's general manager recreational and cultural liveability Grantley Switzer said.
"It was very fortunate nobody's been injured or killed, so we need to move quickly on this one."
The works were not due to be funded until the next financial year, but engineers have begun working on the new intersection design, with a view to beginning construction in six weeks.
"As you come towards the roundabout it's just a straight line at the minute. We'll put some bend in to force people to slow down," Mr Switzer said.
He said 60km/h speed limit signs would be erected along Crinigan Road as soon as possible.
But Mr Switzer said while the changes would go a long way to addressing the safety issues, drivers also had to take on some responsibility.
"There is a hoon element using that part of the road and we hope the publicity will again remind people to drive to the speed limit and adhere to the conditions of the road," he said.
Ms Pavlic described council's commitment as a "major breakthrough".
"It feels so good," she said.
"If it didn't happen, it could have cost one of our lives."