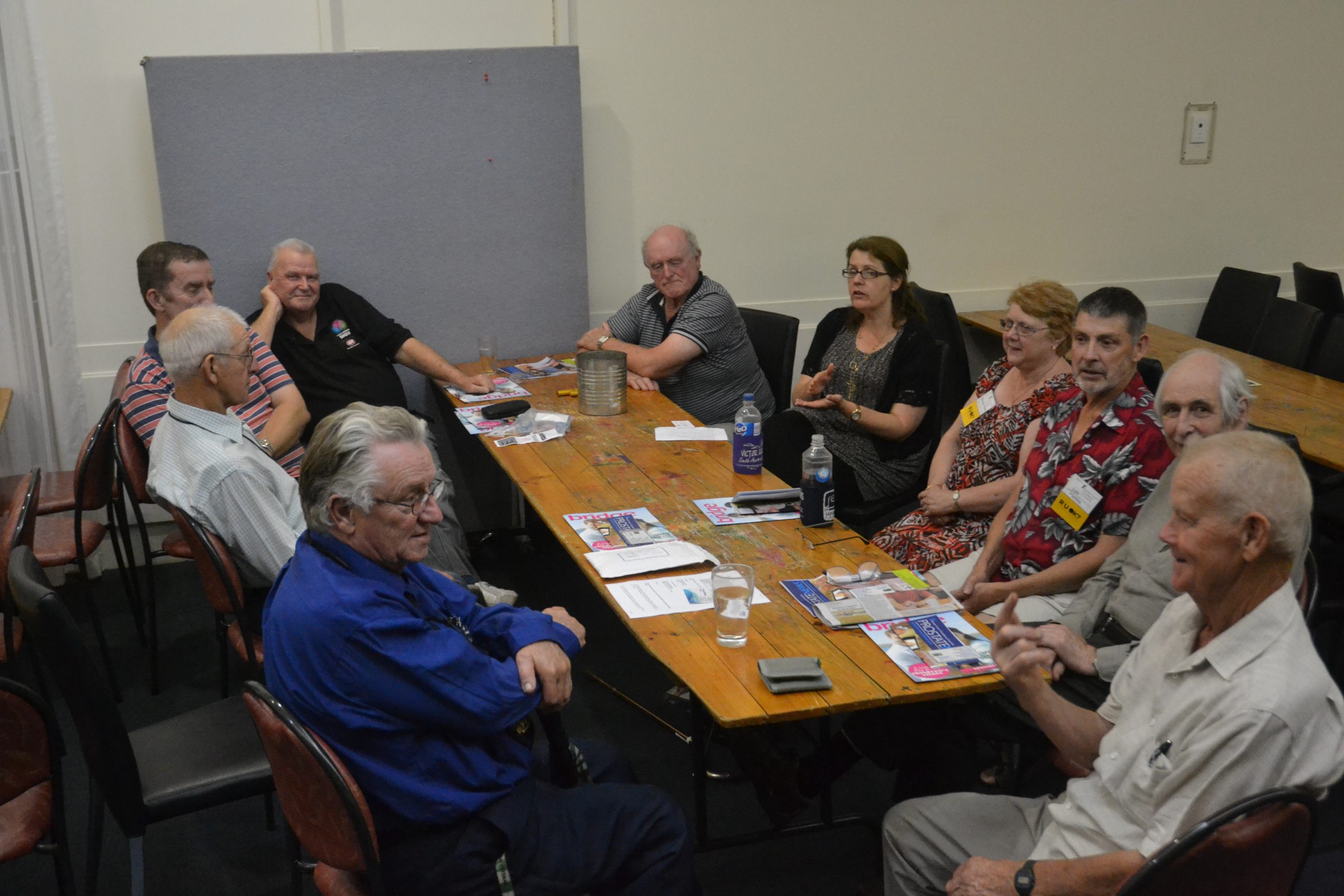 Living with prostate cancer can make you feel 'bloody lonely sometimes'. But it doesn't have to be.
Celebrating its two-year anniversary late last month, the Latrobe Valley Prostate Support Group has been providing a forum for prostate cancer sufferers to make sense of their sometimes confusing and often confronting journeys.
For Moe resident Les Parkes and partner Rhonda Read, who have faced an intense four-year struggle living with prostate cancer, after the removal of his prostate was too late to prevent the spread of cancer throughout his body, the meetings have been invaluable.
"Rhonda's support through all of this has been unbelievable, but we as blokes need more than that – it can just seem so unfair at times, and you need to be able talk about this with others in the same boat. I can't say enough about the group in that regard," Mr Parkes said.
Established by proactive Valley residents Alan Cunningham and Colin Bermingham, the group is working to fill a void created by an ongoing lack of public awareness of the condition.
"For something that is preventable, only in the last three years has awareness really improved; while it may be too late for some of us, by sticking with this, we are setting things going for the next generation," Mr Cunningham said.
"There is a hell of a lot of different advice and opinions out there – this beast has a lot of different faces – especially after you come off a treatment, you're back in the real world where there's not that level of ongoing support you really need; this group gives us the best chance of doing that ourselves."
After dinner at the Morwell Club last month, the second anniversary meeting started with a jovial mood.
Newborough resident Reg Sporle, 55, entered the room smiling; good news was clearly afoot.
"He's lost his cherry," Mr Bermingham said, as Mr Sporle received high fives all round.
Mr Sporle's 'cherry' was his cancer-riddled prostate.
"I'm very very lucky – my PSA (prostate-specific antigen) levels have returned to normal; it's been a huge relief so far. When you get diagnosed, it hits you like a rock fair in the temple – I was with my wife crying my eyes out about it – I had no idea what was going to happen," Mr Sporle said.
For a condition which claims more victims every year than breast cancer, it can be a confronting uphill battle.
"We have lost 11 people from this group since we started," meeting convener Colin Bermingham said.
The meeting commenced with round-table introductions, in which both longer term members and recent arrivals talked in vivid detail about their personal struggles living with cancer.
After rounds of gruelling chemotherapy treatment, Churchill's Alec Shaw said he had finally seen his PSA levels reduced to more promising levels.
"Things are starting to look better now – I'm putting on a bit of weight and a bit of cheek, and while my teeth are breaking a little, I can still chew an apple," Mr Shaw said.
Mr Bermingham, grappling with the recent news he had contracted bone cancer, was at first stoic in an update of his progress, before being brought to tears.
Moe's Bob Wilde spoke of his experience undergoing an eight-week radiation course – an experience he "would never go through again".
However it was the debilitating side effects of surgery which had Mr Wilde at his most vulnerable.
"The complications have been bloody terrible – this impotence thing has really been too much. You go out and meet new women, but what can you do about it? I'm just really angry," Mr Wilde said, quivering with emotion.
"It's okay for some of these guys who are couples, but I'm alone, and I'm not a man anymore."
A brief respectful silence broke out.
"You've really come out of your shell tonight Bob," Mr Bermingham said in reply.
The evening's guest speaker, Latrobe Regional Hospital Prostate Cancer specialist nurse Kelly Koshade, who had been chiming in with information and counter-perspectives throughout the evening, took the lead.
"(Impotence) is a really difficult issue – everyone comes in and says to me 'that's the end of my sex life', but that's not necessarily the end of it," Ms Koschade said, hinting at a number of strategies and techniques men could use to regain some control of their private lives.
Mr Cunningham said while the evening's discussions could cut close to the bone of some men, he felt they were ones which many a Latrobe Valley man would benefit from having.
The LV Prostate Support Group meets from 7pm on the fourth Wednesday of every month from February to November at the Morwell Club. For more information phone Colin Bermingham on 0419 116 825.