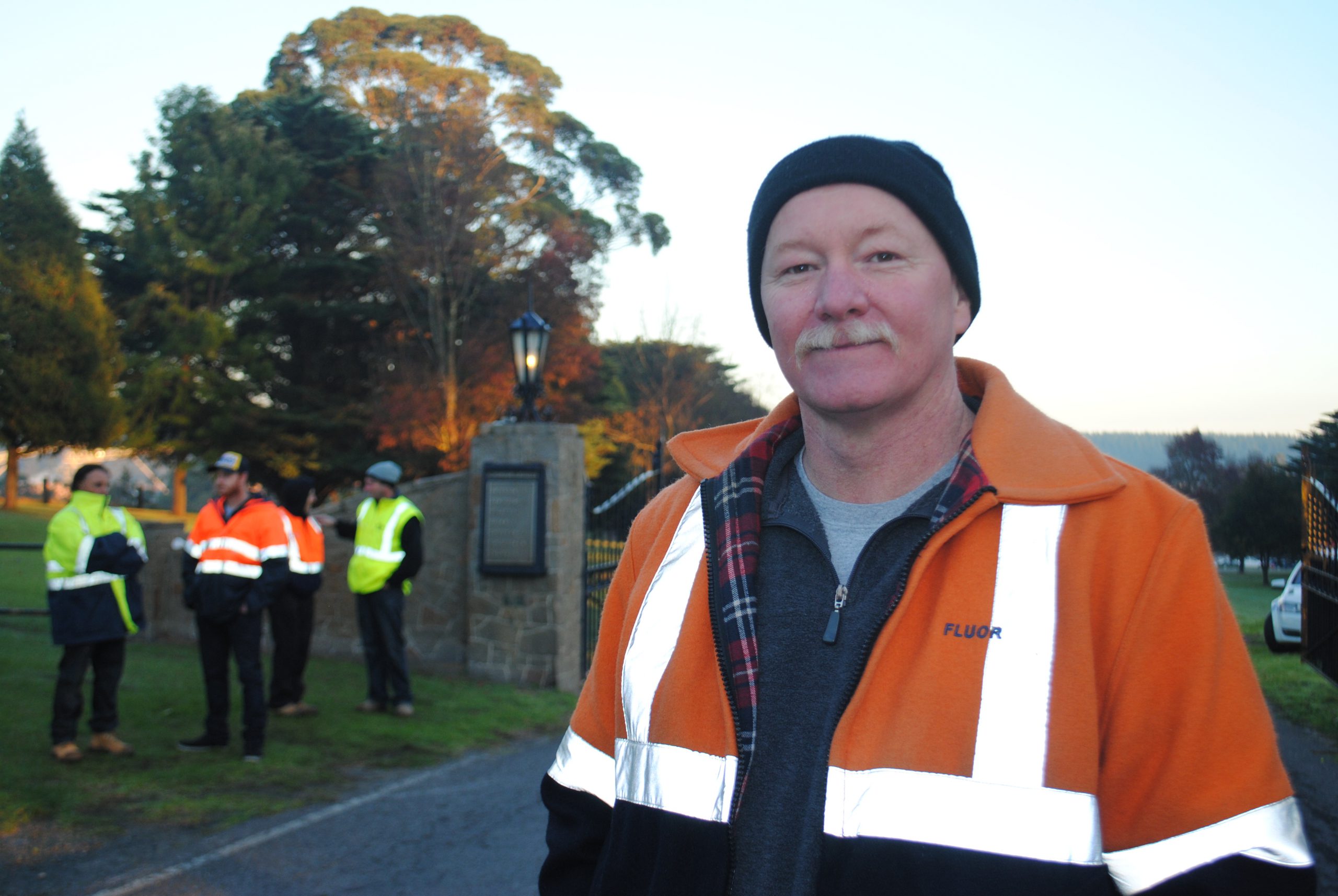 The faces of the Latrobe Valley's construction and power industry work vacuum came together at the entrance to Australian Paper's Maryvale mill yesterday morning in a bid to step-up calls for the company to prioritise local workers for local projects.
It was the second community-led protest in as many weeks pushing Australian Paper to hire Gippsland contractors for construction of its multi-million dollar recycling plant.
A contract for a small portion of the project was last month awarded to Melbourne-based company John Beever.
Boilermaker John Webb, one of the protest leaders, was one of more than 20 workers recently terminated by Hazelwood power station contractor Fluor. He said the mood among the Valley's unemployed skilled workers was "borderline despair".
"There doesn't seem to be any future for younger people but there's a lot of skilled, experienced people around," Mr Webb said.
"With the cancellation of shut downs and the power industry just doing less and less, there's nothing stepping up, nothing filling the void."
Workers are now counting on Australian Paper to "fill the void".
"I'd like to see Australian Paper get back to their roots and being a strong corporate citizen in the area like they have been in the past," Mr Webb said.
Fellow unemployed boilermaker Kevin Roberts said tradespeople were fed up with having to live away from their families in order to support them.
"They can all get jobs interstate, that's not a problem. But then they leave their local community and families," Mr Roberts said.
"They're willing to work in this area for less than they can attract elsewhere."
Australian Paper human resources general manager Mark Nelson refuted claims the company had left Latrobe Valley workers out in the cold, saying of the 50 people currently working on construction of the recycling plant, 87 per cent were locals.
"We would expect that to be the continuity of the program," Mr Nelson said.
"We have the expectation we are going to have lots of local labour on the project." The next phase of the recycling plant is expected to be tendered in the next month, with work to begin about the middle of the year.
Mr Nelson said while the company could not guarantee it would award contracts to local companies, it had "made it clear" to those in the running, it would like to see local workers on the project. However, he accused the protesters of having other motivations for the gathering, namely to support about a dozen employees of the mill's major contractor Chelgrave, who stopped work yesterday over enterprise bargaining negotiations.
"The underlying thing here is a misrepresentation of what this protest is about," Mr Nelson said.
"There's an attempt to put pressure on Australian Paper about the Chelgrave EBA."
Mr Webb denied the claim, saying the vast majority of the protesters were unemployed and finding work was their main motivation.