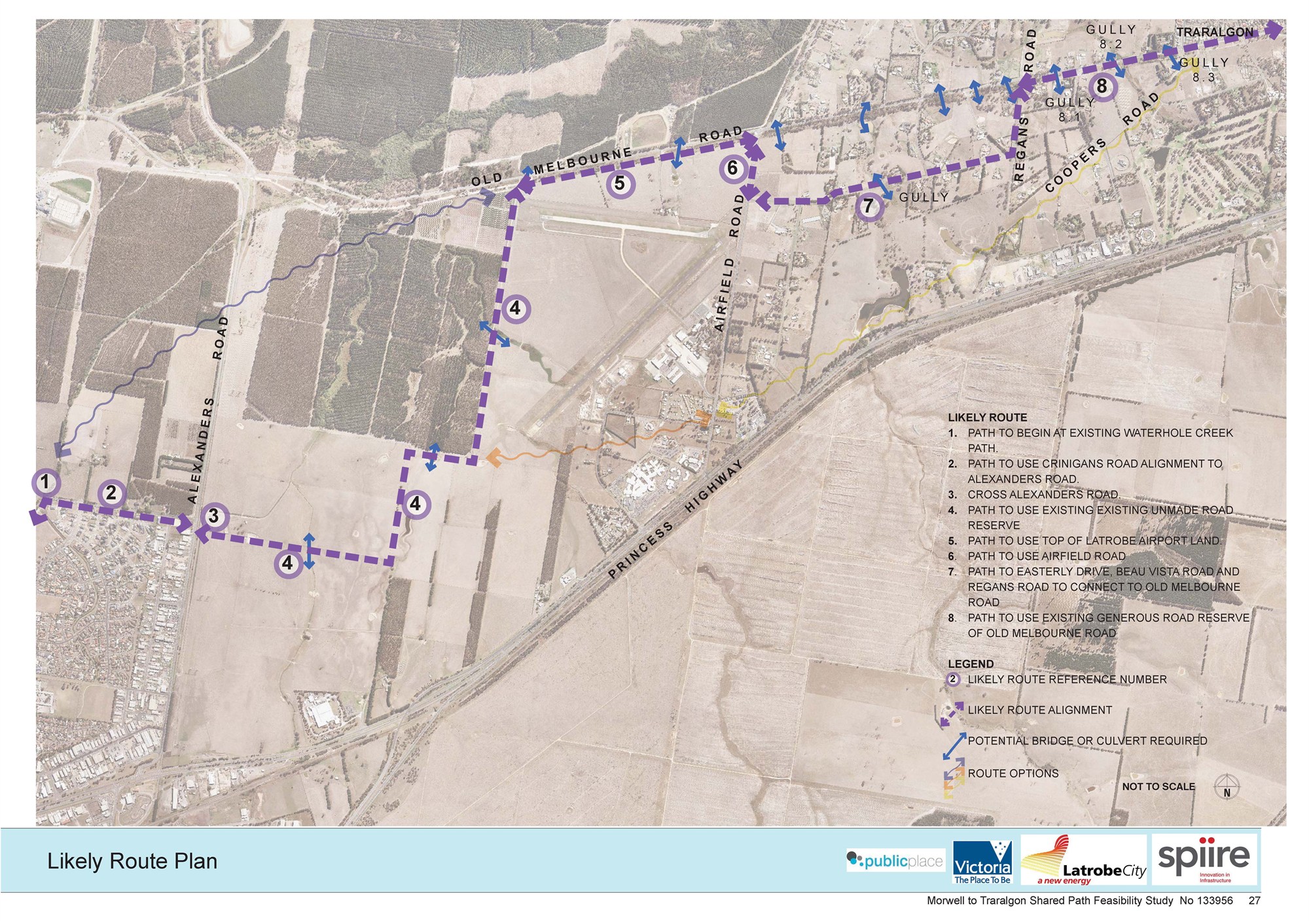 A proposed route for the long-awaited shared pathway connecting Morwell and Traralgon has been released more than a decade after the project was first mooted.
Latrobe City Council is calling for public comment on a feasibility study which recommends the area north of the Princes Highway as the most likely route for the path.
"This is the most advanced we've ever got with the project," Latrobe City's general manager recreation, culture and community infrastructure Grantley Switzer said.
"Actually having a route we can talk to with our community, we've never had that before."
The proposed route would join Kay Street in Traralgon with Morwell's Waterhole Creek.
It would run alongside parts of the Old Melbourne Road, but cut south, bypassing a section which contains high-value, remnant native vegetation believed to date back hundreds of years.
"We want to be responsible in trying to maintain the vegetation we do have," Mr Switzer said.
"If we do take that route, and we disrupt vegetation, there could be quite expensive offset costs."
Closer to Morwell, the path would use an existing unmade road reserve alongside a pine plantation, crossing over Alexanders Road and connecting to Crinigan Road and Waterhole Creek.
It's not yet known exactly how much construction of the path would cost, but council has allocated $40,000 in this year's budget for detailed design work once a route is adopted.
The $100,000 biodiversity and feasibility studies were jointly funded by the State Government and Latrobe City.
Member for Morwell Russell Northe stopped short of promising any funds, but said it was "imperative" all levels of government supported construction of the path.
"It won't be a cheap exercise," Mr Northe said.
"I'll certainly be lobbying the relevant State Government ministers for funding once it's known what the route will be.
"It has been a long time in the making and it's great we are now there and the community are able to express their opinion on the proposed route."
Submissions to the feasibility study and proposed route close on 21 September and can be made by visiting www.latrobe.vic.gov.au
As an alternative to a full written submission, members of the public can fill out a survey online.
The study will feature in public displays on Saturday, 7 September at Stockland Traralgon from 9am to noon and Mid Valley Shopping Centre from 1pm to 5pm.
To arrange a one-on-one meeting or for more information, phone the project manager Karen Tsebelis on 5128 5483.