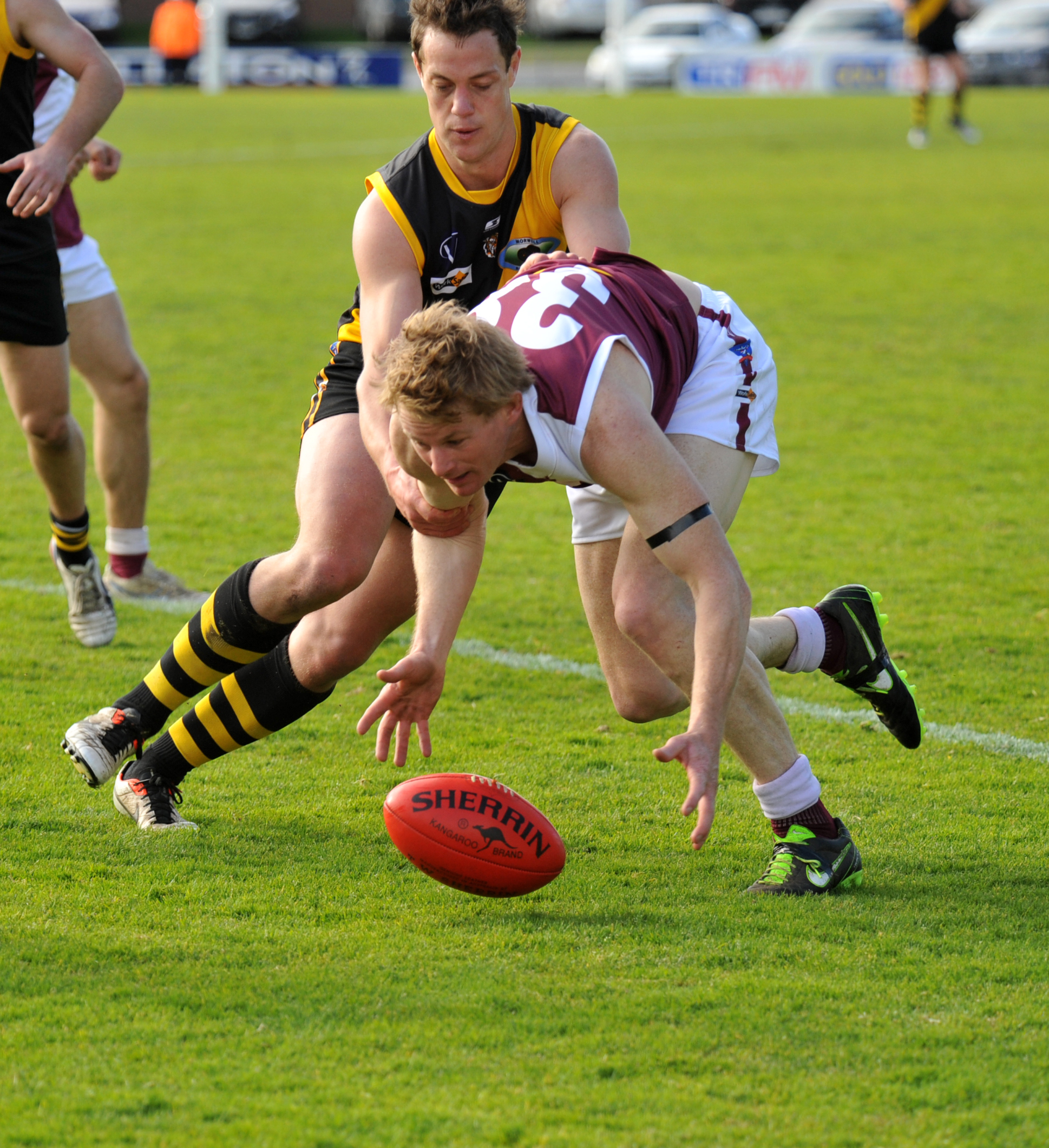 FOOTBALL
GIPPSLAND LEAGUE
THE Gippsland League offered an early taste of finals football yesterday afternoon when the round 17 clash between rivals Morwell and Traralgon lived up to the billing in a blustery battle at Morwell.
Former Collingwood forward and Morwell recruit Anthony Rocca was a notable absence due to an Achilles injury which could see him sidelined for the remainder of the season, but his absence was covered ably by Dean MacDonald who booted five majors in his side's nine-point victory.
Traralgon had the upper hand early, and again at the last change, however Morwell came back from behind in the battle between second and third heading into the round.
"We were outplayed early on, they (Traralgon) had better run and spread," Morwell coach Harmit Singh said.
"They played the conditions better, we just had to keep chipping away.
"It took a while, even in that last quarter I think it took 14 to 15 minutes to get a score on the board. We were lucky to hold in the end against a really good team."
His counterpart at Traralgon, Paul McCulloch, was left disappointed by his side's performance.
"We started well but probably let ourselves down in that second quarter. It's almost like it takes us half of the game to adjust to the wind properly. We didn't score well enough when we had the wind and didn't defend well enough against it in the second quarter," he said.
MacDonald opened the scoring with a neat snap around the body, but the Maroons responded and got out to a four goal lead in an otherwise dominant first quarter.
Traralgon dropped off in the second but still held a five-point lead going into the main break.
The visitor led by nine at the last change, after a more evenly contested third term.
McCulloch used his three-quarter-time address to urge his side to dig deep.
"This is where it counts. We have got to believe that we can win this game. We spoke about belief, that was our theme today; to believe that we can take it to a top side. I want you to rally and give it everything you've got," he said.
The home team narrowed the margin with several behinds, many of them rushed, early in the last term.
It then rallied with three late quarter goals to Traralgon's one, to steal a memorable victory.
"It was like a final. It is good to win the close ones… obviously really difficult for them to come so close and lose but I'm sure both teams will learn from here going into final," Singh said.
Morwell will finish in the top two, while Traralgon looks certain to finish outside of the three and face elimination in the opening week of the finals.
"We are disappointed but to turn it into a positive, we think we are not far off it. We have taken it right up to Maffra and right up to Morwell and now we will have to do it the hard way," McCulloch said.
"We are definitely improving. I think there are areas of our game that have continually let us down. We probably drop off in one or two periods in the day while there are some guys that need to get their skills a bit sharper, it's simple as that.
"And some of them aren't training as much as they need to be, for whatever reason, this time of year you have to get there as much as you can," he said.
Maffra v Wonthaggi
MAFFRA displaced Traralgon in third spot with a 28-point win over Wonthaggi in the battle between fourth and fifth.
The Eagles had the upper hand after a low scoring first term, which yielded just the one major.
The home team added four goals to the Power's two in the second to lead by 13 at the half.
Both sides added one goal each in a low scoring third term, setting up an eight point margin at the last change.
With the crucial second chance on the line Maffra came out firing in the last.
It kicked five goals to Wonthaggi's two to win by 28-points.
Darren Sheen finished with five for the Eagles.
His magnetic presence again freed up Adrian Burgiel and Daniel Bedggood, who both booted two majors.
Leongatha v Moe
MOE'S 2013 woes continued with a huge loss at the hands of Leongatha.
Eleven goals in a best on ground performance from Cade Maskell helped the Parrots to a huge 130-point win.
Leongatha booted 13 goals to one in the first half, before finishing the Lions off with an 11 goal to four second half.
In another best on ground performance James Blaser was the shining light for Moe with three majors.
Leigh Sheehan and Ben Morrow were also named amongst the Lions best.
Drouin v Sale
A BEST on ground performance, which included four goals, from Jacob Schuback helped the flag favourite to a big win over Drouin.
The Magpies got out to an early 34-point lead at the first change with a four goal to one opening term.
By half-time the margin was out to 79-points after a quarter which saw the visitor add nine majors to none.
The reigning premier dominated the third with five goals to Drouin's one to lead the round 17 clash by 108-points at the final change.
Both teams managed a single major in an unusually inaccurate term for Sale, which booted 10 behinds.
Bairnsdale v Warragul
PLAYING under lights and in front of a big home crowd, Bairnsdale rewarded the local patrons with a four goal opening term against Warragul.
The visitor won the second quarter and trailed by just 13-points at half time before another dominant performance by the Redlegs saw it stretch its lead out to 26-points in the third.
Warragul outscored the home team in the last but it was not enough and the Gulls fell 18-points short.
Coach Shaun Mooney was best on ground for Bairnsdale, while James Gibbs was the star with the boot for the winning team, kicking five.