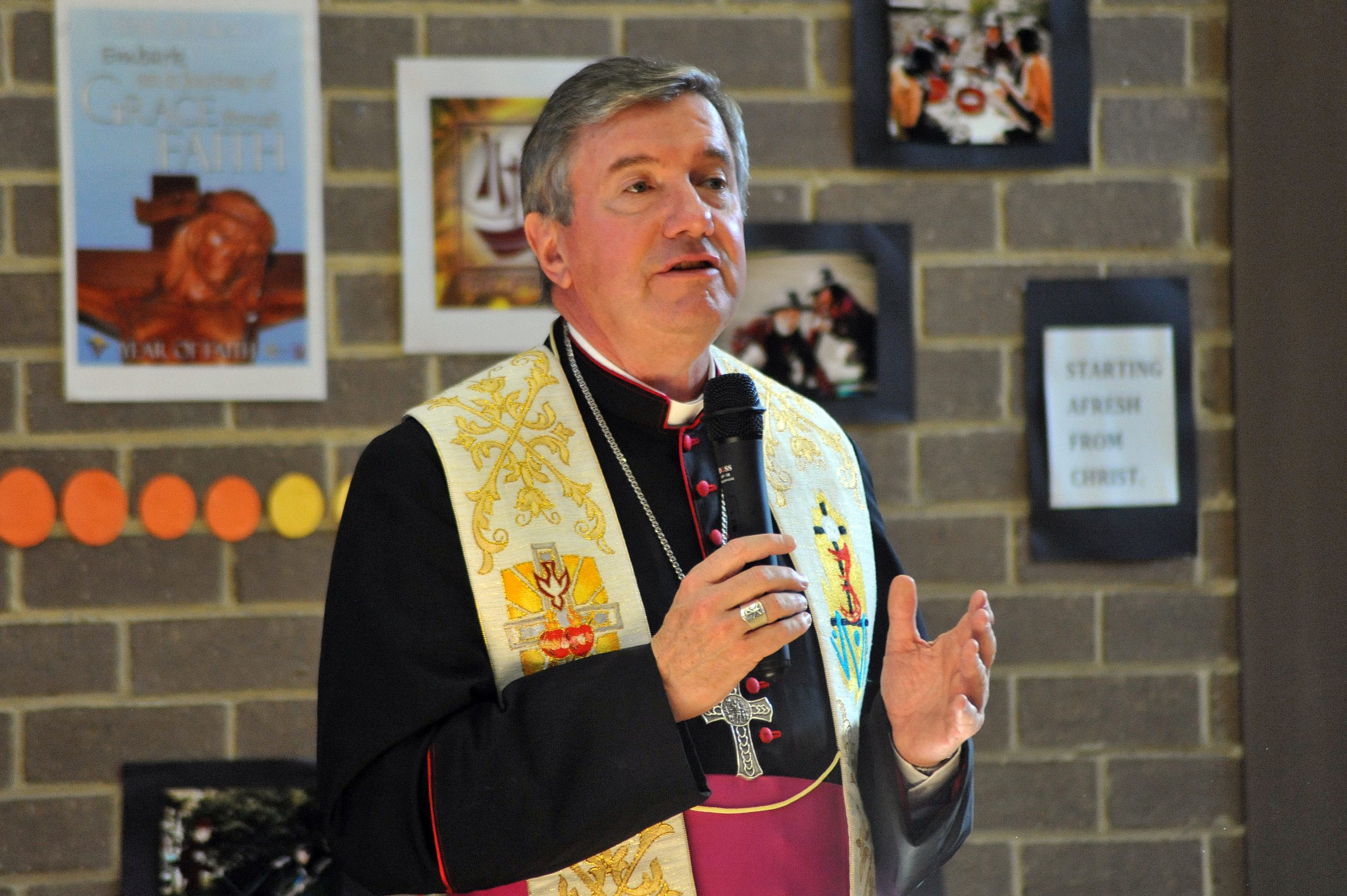 THE effective leadership of Gippsland's Catholic community will be placed into administration in November, with the upcoming departure of Sale Diocese Bishop Christopher Prowse.
In a surprise announcement made on Thursday, Bishop Prowse said he would be installed as Archbishop of Canberra and Goulburn on 19 November, after acting as the Bishop of Sale for the past four years.
Speaking to The Express during a whirlwind Canberra trip on Friday, which included meetings with senior Canberra-Goulburn clergy planning his upcoming installation, Bishop Prowse said it was a bitter-sweet moment in his career.
"I'm very honoured to receive this appointment, but at the same time, I'm disappointed to leave Sale after only four years," he said.
A well-placed observer within the church said the Bishop's shift to Canberra was a good career move, which would leave him "well-placed" to vie for Archbishop positions in Melbourne and Sydney in coming years.
"At the time of his appointment to Sale (Diocese), it was seen as a stepping stone to higher office, and it's also fair to say with the Canberra appointment, many believe it will not be his final appointment within the church," the observer said.
"The Archbishops in Sydney and Melbourne both reach 75 years old in the same year, in about five years time, so those positions will then become vacant."
Another observer said as a speaker of fluent Italian, and having spent time studying in Rome, it "would not be unrealistic to predict (Prowse) could possibly get pulled into the Vatican".
"He's got another 15 years left in his career so he would be young enough for that … it's likely this won't be his last move within the Catholic church."
However Mr Prowse would not entertain questions regarding his possible career trajectory.
"I don't have a career path, I just live one day at a time and focus on being the servant God wants me to be on a daily basis – this has nothing to do with the past or future," he said.
"My first priority will be to get to know the Archdiocese up there, which is twice the size of Gippsland."
A self-described "pastoral reformist", Bishop Prowse shifted numerous priests across the Diocese, including the relocation of Traralgon's much-loved parish priest Father Peter Bickley to Bairnsdale, a move met with mixed reactions from the parish community at the time.
Bishop Prowse also oversaw the transfer of various diocesan offices to Warragul and instigated major restoration works at the Sale cathedral.
"I've been delighted with cooperation from the local clergy who have been wonderful in helping me push forward all sorts of pastoral reforms, so the presence of Christ is more present in Gippsland in these times," he said.
"I was surprised that I was moved after only being here for four years, which is a short period of time, but I've gotten to know and love the people of Gippsland and know they will be praying for me in these times."
The diocese has entered caretaker mode since Thursday's announcement, with Bishop Prowse acting as administrator until his departure, after which he will be replaced by an apostolic administrator until a new bishop is appointed.
"Gippsland will need a new leadership that will strengthen fragile families and bring afresh the Catholic faith to new generation," Bishop Prowse said.