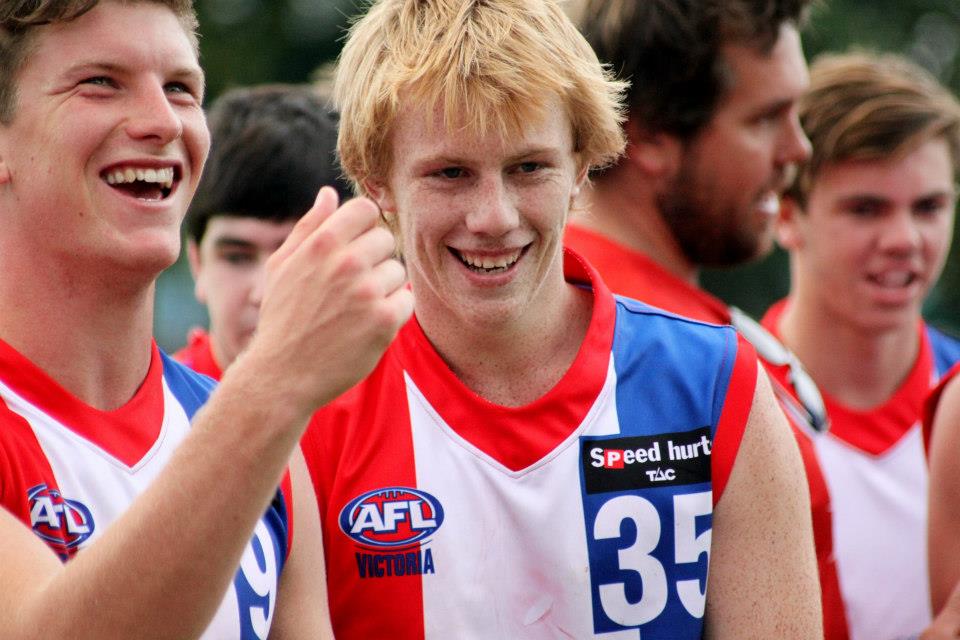 FOOTBALL
TAC CUP
LOY Yang B Gippsland Power forward Josh Scott was named as one of four 2013 Morrish Medallists on Sunday night in the TAC Cup's first ever quadruple tie for the best and fairest award.
Scott, the league's leading goal kicker with 51, polled 16 votes alongside Bendigo captain Jacob Chisari, Eastern Ranges' Ben Cavarra and George Cameron of Geelong, despite playing just 10 of 18 games this season.
The 19 year-old sharpshooter was the only forward of the four, receiving votes in eight matches, and became the first player to win both goal kicking and Morrish Medal honours in the same year.
Currently in preparation for the 2013 draft combine, Scott said the award came as a surprise, particularly given votes were tied ahead of the final round which he missed through injury.
"I was extremely shocked to tell the truth, I went in with no expectations. I was hoping to get a few votes and got a few more than I thought and was lucky enough to be one of the winners," he said.
"I didn't actually think I could be a chance until the last round. I didn't play so I thought surely one of the boys would get a vote and take the win but lucky enough they didn't. I was speechless on the night I couldn't believe it."
Scott joins Matthew Stolarczyk (1999), Jarryd Blair (2008), Dyson Heppell (2010) and Nick Graham (2012) as Power winners of the award, bringing the club's tally to a record equalling five with the Northern Knights.
The lanky Lakes Entrance lifeguard said he hoped to emulate the feats of his Power predecessors.
"Hopefully (I can follow those guys). Just the shock knowing my name would be there now next to theirs. Hopefully I get a chance with an AFL club but if not it's been a great experience and I can't believe it," Scott said.
Returning as an overage player in 2013 after illness hampered his testing at the draft combine, Scott divided his time between Power and VFL side Casey this season.
Scott was among the best on ground against powerhouse clubs Collingwood and Geelong in his VFL venture, and said it lifted his game to new heights.
"I loved that experience. I managed to play on some big names, I lined up on (AFL star) Alan Didak to start with. It was awesome to get a feel of the next step up," he said.
Power talent manager Peter Francis said the club was stunned Scott was overlooked in 2012 draft calculations, but the extra year of TAC Cup had done wonders for him.
"It put him off the radar a bit… but I think it's been a great thing for him. He's matured as a person, he's matured as a player and really got his body in good order… and the results have shown," Francis said.
"There were just a few little question marks on him in different areas but I think he's put them to bed now. He's done everything possible; he's come back, worked really hard and now he's got the just reward."
Scott missed the under 15 and 16 seasons with Power through injury, but Francis said he made an immediate impression upon return.
"He came in as an under 17 and he was a rag doll. The first time I saw him was down at Maffra… I thought 'wow this kid can play' he was sitting on blokes' heads and taking marks," he said.
"I've known him the last three years and he's just a really quality kid and we really rate him highly… his marking and kicking (are fantastic) but even his defence, he chases hard and runs them down and he has beautiful hands.
"The red hair maybe shows out… I'm not sure if that helps at all but he's just a real talent and when he goes near the ball something always happens."
Scott was joined by teammate Jack Leslie in the TAC Cup team of the year, and the Power pair is set for testing at the AFL draft combine in October.
THE COUNT
J. Chisari, Bendigo Pioneers 16
B. Cavarra, Eastern Ranges 16
G. Cameron, Geelong Falcons 16
J. Scott, Gippsland Power 16
C. Petracca, Eastern Ranges 13
M. Gibbons, Murray Bushrangers 13
J. Turner, Northern Knights 13
J. Kennedy-Harris, Oakleigh Chargers 13