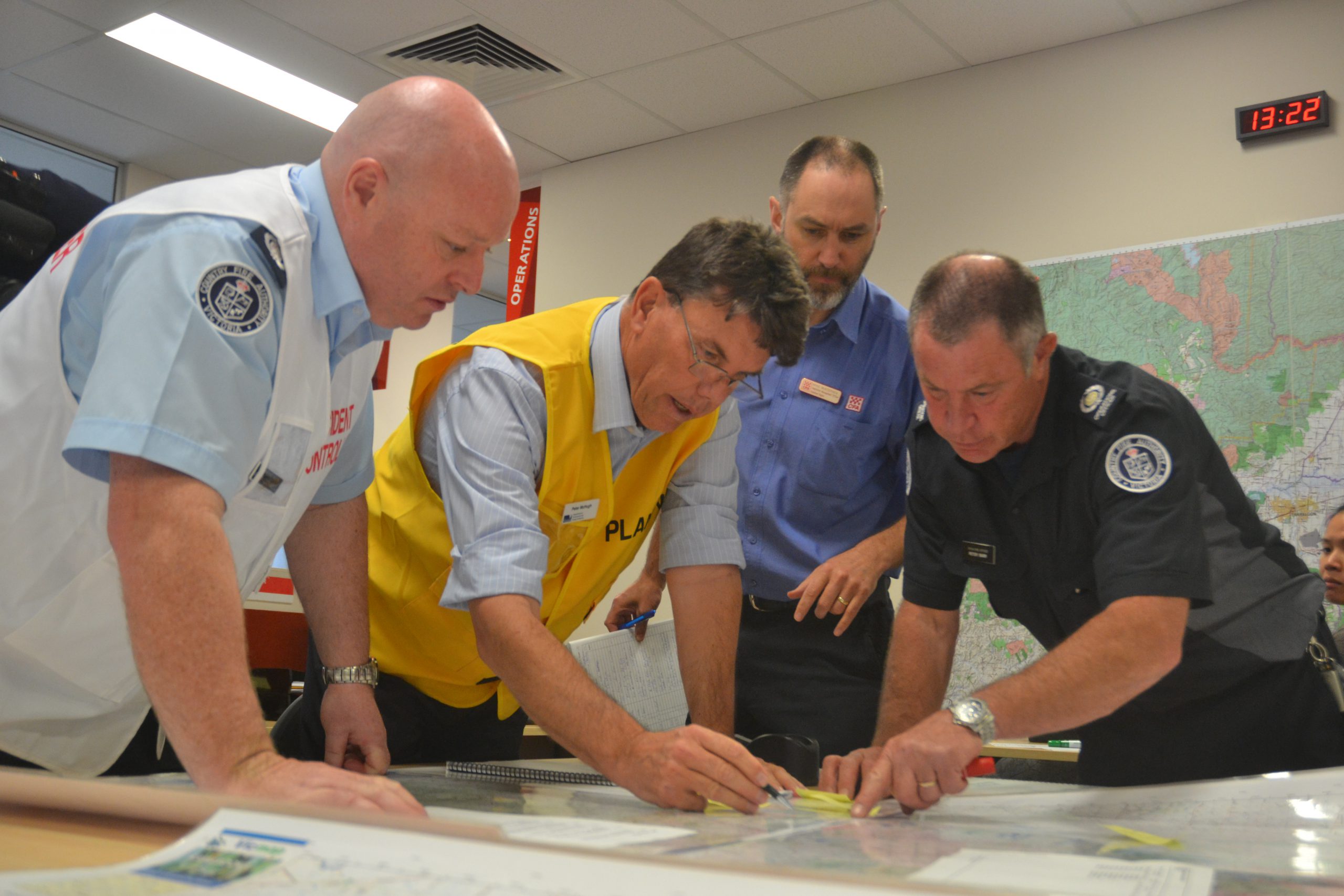 As a 1000 hectare grass fire threatened Castlemaine on Tuesday, response authorities were hotly discussing the need for a whole-of-town evacuation.
Such was the scenario under simulation at the Traralgon incident control centre, where a multi-agency training exercise was being held in preparation for the upcoming fire season.
"It keeps us sharp and puts us in the right head space, and reminds us what we need to be thinking about in case a fire starts here," simulation incident controller and Country Fire Authority Traralgon operations manager Peter Lockwood said.
However to the casual observer, there were few signs in the firie war room operation suggesting it was in fact an exercise.
About 20 representatives from CFA, Victoria Police, Department of Environment and Primary Industries and Latrobe City moved with purpose about the room, compiling the latest data on the imaginary fire to help coordinate their response.
With three road blocks in place, and about 60 fire trucks scrambling to the frontline, all eyes were on the fire's trajectory and wind movement, marked out on large table-top and projector screen maps.
A DEPI report sheet rated the Fire Damage Index at 56 (extreme), with the potential for spread and losses high.
"The smoke is about three kilometres ahead of the fire," one officer calls out.
Downstairs in the Traralgon building, the Gippsland Regional Control centre had temporarily become the Castlemaine frontline, where a team of simulation response officers acted as eyes on the ground, reporting back to central command on a pre-determined computer simulation as it progressed in real time.
"They're not just calling imaginary people upstairs – this piece of software scenario took hundreds of man hours in the development pipeline, it's state of the art stuff," an observer said.
Back upstairs, an Emergency Management Team meeting was called.
"So where can we pull this thing up?" Mr Lockwood asked his team leaders in the progress report meeting.
Not long after, a second fire sparked up, and the possible evacuation of Castlemaine suddenly became a pressing option.
"Considering the good management we had of that fire, and the predictions and rates of spread, we instead decided to door knock that side of town closest to the fire, and moved them into centre of town as fire trucks manned the western side," Mr Lockwood said.
Commenting on the decision to stage the simulation in another part of the state, Mr Lockwood said it forced out-of-the-box thinking and challenged habitual response behaviour.
"Normally when we respond to a fire we as locals rely on our local knowledge, where all the roads and trees are – this way we are forced to draw on some of the resources we often take for granted, like plans, maps, and other data, and not just rely on what's in our heads," Mr Lockwood said.
"It's the first time we've really had a good exercise in this new facility, and really helps us test it for when we go to war – it promotes a better use of our resources."
With New South Wales bearing the brunt of numerous fire fronts over the past week, Mr Lockwood said it was time Victorians got deadly serious for the upcoming season.
"We feel for what our people in New South Wales are going through, and we don't want this happening the people in Victoria," Mr Lockwood said.
"The fire risk in Victoria is very real, and what we are seeing in NSW should be a warning for all of us.
"Have a bushfire survival plan and prepare for summer."