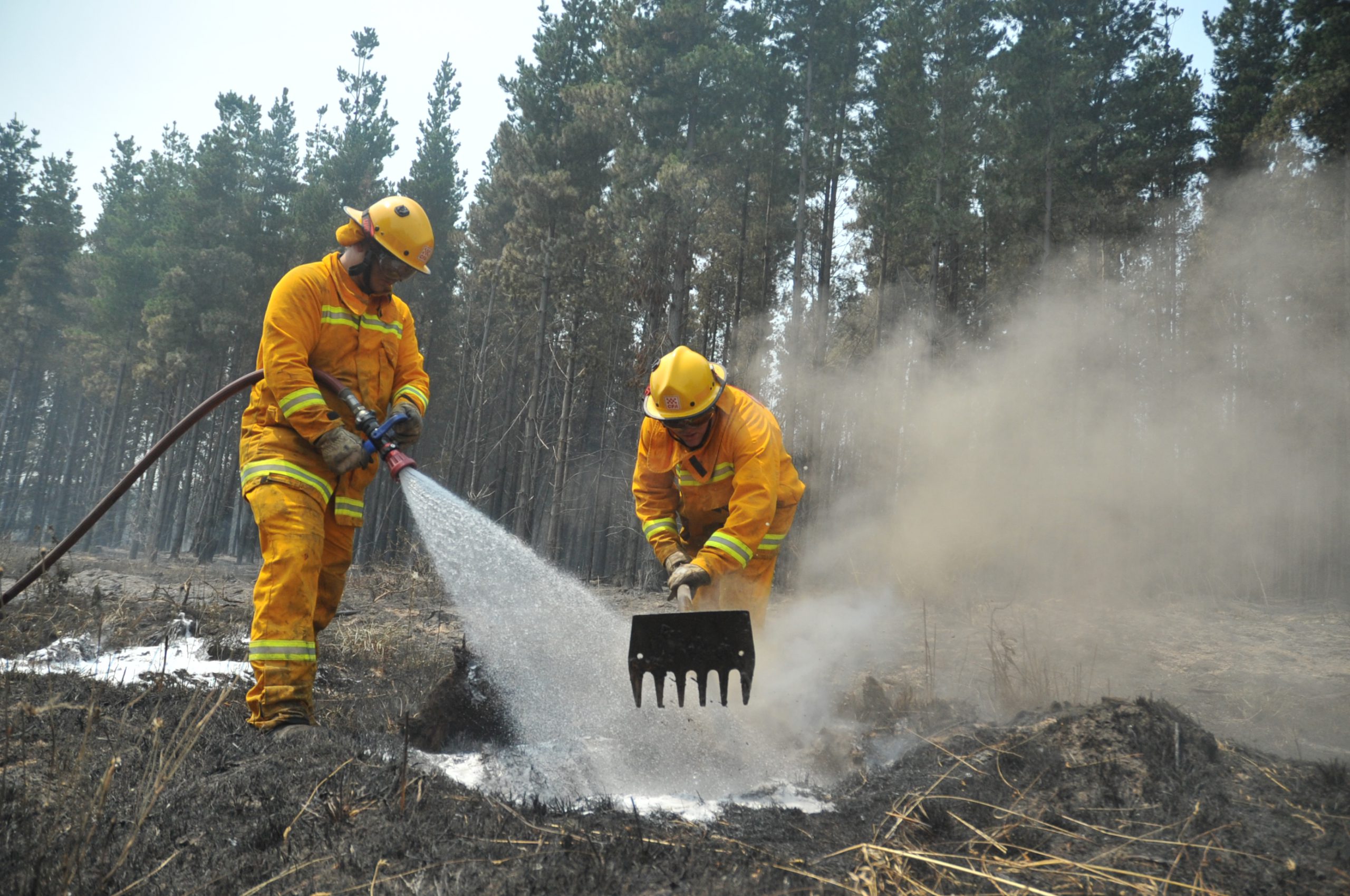 PHOTO GALLERY: Hernes Oak and Driffield fires
UPDATE: CFA moves to protect Yallourn open cut (3:30pm Tuesday 11 February 2014)
Fire authorities are working against afternoon breezes to ensure embers do not spot into the Yallourn open cut and spark further coal mine fires.
CFA strike teams are currently bulldozing a break line in between fire affected plantations west of Latrobe Road and the open cut's overburden area.
Meanwhile, another CFA team is blackening out smouldering areas along Latrobe Road.
While there is currently no active fire within the plantation area north-west of Morwell, authorities say a strong south easterly wind could reignite the area and push a blaze towards the mine.
Traralgon incident controller Laurie Jeremiah said along with the Hazelwood mine fire, protecting the Yallourn open cut was the CFA's largest priority in the Latrobe Valley.
Yallourn's onsite crews have been working round the clock to contain fire activity in a retired section of the mine since Sunday.
Maryvale mill resumes operation (Tuesday 11 February 2014)
Australian Paper's Maryvale Mill has today resumed operation after it was shut down by fire.
AP's general manager human resources, Mark Nelson said the fire in the mill's log pile had been extinguished and crews were now working to black it out.
"We've still got some smouldering in the chip pile and the CFA has gone offsite," Mr Nelson said.
He said the batch mill was still not running, as the result of fire-damaged electrical cables which were difficult to access to repair.
"We've got all our people in and it's pretty much back to normal," Mr Nelson said.
………………
No homes lost (Monday 10 February 2014)
The incident controller for the Hernes Oak and Driffield fires has revealed no homes were destroyed yesterday, as was originally thought.
"The assessments done today suggest they are all outbuildings, not primary residences," Laurie Jeremiah told a press conference in Traralgon on Monday.
"We may have lost a house, but they have been someone's second house. "
Mr Jeremiah said firefighters had at least four days of work to contain the fires, which have merged.
"The fire has gone quiet overnight. It will move again this afternoon," he said.
……….
Fire threat continues (Monday 10 February 2014)
Firefighters are today working to strengthen containment lines and stop any further spread of fire, after flames hit the outskirts of Morwell's north-west yesterday.
The Hernes Oak fire, which started on Friday, and the Driffield fire, which started yesterday, joined last night at the western side of the Hazelwood mine near the Princes Freeway.
Extra resources, including the Metropolitan Fire Brigade, were called in and authorities are hoping for a major reprieve with cooler weather and reduced wind today.
As of this morning, the two fires had collectively burned about 4000 hectares of land.
Fire shut down operation at Australian Paper's Maryvale Mill, with about 100 firefighters on site, after it came under ember attack from a blaze to the west on Tanjil East Road.
About 2.30am embers caused a fire in the mill's log pile, then embers spread from the wood fire onto mill infrastructure, damaging one conveyor and electrical cabling, according to general manager human resources Mark Nelson.
"I've got to say we've had a number of people off roster saying 'is there anything we can do to help'," Mr Nelson said.
The CFA is treating the Driffield blaze as suspicious, after a number of fires were ignited along the Strzelecki highway yesterday.
"We're hoping to get investigators there today to ascertain what the cause was," CFA Gippsland regional controller Anthony Costigan said.
Mr Costigan urged residents to remain vigilant.
"While the fire seems to have stopped running, there's still potential for anything to start, especially with dryer conditions," he said.
"It's been a huge effort for firefighters to do what they did yesterday and hopefully we can round it up."
The Moe relief centre had 431 registrations and the Traralgon relief centre had 229, with some staying overnight.
Forty-eight people were accommodated at Federation University in Churchill and four stayed at Rotary Centenary House.
Latrobe City Council's acting chief executive John Mitchell said about half of those at the relief centre were in transit.
"The Lions Club provided a cooked breakfast and all the agencies did a fantastic job to make people comfortable," Mr Mitchell said.
"Residents were just dropping in to the relief centres saying 'can I help?'."
Mr Mitchell said some people accessing the relief centre made arrangements to camp at local reserves or in their cars.
The centres will remain open today.
He said rapid property assessments would take place today.
As president of the Gippsland Emergency Relief Fund, Mr Mitchell said the organisation would assess whether it was necessary to conduct a specific appeal for the weekend's fires.
"People can be assured, if there's personal property lost, we will certainly be responding," Mr Mitchell said.
Among the land impacted was the Twin City Archers base at Toners lane.
TCA president Peter Bennett said yesterday, the clubrooms were still standing, but the fire had destroyed its field course.
"The important part is no-one's hurt," Mr Bennett said. "Everyone's lost a lot today, unfortunately."
The club was due to host a field qualifying event later this month for the world field competition in Croatia.
VicRoads advised this morning the Strzelecki Highway would be closed for at least 24 hours.
The Princes Freeway between Morwell and Moe remained closed this morning, with local traffic allowed into Morwell via the Princes highway, but it was unclear how long the freeway would remain closed.
A V/Line spokesperson said trains were not operating east of Moe, but coaches would travel between Moe and Traralgon, via Yallourn North.
However, pick-ups and drop-offs in Morwell will not be possible today.
Power was restored to Moe about 3am.
Important information:
Traralgon Relief Centre Latrobe Performing Arts Centre, Grey Street, Traralgon
Moe Relief Centre Moe Town Hall, Albert Street, Moe
Victorian Bushfire Information Line: 1800 240 667
VicEmergency website: emergency.vic.gov.au/map#now
Road closures: www.vicroads.vic.gov.au/Home
Wildlife Victoria: 1300 094 535