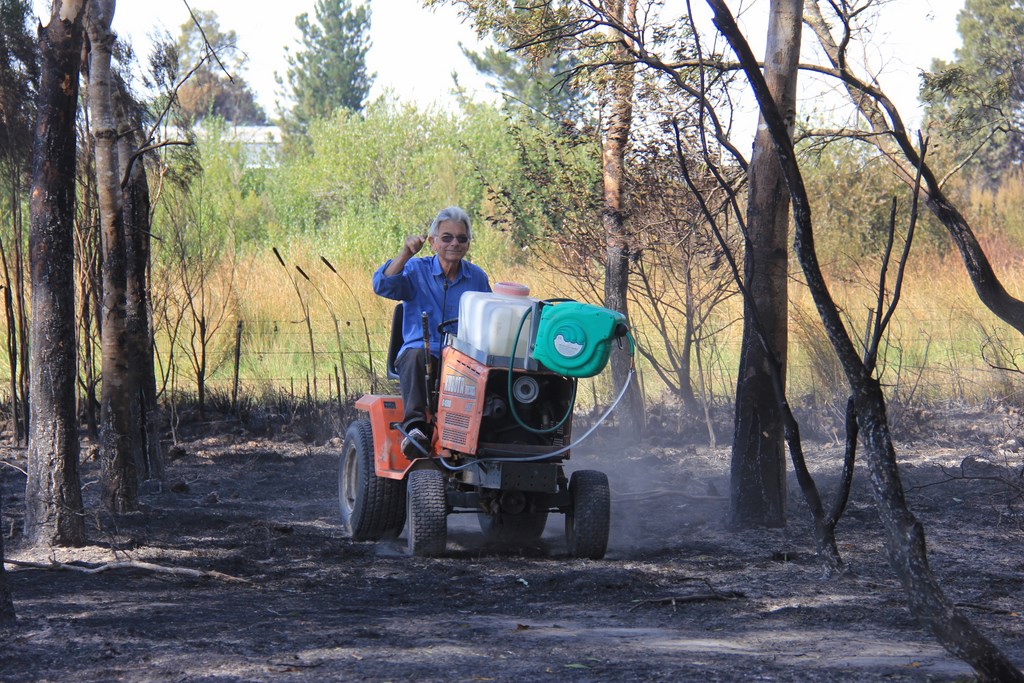 GRASSFIRES ravaged Twin City Archers' field archery course on Toners Lane at the weekend, causing about $15,000 worth of damage to the club's targets.
Only about five of 40 field targets, which had been set up ahead of an upcoming tournament, were salvaged from the blaze which threatened the entire sporting precinct.
Club veteran Merv Grinstead was on site during the worst of the fire, actively protecting the clubhouse from damage, and helped snuff out smouldering areas on Sunday night and Monday morning.
Grinstead arrived at the clubrooms on Sunday morning to move TCA machinery onto the short grass outside where it was less likely to burn, however when he went to leave found Toners Lane was alight at both ends. With no exit route available, Grinstead helped move some trapped cattle to the Gippsland Historic Automobiles Club before attending spot fires with a garden hose.
Stuck in the line of fire for three hours, Grinstead holed up and waited for firefighters to arrive.
"I thought well I've got my car here, I've got a hose… and we've got that short grass on the shooting range, so I just parked my car in the middle of that and turned the hose on over the top of the car," he said.
TCA president Peter Bennett said the club would attempt to rebuild in preparation for its Field Grand Prix event in September, but had suffered massive losses.
"It's been pretty bad, it's a big shock and a great loss to the club unfortunately," he said.
"Ten years of work and fundraising is gone, but we'll just get back and do it again."
Bennett said the course would require significant regrowth and the club would work to secure new targets for the competition.
Clubrooms for TCA, Us and Them social motorcycle group, Morwell Baseball Club, Morwell Horse and Pony Club, the Latrobe Valley Driving Range, Gippsland Obedience Dog Club and Gippsland Historic Automobiles Club are still standing.
Us and Them life member David Wheatland spent Sunday night putting out spotfires across the Toners Lane precinct and said it was fortunate the Twin City fire began after the wind changed, as otherwise "it would have probably taken everything out".
"Their field course was on fire, we went over and had a look but there was nothing we could do about that, we just watched that burn," he said.
"It was all grassfires, there was burning tree stumps and logs and things like that… we just joined every single garden hose that we could together and we were wandering around putting out little spot fires."
The only damage to the Us and Them clubhouse was to its gate, which was knocked down by emergency services vehicles.
Morwell Baseball Club spokesperson Mark Smith said "not a blade of grass" was touched at the Cougars' diamond, however said the fire had travelled through the horse and pony club fields. Toners Lane has re-opened. To provide aid for TCA phone Peter Bennett on 0429 429 240.
EDITORIAL: Brave dedication will never be forgotten