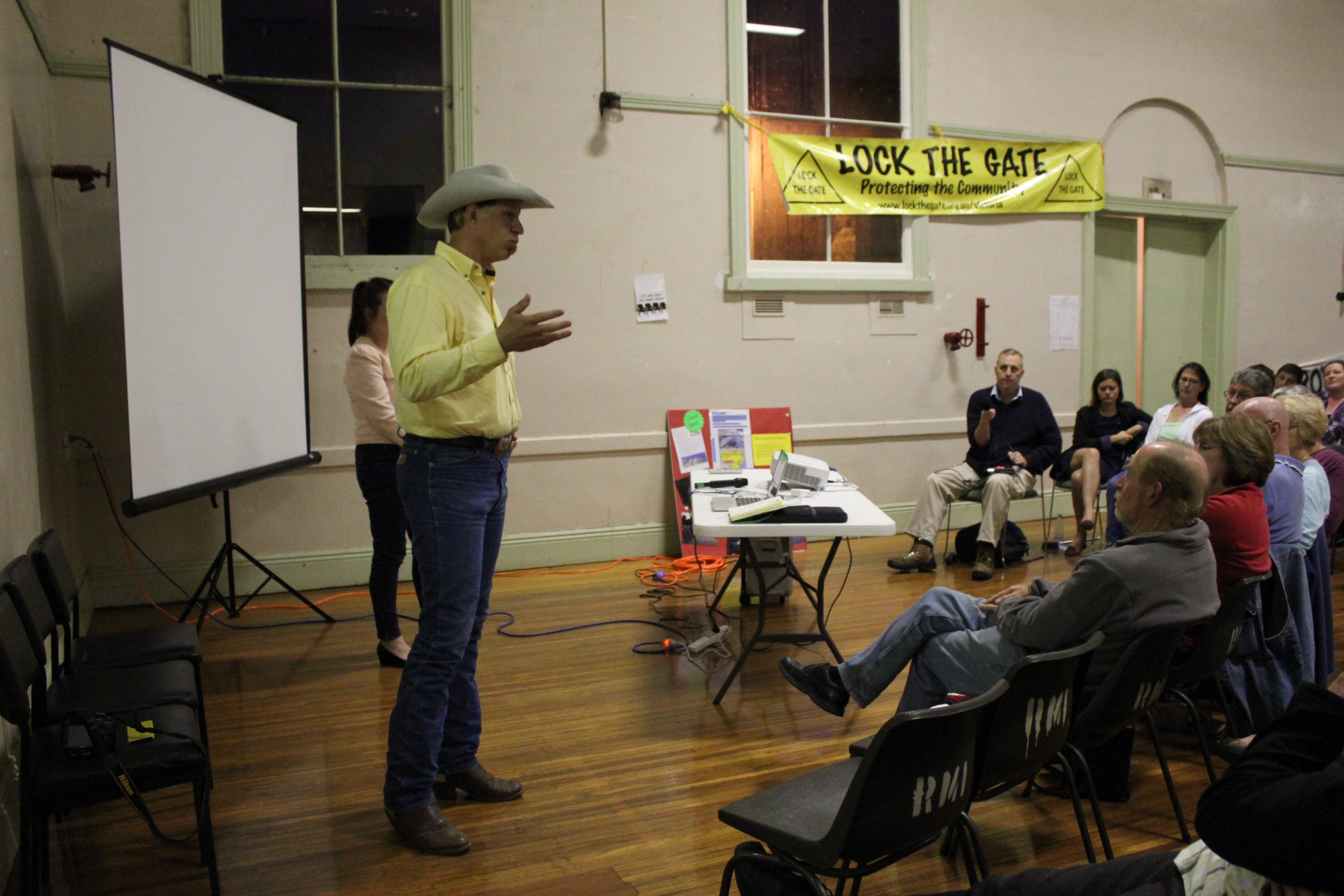 A WYOMING rancher has warned the Gippsland community of the damaging environmental and health effects of coal and gas mining at a public meeting in Rosedale.
More than 200 people came to hear John Fenton describe how his 1000-acre ranch transformed from a successful beef and grain enterprise to the east of the Rocky Mountains into a "gasfield" with 24 gas wells on his property and a further 300 wells surrounding his farm.
With Gippsland facing a growing number of exploration licences for unconventional gas mining, Mr Fenton said it was up to the community to decide what they wanted to do, but stressed it would be one of the most important decisions of their lives.
"If you think that if you produce milk, or another product that people depend on, or because your property is beautiful, that doesn't mean a damn thing to someone looking for hydrocarbons," Mr Fenton said.
Mr Fenton said in the past 15 years the United States had seen a "gigantic" amount of unconventional oil and gas drilling, including modern hydraulic fracturing in shales or tight sands.
He said farmers in his area owned surface rights, but not the mineral rights, allowing companies to lease those rights, come onto properties, and extract minerals.
"It supersedes the rights of the surface owner. The State of Wyoming says the company should come to us and negotiate in 'good faith'," the rancher said.
Lock the Gate Victoria coordinator Ursula Alquier said John's experience demonstrated exactly how intertwined government and the gas industry really were.
"It's no different in Australia than in America," Ms Alquier said.
John Fenton, who featured in the documentary, Gasland, has toured Australia at the invitation of New South Wales Greens politician Jeremy Buckingham.
Mr Fenton's wife, Catherine, said he had received a big turn-out everywhere he spoke in the past three weeks, including the village of Pilliga in New South Wales.
"We've seen tremendous turn-outs and it's really encouraging and we're happy to see that. It shows the kind of solidarity it takes to win these guys over," Ms Fenton said.