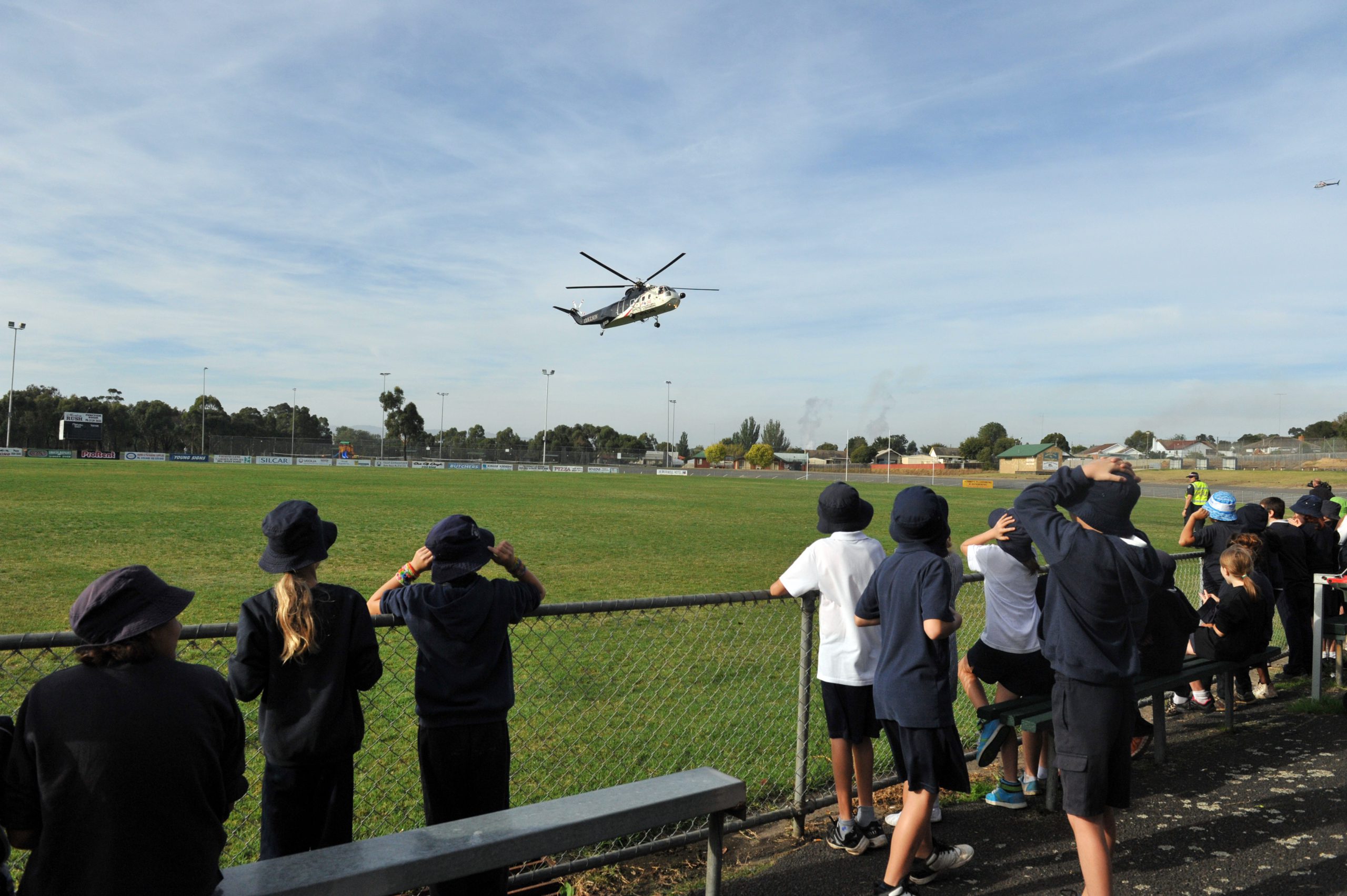 Hats flew off heads and squeals from school students could just be heard through the sound of helicopter rotor blades slicing through the air.
After weeks of flying over their houses to fight the Hazelwood mine fire, Morwell students and community members were finally given the chance to see the Sikorskys up close on Thursday.
Morwell Park Primary School students Lachlan Thorp and Chloe Palmer were astounded to see how big the helicopters were and enjoyed being able to stand in the fire truck ladder cage.
"It was really good to see how they work and how they operate and see how the pilots actually drive the helicopters," Chloe said.
"I liked seeing the fire truck lifting up off the ground and putting up the ladder," Lachlan said.
Morwell resident Rosemary Vanderzalm said it was a great opportunity for the CFA to have contact with the community.
"I think it's wonderful for (public relations), really a lot of people would be upset about it especially the ones that are closer to the mine who get the smoke really bad," Ms Vanderzalm said.
Latrobe City mayor Sharon Gibson said the exercise was "magical" and extremely important for the community.
"This type of thing helps the children because we're all going through a major disaster and if you take the children and show them and educate them it takes a lot of the fear away from them so they understand," Councillor Gibson said.
"You can see the great work all the emergency services have done, not just from here locally but nationally and internationally."
Chief Fire Commissioner Craig Lapsley said children would remember the day for the rest of their lives.
"It's an opportunity to actually ask the questions and walk away with the experience and I think it's trying to fill in that gap where we haven't been able to see the firefighters so it's about firefighters coming to the kids," Mr Lapsley said.
He said relocated children who were not present on the day would have the same experience in coming weeks.