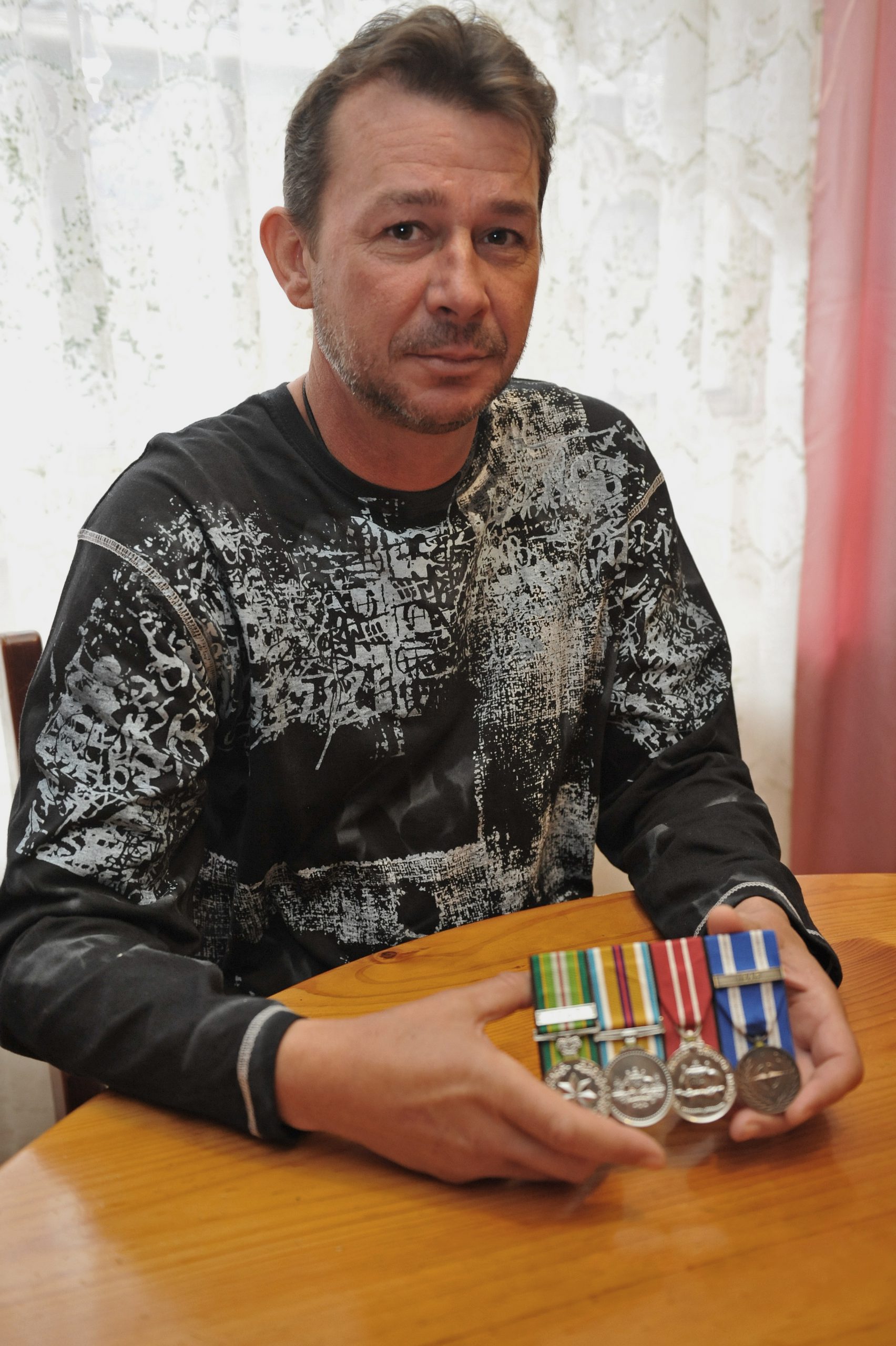 It was 3am at the Khandahar Air Field in Afghanistan, and military aviation technician Glenn Fenton was chasing much-needed sleep in a 'rocket proof' bunk room.
While mortar fire, rockets and other projectiles would rain down on the compound on a daily basis, it was a chillingly miraculous event that early morning which sticks with the Latrobe Valley-bred serviceman to this day.
"One rocket punched through a joint in the concrete and went straight into a bunk bed 10 feet from me, it's so lucky the f**king thing didn't go off," Glenn said.
The bed's occupant, a non-smoker, had snuck out for a cigar with a friend – his first tobacco in years – an uncharacteristic decision which saved him from certain traumatic death.
Four years later, Glenn sits on his back porch in Morwell; his hands quiver and his voice waivers, fluctuating from frail, to borderline aggressive, as he recollects his two tours in Afghanistan in 2008 and 2010.
Medically discharged from service last month with a "busted" back and knee, Glenn is deep within the throes of post traumatic stress disorder, an affliction he believes will affect most of his peers as they come to terms with their time spent in Afghanistan.
When this reporter arrived at Glenn's home and entered the backyard (after a front door knock received no answer) he visibly recoiled at the sudden appearance of someone in his driveway.
"That reaction, seeing you there unexpectedly, was like someone giving me an injection of adrenalin, you just can't control those reactions in this state," Glenn explained later.
In the hour The Express visited with Glenn, he had smoked about eight cigarettes, and drank three stubbies – on the way, he said, to a 12-beer-a-day average, to help him get to sleep at night. However his girlfriend said the average was probably closer to 15.
"While you were there (on base) it was almost as if you got used to the constant fire – the rocket siren would go off, and then five seconds later, you would hear 'crump, crump, crump' somewhere off in the distance – that would happen daily almost for over a year," he said.
Under pressure to get two Australian Chinook helicopters flight ready daily, Glenn sees the intense workload as his saving grace during the deployment. But in hindsight, it was the relentless bombardment of projectiles into the compound which lead to his current condition – a constant state of anxiety and an inability to relax.
"Whenever there was mortar fire they would load it with this native blue rock which would shower down all around you and you would have no idea where to run."
"2010 was a hard stint. Things really picked up over there and it ended up being one of the worst years we'd had. We lost about 10 blokes that year and we were not even the frontline guys, however that in a way… makes it harder.
"We were always there taking indirect fire, but you could never take a shot back at these guys. I think that only made the mental situation you were in much more helpless."
While Glenn said his life mission now was to treat the PTSD, its grip on him went long unattributed, with bouts of sudden aggression – a trait which eventually lost him his wife and two of his three daughters – going unexplained.
"I wasn't aware of it at the time, but I was really volatile and angry, I would just snap for no discernible reason, I would go from calm to overtly aggressive in less than a second," he said.
"It was really no good for anyone, especially my kids."
It was not until Glenn went into counselling last December that he discovered his mood swings were PTSD related – hurtling him down a troubled path to seek treatment through the Department of Veterans' Affairs.
Since being discharged on 3 March from the Townsville base, Glenn has moved back to the Valley, where he said he was astounded by the trouble he has had seeking support.
While his ultimate goal is admission to the Heidelberg Repatriation Hospital, he has found simpler interim tasks incredibly frustrating.
Unable to walk into a public place without being highly medicated, Glenn is on Valium and other anti-depressants, however he has had to travel to Bunyip and Melbourne for specialist drugs.
"The GPs just look at me like a junkie whenever I'm trying to get Valium," he said.
Requiring a range of services from doctors, psychiatrists and psychologists, Glenn said it has been RSL volunteers and other veteran's support groups which have pointed him towards relevant help and resources.
He struggles to understand why adequate help for new veterans is not readily available in a regional centre like the Latrobe Valley.
While Glenn saw Anzac Day as a "funeral" in which he could remember the fallen, he has used the occasion to speak out about what he said was the widespread abandonment of modern day veterans by the Federal Government.
He described the government's recent announcement it would close nine Veterans' Access Network offices in regional Victoria and New South Wales in June as "disgusting".
"The Vietnam vets fought bloody hard to get the DVA support network in place, but now they are stripping things back and justify it by saying the older diggers are dying off," he said.
"There are soldiers coming after us who are really going to need DVA's help – there's going to be an avalanche of people who've come back from Afghanistan with problems like me over the next five years, and it just feels like they are going to sweep it under the carpet."
"How many suicides are going to happen down the track? I'm not saying I'm going to go there, I've already been there, and it came close, but that's why I've gone to the booze now."
In response to Glenn's concerns, a DVA spokesperson said the organisation took the mental health of veterans and their families "very seriously", and worked to ensure servicemen could access needed support.
"DVA currently spends around $166 million per year on mental health services for clients, including online mental health information and support, GP services, psychologist and social work services," the spokesperson said.
"(We also provide) specialist psychiatric services, pharmaceuticals, post traumatic stress disorder programs, and in-patient and out-patient hospital treatment."
The spokesperson said the amount of funding available for treatment was demand driven, and said DVA would pay for treatment for an eligible veteran with diagnosed PTSD, anxiety or depression without the need to establish that his or her mental health condition is related to service.
The spokesperson said the changes to regional DVA shop fronts were designed to ensure more effective utilisation of resources, with any savings to go towards supporting the veteran community.
Free and confidential counselling for eligible veterans and their families is available from the Veterans and Veterans Families Counselling Service 24 hours a day on 1800 011 046.